Welcome to Fresh Fiction, Jill! Please tell us about yourself and your new book, IT STARTED WITH A SECRET.
Hello, hello, I'm Jill Mansell, this is my 32nd novel and I've now sold over 13 million copies of my books worldwide. This one will hopefully make readers laugh and cry and is set in Cornwall in the UK, so it's a nice sunny seasidey read full of fun characters you'll enjoy spending time with. Oh, and they all have secrets!
You've been writing romantic comedies for a long time – what has changed the most since you started writing?
The internet! Smartphones! My older books tend to have plots that revolve around not being able to find out details about people or to be able to make contact with them. Nowadays these problems can be solved in a split second, and it's a complete nightmare for all authors of contemporary fiction. Plotting is far more tricky than it used to be. There's such a thing as having access to too much information!
One of my favorite things about your books is the huge cast of characters, each one with a distinct personality. How do you manage all of them?
I love all my characters, even the naughty ones, and find them easy to dream up and write about. I find it hard to reduce the number of characters because each of them has friends and relatives and workmates and roommates…honestly, it's an eternal struggle to keep the numbers down. I'd love to write a novel with just a hero and heroine and hardly anyone else, but I just couldn't do it – other characters would keep insisting on barging in and getting involved!
In IT STARTED WITH A SECRET, best friends Lainey and Kit pretend to be a couple to manage the household of a retired actor and his large family. Naturally, a lot of shenanigans ensue while they both try to do their jobs and keep up their ruse. What's the funniest job you've ever had?
Oh, I've only ever had two jobs – I worked in a neurological hospital as a clinical neurophysiology technologist for almost twenty years, then as an author for the last thirty years. Yes, I'm that old! 
OK, funny jobs. At the hospital, I had to work in an impotence clinic (electrodes and electrical currents were involved…) and it was always amusing to hear the men who'd been referred to the clinic by their wives confess that they might not be able to summon up the interest at home but they had absolutely no problems at all when it came to sleeping with their girlfriends…
What do you love most about writing romantic comedies?
I love witty repartee, when two characters are sparking off each other and you can feel the attraction and the chemistry growing between them. That's what I most enjoy writing. As a reader, I couldn't feel completely engaged or emotionally involved with the main characters if they had no sense of humour – that would be too dull for words.
What can readers expect from you next?
My next book is finished and ready to come out next year. It's called And Now You're Back and is set in a gorgeous country hotel in the Cotswolds, where the manageress is suddenly faced with the return of her first love, fourteen years after he abruptly vanished from her life. Ooh…
Rapid Fire Random Questions
Favorite candy: Reese's peanut butter cups. They're hard to find in the UK, but worth the effort!
Favorite way to be kind to yourself: A big glass of wine and a packet of unsalted potato crisps (chips). I have no idea why, but in the the last nine weeks whilst we've been in lockdown, unsalted crisps have vanished from every store. How will I cope if they never come back??
Best compliment you recently gave to someone: I get sent more books to give quotes for than I could ever hope to read. But sometimes I like to choose one for myself, go out and buy it, and read it without having been asked to do so. It's so nice to then be able to contact the author out of the blue and let them know how much I enjoyed their work.
(Oh also, the other day I stopped a woman in a foodstore and asked for the name of the amazing perfume she was wearing. She told me, I ordered it online and it arrived this morning. I'm wearing it as I write this, and it's gorgeous!)
Favorite flower: Tulips. I love it when their stems go all bendy.
Random interesting fact you like to tell people: I don't know! OK, people are always interested to discover that I've written all my books by hand with a fountain pen and various fancy inks.
Best vacation you've ever taken: We love to cruise. People are so sociable and so friendly, and there's always so much to do.
Earliest celebrity crush: Cary Grant.
Cake or pie:To be honest, I don't really eat either of them. I prefer potato chips.
Last book you read that you really LOVED: Kate Quinn's The Huntress – I thought it was absolutely phenomenal.
You have a totally free afternoon – no deadlines, no obligations, no Twitter notifications!  What do you do?: I'd go out for lunch with friends – that's always my favourite thing to do. Eating food and talking non-stop are my two favourite things. After all, never know when you might hear a brilliant idea for a story you can use in your next book!
—
COMMENT TO WIN: Tell us what you love about romantic comedies and you'll be entered to win a print copy of IT STARTED WITH A SECRET! US and Canada only – GOOD LUCK! 
—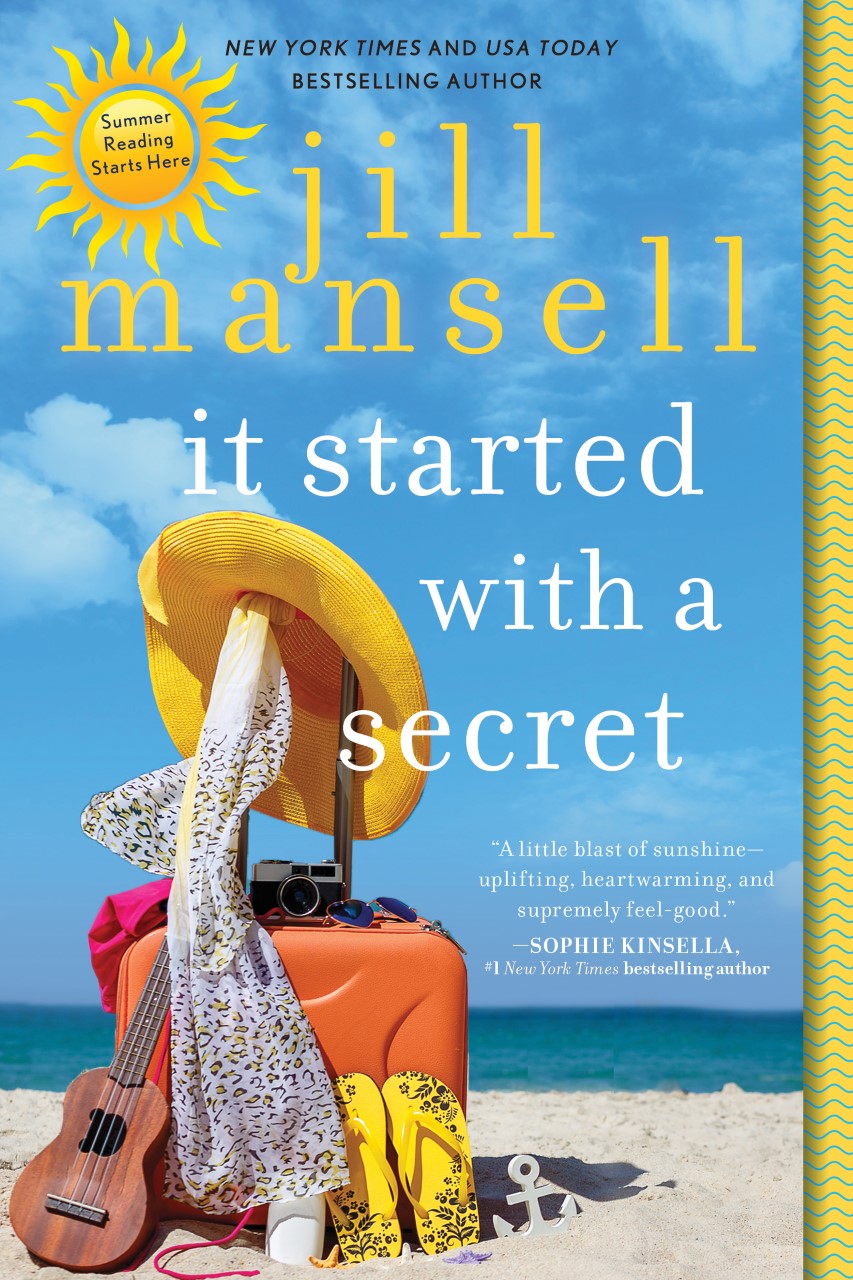 Jill's Mansell's heart-warming new book is the perfect escape from the winter weather. A beautiful Cornish setting, a chaotic family, a woman who's had enough of romance – or has she?
'IT STARTED WITH A SECRET is like a little blast of sunshine – uplifting, heartwarming and supremely feelgood' Sophie Kinsella, author of CHRISTMAS SHOPAHOLIC
The trouble with secrets is that you can't guess what the consequences will be . . .
Lainey has lost everything. Luckily one little fib (OK, quite a big fib) helps nail her dream job. Soon she's living in a stunning house by the sea, fending off obsessed fans for a retired – if far-from-retiring – actor and organising his charming but chaotic family. It's definitely worth the challenge of keeping her secret.
At least Lainey isn't looking for love. It's time for a break from all that. And yet . . . Seth, the actor's grandson, really is rather attractive. There's growing chemistry and a definite connection between them. But how would he react if he knew she hadn't been honest with him?
Lainey's not the only one with a secret, though. Seth has one of his own. And everything's about to start unravelling . . .
Women's Fiction | Romance Comedy [Sourcebooks Landmark, On Sale: June 2, 2020, Trade Size / e-Book, ISBN: 9781728211053 / ]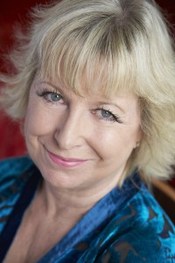 With over 11 million copies sold worldwide and over 700,000 in the US, New York Times and USA Today bestselling author JILL MANSELL writes irresistible and funny, poignant and romantic tales for women in the tradition of Marian Keyes, Sophie Kinsella, and Jojo Moyes. She lives with her partner and their children in Bristol, England. Visit Jill online at jillmansell.co.uk