1–What's the name of your latest release? 
Forbidden Lust, part of the Dynasties: Seven Sins series
2–What is it about? 
The novel features one of my favorite tropes—unrequited love! Allison has wanted Zane since she was a teenager, but he's her older brother's best friend, and those two guys will be best bros forever. Allison goes to visit her aunt in the Bahamas, only to learn that Zane is there, too, sent by her brother to force too-tense Zane to loosen up. Allison has a few ideas on how to make that happen.
3–What word best describes your heroine? 
Determined. Allison refuses to accept defeat, whether it's trouble with her career or pursuing Zane. She's not starry-eyed when it comes to her stubborn ways, though. She knows her limitations. With Zane, she knows it could never be more than a fling. Her brother and Zane would never allow it.  
4–What makes your hero irresistible? 
Zane is fiercely loyal and protective. He doesn't want to break the bro-code that says you don't get involved with your best friend's sister, but his efforts to keep Allison as only a friend really come from his instinct to be a protector. He'll do anything to keep her safe, and more important, never hurt her.  
5–Who are the people your main characters turn to when they need help? 
Allison's brother is the main one, which makes things pretty sticky for everyone since he's hearing it from both Allison and Zane. Allison also turns to her best friend and business partner, Kianna. Zane gets some much-needed advice from his mom, too.
6–What do you love about the setting of your book? 
More than half of my story is set on a fictional private island off the coast of Eleuthera in the Bahamas. I not only love the lush tropical escape, I love that there is nowhere for my characters to hide from each other. You don't have the distractions of everyday life. They have no choice but to deal with everything that separates them, and everything that brings them together.
7–Are you a plotter (follow an outline) or a pantster (write by the seat of your pants)?
I'm somewhere in-between. My inclination is to be a pantser and let the story take me where it wants to, but I'd only finish one book a year if I went that route. I typically write 4 or 5 books in a year, so I have to plot. It's forces me to stay on a narrower path. That being said, I always veer from the original plan. There are always unexpected detours.
8–What is an ideal writing day for you? 
If I do it right, every day is an ideal writing day! I wake up early, usually at 5:30. I make coffee, curl up on the couch with my laptop and our adorable cat, Ella. The house is peaceful and quiet, and I know no one will bother me until at least 7:00, when my husband gets up. I can get a big chunk of writing done then, and that puts me in the right mind frame for a good day, one where my brain is working on the story even when I'm busy with other author tasks like marketing or my website, or mom stuff like grabbing groceries and making dinner. I need that early morning blast of creativity though. If I don't get it, my writing day tends to go off the rails.
9–Do you listen to music while you write, need total silence, or do you have the TV on?
I need absolute silence when I write. I'm in awe of people who can write in coffee shops. I can't concentrate!
10– How do you approach research? 
It's a mix for me. I always do some foundational research about setting or the careers of my characters while I'm in the planning and plotting phase. I'll try to find an expert if I can, because you'll get insight you can't find anywhere else. There's always more to research as I write, but that's usually just an internet search, or if I'm really lucky and have found my expert, I'll ask them.  
11–What is your publishing journey story?
I wrote my first book, BRING ME BACK, in 2009. I'd had the story idea in my head for a while, about a woman who meets and falls in love with the rock star crush of her youth, only it's 20 years later. I had no idea what I was doing when I wrote that first book. I wasn't sure I could do it. I only knew that I wanted to try. I worried I would get stuck and frustrated, but I didn't. I stopped sleeping. I stopped eating. I became obsessed with the story. It was a life-changing experience, and I was so proud when I finished. Then I started querying! That was the hard part. I garnered 108 rejections from editors and agents on that book. Yes, I counted. It was difficult, but it helped me develop a thick skin. Eventually, a small press called Turquoise Morning Press offered me a contract. It came out in 2013. About six months later, I got an email from Patience Bloom at Harlequin, who is now my editor. She'd read BRING ME BACK, loved it, and asked if I'd be interested in submitting to Harlequin. Of course, I was super flattered and very excited. I was also a bit scared! It took some time to come up with a proposal for Desire, but Patience helped me every step of the way. I signed with Desire in September of 2014, and my first book with Harlequin, THAT NIGHT WITH THE CEO, which came out in August 2015. I just turned in my 20th book for Desire, which is my 36th book overall.
12–Do you have critique partners/writing groups you want to give a shout-out to? 
I have several close author friends who have done everything from critiques to quotes for me, including Karen Stivali, Piper Trace, Serena Bell, Maggie Wells, Jenny Holiday, Reese Ryan, Joss Wood, Joanne Rock, and Kat Cantrell. Gah! I'm sure I've forgotten someone, and I'm so sorry to anyone who falls into that category. The world of romance is immensely supportive. I'm incredibly thankful to be a part of it. 
13–What're the most frustrating things about being an author? 
Juggling the business side and the creative side can be frustrating since they so infrequently match up. You can bust your butt on a business-related project, then not have it pan out, and vice versa. But that's a little thing. At the end of the day, I can't imagine doing anything else. I LOVE my job!
14–What's your favorite scent?
Hmmm….this is an interesting one! I'm going to say baked goods in the oven—bread, cookies, cake. Can't beat those smells.
15–What movie will you watch no matter what if it's on TV? 
Pretty much any rom-com, except for My Best Friend's Wedding, which I think is horrible. Some of my favorites are Music & Lyrics, Notting Hill, and The Wedding Singer. Those either have an '80s slant or they're about a celebrity and a regular person. I love stories on those topics.
16–Do you like breakfast, lunch, or dinner best? 
I think dinner because it's more socially acceptable to have dessert after dinner. I love sweets. I also just flat-out love food, so it's hard for me to commit.
17–What's one thing you wish you knew more about? 
I wish I understood music on a level that goes beyond being a fan. I worked in the music industry for the entire decade of my 20s, and I've spent a lot of time with musicians. It's amazing to hear them talk about music, but I've witnessed entire conversations that went way above my head.
18–What's the silliest thing you've recently done?
I stubbed my toe in mid-December, but convinced myself that it was just sprained, even though it was super swollen and dark purple. We took our kids to Vegas a week later and I walked on that toe for four days, sometimes even in cute and impractical shoes. I paid the price, big time. I came home in January to find out it was not only broken, it was pretty messed up. Sometimes it's inconvenient to be human. I was trying to pretend I wasn't.
19–What can readers expect from you next? 
I have a trilogy for Desire launching this fall called The Sterling Wives. It's about three women who were all once married to the same man. He dies and leaves all three a chunk of his company. They band together to claim control. It's all about a found sisterhood, and pursuing love against the odds. The first book is ONCE FORBIDDEN, TWICE TEMPTED, which comes out in September.
20–How can readers reach you? 
My website is at https://karenbooth.net ,you can find me on Facebook at https://www.facebook.com/karenboothauthor/ , or on Instagram @karenbbooth. Email works, too! karen@karenbooth.net
Dynasties: Seven Sins #2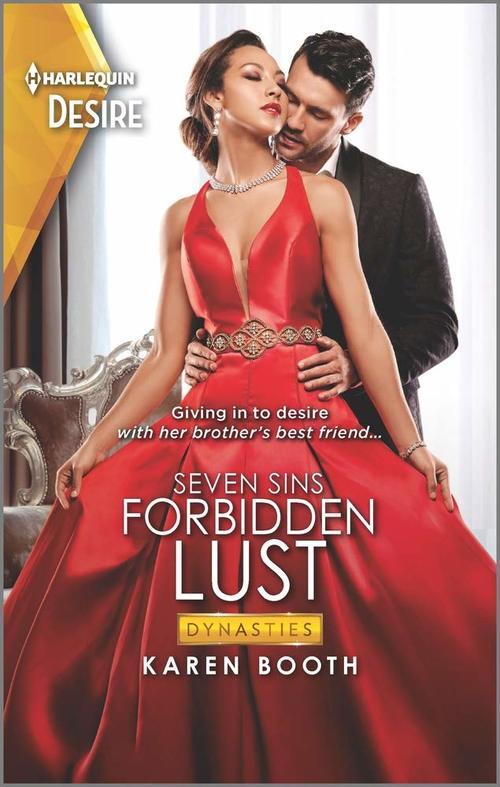 Giving in to desire with her brother's best friend. . .
Next stop, paradise–
With the man of her forbidden fantasies?
A secluded island resort is the perfect romantic setting for the night of passionate abandon Allison Randall plans to share with Zane Patterson. Her elder brother's best friend has always been off-limits. . . and Zane is determined to keep it that way. But when a storm strands them together, neither can hold back. Everything Allison dreamed of is finally in reach. . . until unwelcome revelations threaten a rude awakening!
Romance Series | Romance Contemporary [Harlequin Desire, On Sale: June 2, 2020, Mass Market Paperback / e-Book, ISBN: 9781335209146 / eISBN: 9781488062933]

Easy and breezy. . . an enjoyable, escapist romance!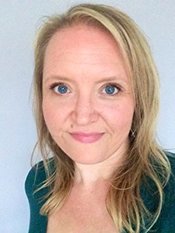 Karen Booth is a midwestern girl transplanted in the South, raised on '80s music and repeated readings of Forever by Judy Blume. Karen writes contemporary romance and women's fiction, almost always about the dreamy guy you never thought you'd get. Her stories are full of breathless kisses, tearjerker moments, the bizarre world of family dynamics, and more than a few things she pretends her parents haven't read. A married mom of two, Karen spends her spare time knitting, reading, or gardening, listening to everything from Otis Redding to Duran Duran, and convincing her husband to make her a cocktail.