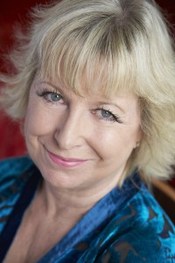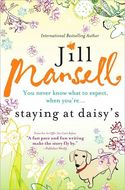 Hello, Fresh Fiction, and thanks so much for inviting me to chat to you about my latest book, STAYING AT DAISY'S. To start with, it has yet another stupendous cover (I love my Sourcebooks covers so much!). Secondly, it's pretty much the only novel I've completely set in a real place. Castle Combe is one of the prettiest villages in the UK and I live close by. The original Dr. Doolittle film starring Rex Harrison was filmed there. The Manor House Hotel in Castle Combe is one of my favourite places to visit – it's just amazing, and the restaurant is fab too. (This is not an advert, it's just true!) I did of course change the name of the village and hotel for the book…
I absolutely love using a hotel as the setting for a novel. So much can happen, and anyone might turn up. Before writing this book, I interviewed a couple of hoteliers who told me some truly amazing stories…of guests stealing the curtains and curtain poles in their rooms, of a guest dying and having to be carried down the stairs and out of the hotel whilst a wedding party was in full swing, of a husband eating dinner in the restaurant with his girlfriend when his wife walked in, and subsequently having to hide in the kitchen for the next three hours until she left again…
So you see, there's nothing new, nothing a novelist can make up that hasn't happened in real life. Some might call my books slightly far-fetched, but that's just dramatic license – zipping the action up a bit to keep the reader entertained. Otherwise you might get bored and that simply isn't allowed! Everything that happens in this book HAS happened in life, just not to such a small community. There's a plot thread in there to do with a broken washing machine that culminates in a situation that may seem mad, but it actually happened a few years back and featured in all the UK newspapers. We writers are thrifty characters, you see – nothing is ever wasted!
I'm so grateful for all the lovely feedback I've had in the past from my US readers – it really does mean the world to me that you're enjoying my books. And for those of you who are yet to try them…go on, give me a go! If you love films with romance and comedy in them and delicious Cotswolds settings – yes, The Holiday
, I mean just like YOU! – you'll hopefully enjoy STAYING AT DAISY'S. I really hope you will!
STAYING AT DAISY'S BY JILL MANSELL—IN STORES MARCH 2011
Life is Easy, It's Men She'll NEVER Figure Out…
When hotel manager Daisy MacLean meets cocky sports hero, Dev Tzack, it's a now brainier—stay away. He is arrogant and sarcastic—but also incredibly sexy. Daisy tries her best to steer clear of him, yet soon comes to realize he is the one guest she can't bear to see leave. Thens he learns a devastating truth: most peope are not who they seem to be, for better or worse…
ABOUT THE AUTHOR
Jill Mansell is the author of over 20 women's fiction novels, with over 4 million books sold worldwide. Compared to Jilly Cooper and Jane Green, Jill currently lives in Bristol, England, with her partner and their children, and writes full time. Actually that's not true; she watches TV, eats gum drops, admires the rugby players training in the sports field behind her house, and spends hours on the internet marveling at how many other writers have blogs. Only when she's completely run out of displacement activities does she write. For more information, please visist www.jillmansell.co.uk.
To comment on Jill Mansell's blog please click here.