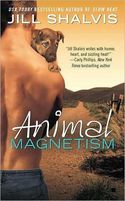 I was grocery shopping and trying to figure out what I wanted to write next when I ran into a guy in Army gear in the cookie aisle.  Be still my heart.  He had dark sunglasses on, absolutely no smile, and testosterone was pouring off him.
He ultimately choose two packages of granola bars instead of cookies, which nearly killed the fantasy but I recovered.  By the time I'd gotten to my car, I'd concocted a whole back story for him.  And just like that, ANIMAL MAGNETISM (2/1) was born.
Brady Miller doesn't smile much because he hasn't had anything to smile about in a very long time. He's an ex Army ranger, now a pilot for hire for organizations like Doctors Without Borders, back in the states at the request of his foster brothers.  They run a large animal center in the middle of Nowhere, Idaho, and need his help.
He agrees to stick around for unusually complicated reasons, even though he's lived his life as purposely uncomplicated as possible.  Fact is, he's not much of a family guy.  He's always been a wanderer, no roots, no home base.
Maybe even a guy who can't be saved.
It takes a village to show him the truth, including one silly little puppy and one sharp-tongued, sharp-witted heroine willing to knock him flat on his ass to make sure he gets it – that he was never lost at all, and as the saying goes, home is where the heart is…
Now I'm back to grocery shopping, searching the aisles for both ice cream and inspiration for my next story…
To comment on Jill Shalvis' blog please click here.