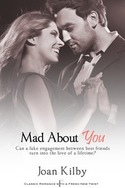 MAD ABOUT YOU is based on one of my favorite romance tropes, both as a reader and a writer–Best Friends to Lovers. Maybe I'm drawn to these types of stories because that's how my husband and I got together. I'd just come out of a relationship when I moved into a group house where my future hubby was living with mutual friends. We shared the house for a whole year before we got together romantically. At first I thought he didn't like me. Later I found out he was shy because he was attracted to me! Then we both went traveling, separately, and returned home within a few days of each other. I'll never forget the first moment we saw each other again. It was like a scene from a movie. Time seemed to stop as we saw each other through new eyes. Suddenly, possibilities opened up for something more than friendship. Not long after that, on New Years Eve, we kissed for the first time. And the rest, as they say, is history. 🙂
Scott and Cassy in MAD ABOUT YOU had known each other much longer when the story begins. At seven years old, Scott set up a lemonade stand in his new neighborhood. Cassy was his only customer. They bonded over lemonade and cookies and ever since, they've been there for each other. So when Scott asks Cassy to drop everything and help him, she agrees because she would do anything for her best friend.
In Friends to Lovers stories the couple have a history. Cassy and Scott know each other inside and out. Or they thought they did. As they begin to fall in love and relate in new ways, they discover things they never knew about each other before. Suddenly the relationship becomes fresh and exciting.
Where there's affection, there's also conflict. The reader knows the couple can get over obstacles because they've done so in the past. What friends don't fight and make up at some point in their relationship? But it's a big leap from being 'just friends' to figuring out that what they feel for each other is really love–and acting on that knowledge.
Cassy's terrified she'll lose Scott as her best friend if the romance doesn't work out. And Scott's never had a romantic relationship that's lasted. His mantra is: girlfriends come and girlfriends go; friends are forever. Love is a much bigger–and scarier–emotion. What if he loses Cassy from his life? For a guy with abandonment issues, that's the absolute worst thing that could possibly happen to him.
Do you enjoy friends-to-lovers stories? Do you have a favorite book you've read with that theme? Or have you experienced that type of relationship yourself?
Comment to go in the draw to win a $15 Amazon gift card.
About MAD ABOUT YOU
Can a fake engagement between best friends turn into the love of a lifetime?
Accountant Cassy Morris knows she's putting her heart on the line when she agrees to move in with her best friend, multi-millionaire geek Scott Thornton, while she manages his nanotechnology lab and finds an angel investor for his revolutionary new product. She's loved him forever even though he's only ever regarded her as a friend. But Cassy never could refuse Scott anything…
When Scott is named Seattle's sexiest man, the attention from women threatens to get in the way of him finishing his pet project and putting it on the market. Cassy steps up once again and pretends to be his fiancé. A lifetime of repressed sexual tension explodes in a passionate affair. Soon Scott is wondering how he can convince Cassy to turn their fake engagement into reality…
To comment on Joan Kilby's blog please click here.