I've always been fascinated by the stars. What's out there? Are we alone? How did we get here? Several years ago, I decided to explore that idea in fiction, and what a journey it's been. I knew what was out there in books on the subject, and my goal was to write something new and unexpected. Not an easy aspiration with all of the creative minds out there filling the shelves with their brilliant works.
As with every idea that evolves into a book, it began with a single question: What if… Of course, the first few things I finished that sentence with didn't lead me anywhere interesting. Aliens and beasts and special abilities that have been done and redone every which way. Demons and angels, gods and time travelers. None of them were right, but what else was there? One night while watching a movie—I can't even remember which one now—I began thinking about the power of emotion and how it can give someone seemingly super-human strength in the face of a crisis, physically and spiritually.
What if emotion could be harnessed as a shield or a weapon? Why would it be needed? What foe could be so strong it endangered our way of life? And most importantly, how did this ability come to be? Then came the next evolution of the idea—what if there was a love so strong, so potent and pure, it drew the attention of a higher being from out there in the vast black of time and space that held all the secrets of the universe?
And so the Mortal Machine, a secret society of Earth's champions, was born. Now all I needed were the players in this new world of mine. I've always been a big fan of flawed characters and hard-won love, and I began plotting against these poor souls to put them through hell on Earth and beyond. Several times over. There are days I'm really glad my characters can't come to life, because if they could, I'd be in some serious trouble right about now.
I took my characters many places while we explored this new frontier together, some we should never have gone. Dealing with such a complicated world where time and space followed new rules brought more challenges than I'd anticipated. I wrote myself into corners often. Even shed a few tears of frustration and triumph. I've never scrapped more words than I did with the Mortal Machine trilogy, leaving dozens of scenes littering the editing-room floor. By the time I finally wrote THE END on FOREVER DUSK, though, I had grown to know my characters as intimately as I know myself. Their weaknesses, their fears, their most private wishes, were my secrets to keep, some of which never made it onto the pages. I'm going to miss them.
Although my curiosity remains about those sparkling diamonds in our night sky, I'll have to be satisfied with my own version of our origins. At least until the great minds of or time uncover the truth that's out there, waiting for us to find it.
To celebrate the release of FOREVER DUSK, the last of the Mortal Machine trilogy, Jocelyn will be giving away a tree of life pendant, along with a $20 Amazon gift card. Just tell us what emotion would be the best as a weapon. Ever think about that? It can stir up some thoughts!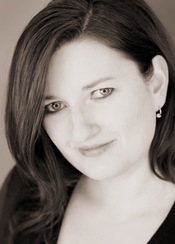 Jocelyn is an office grunt by day and creator of romance and adventure by night. Born a farmer's daughter with a vivid imagination, she spent her childhood dreaming up stories that remained untold until 2010.
With no formal training, she relied on the honest feedback of her writing group to take her from that first short story all the way to THE END of her first novel. She now has nine published novels and has recently signed a 3-book deal with Entangled Publishing.
When she isn't slinging words, you can find her shooting her bow or enjoying the serenity of family life in her little house in the woods.
Mortal Machine trilogy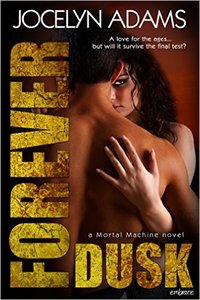 A love for the ages…but will it survive the final test?
Since their last battle, life for the Mortal Machine—the secret-society that protects Earth and its inhabitants from dark outside forces—has become almost…normal. For everyone but Addison. The evil she's imprisoned in her soul has begun eating away at her sanity, and despite her soul mate Asher's efforts to hold her together, it's causing painful and terrifying delusions.
Consequently, nobody believes Addison's warnings that Marcus, their old enemy, has returned. When Marcus threatens Asher and the Machine, she agrees to find what he seeks—a treasure that, in his hands, could be deadly.
If she relies too much on Asher, she knows he'll likely imprison her, if only to preserve what's left of her deteriorating mind. But if she fails this final test, Earth will fall. So Addison is forced to distance herself from her love, to prevent the life she wants with Asher from being over before it truly begins.