Sometimes a story sits in the back of a writer's head, waiting its turn to come out. INDIGO LAKE was like that. The two main characters came from two different worlds. Blade had no family who cares about him and Dakota was sometimes smothered in her responsibilities. Both were looking for someone, the right person, to fill the longing, but neither would admit it.
Blade Hamilton had inherited a house he cared nothing about. After driving all day to look at it, he'd decided to sell it all, land, house and heritage. He hadn't known about his father and he didn't need an old crippled house with wild roses growing almost to the roof.
Dakota Davis had heard her grandmother's dark stories about the Hamilton house all her life. When she turned off the county road heading toward home, she thought she was seeing a ghost standing knee-deep in Indigo Lake.
As they get to know one another they begin to care and the love they share seems to cut their problems in half.
I love writing stories about people who become so real to me that I wake up nights worrying about them. That's how it was with Blade and Dakota. And Dakota's sister was too good a character to let her story end so she will be the star of her own Christmas short story in October.
Hope you enjoy,
Jodi Thomas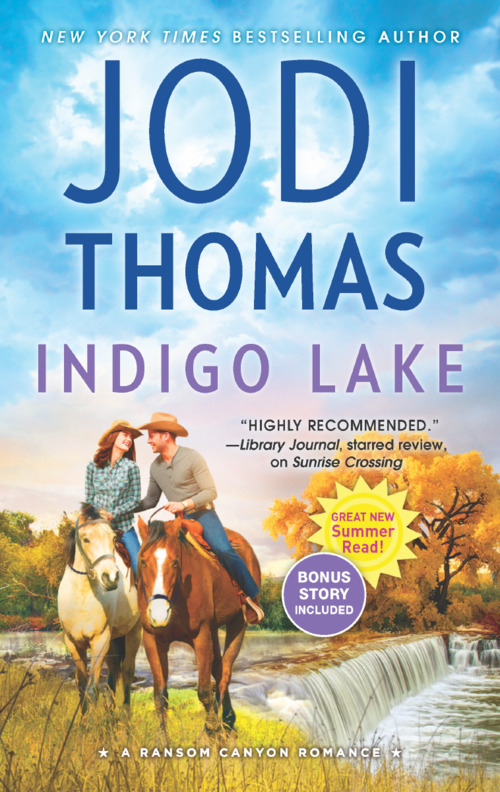 Two families long divided by an ancient feud. Can a powerful love finally unite them?
Blade Hamilton is the last of his line. He's never even heard of Crossroads, Texas, until he inherits land there. Riding in on his vintage Harley-Davidson, Blade finds a weathered ranch house, an empty prairie and a dark river that cuts a decisive path between the Hamiltons' land and that of their estranged neighbors.
When Dakota helps a stranger on the roadside, she isn't prepared for the charisma of the man on the motorbike—or for the last name he bears: Hamilton, of her family's sworn enemies, representing all she's been raised to loathe. The problem is, it looks like Blade is in town to stay, and there's something about his wolf-gray eyes she just can't ignore.
Lauren Brigman feels adrift. Unhappy in work and unlucky in love, she knows she ought to be striving for more, but she's never truly at peace unless she's at home in Crossroads. If the wider world can't satisfy her, is home truly where her heart is?
Romance Western [HQN, On Sale: July 18, 2017, Paperback / e-Book, ISBN: 9780373804047 / eISBN: 9781488023170]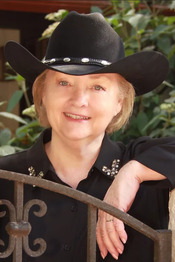 Jodi takes you to the Heart of Texas
A fifth-generation Texan, New York Times and USA Today bestselling author Jodi Thomas chooses to set the majority of her novels in her home state, where her grandmother was born in a covered wagon. A former teacher, Thomas traces the beginning of her storytelling career to the days when her twin sisters were young and impressionable.
With a degree in family studies, Thomas is a marriage and family counselor by education, a background that enables her to write about family dynamics. Honored in 2002 as a Distinguished Alumni by Texas Tech University in Lubbock, Thomas enjoys interacting with students on the West Texas A&M University campus, where she currently serves as Writer in Residence.
Commenting on her contribution to the arts, Thomas said, "When I was teaching classes full-time, I thought I was making the world a better place. Now I think of a teacher or nurse or mother settling back and relaxing with one of my books. I want to take her away on an adventure that will entertain her. Maybe, in a small way, I'm still making the world a better place."
When not working on a novel or inspiring students to pursue a writing career, Thomas enjoys traveling with her husband, renovating a historic home they bought in Amarillo and "checking up" on their two grown sons.
Save