Oldest? Middle? Youngest? Only?
Does your position in your birth family determine aspects of your personality? May psychologists believe that it does. A glance around my own birth family (6 siblings), as well as the family I gave birth to (3 kids), tells me there's a nugget of truth in birth-order/personality theories.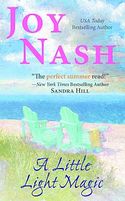 An added bonus: yet another character-creation aid for writers. When I dreamed up the various members of the Santangelo family in A Little Light Magic (Leisure Books, May 26), I kept birth order personality traits in mind. Here's a quick rundown:
Nick Santangelo (hero of A Little Light Magic): The classic oldest child. Conservative, responsible, workaholic, protector, doesn't like to take risks. Nick's a business owner, which is not unusual for an oldest child. He's used to making decisions and giving orders (having practiced in childhood on his younger brothers). He doesn't often let loose and just have fun – everything's tied up in work and responsibility for Nick.