If someone doesn't glue me down soon I'm going to hurt myself. Why all the extra energy? Lot's of reasons. Despite this economic downturn and the lull in publishing, romance has not only survived, it's thriving!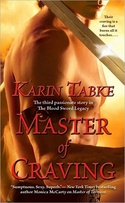 Take that, literary snobs! Okay, that isn't nice, but it's how I feel. Would someone please tell me what is so bad about losing yourself in a passionate love story? One that ends with a Happily Ever After? Hot heroes to die for, heroines we'd like to befriend and that warm fuzzy feeling we get when we read The End. How can anyone have issues with that?
Not me, and I don't defend romance either. I blow off the snarky comments with a shrug of my shoulders and a suggestion to the naysayer that perhaps they might want professional help to deal with that cynical chip on their shoulder. Okay, maybe that is a wee bit defensive, but it's true!
Click here to read the rest of Karin's blog and to leave a comment.