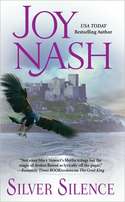 To the Once and Future Readers of my tale,
I left Avalon as a lad of fourteen winters.
It was not my choice. The sacred isle was my soul-home. It was there I learned the magic of the Goddess. The white mists cast by Cyric, my grandfather, hid my clan from its enemies. To my mind, there was no reason a Druid should venture into the outside world.
Cyric knew differently. My grandfather's visions showed him a time when the Light would fade from Britain, when war and chaos would threaten the survival of our people. Only on Avalon, hidden in the teachings of The Lady, could the Light survive long enough, grow strong enough, to influence that grim future.
To read more of Rhys' letter and to comment for a chance to win please click here.