Welcome to Fresh Fiction, Julia! Please tell us about yourself and a little bit about your latest book, FIRST COMES SCANDAL.
Hi, Fresh Fiction! Thanks for the opportunity to introduce myself. I've been writing historical romance since 1995, primarily set in late 1700s/early 1800s Great Britain. First Comes Scandal is the final book in my Rokesby/Bridgerton prequel series, and it opens with Nicholas Rokesby being basically ordered by his father to marry his neighbor and girl-next-door Georgiana Bridgerton after her reputation is ruined by an overzealous suitor.
This is the final book in your prequel series to the Bridgertons series. What have you loved about writing this expanded world?
I first conceived of this series as a way to show some of our favorite characters (namely Edmund and Violet Bridgerton) when they were younger. But then due to the way the series was structured, they didn't really show up in a meaningful way until this final book. It was incredibly fun to visit with them, and especially to show Anthony and Benedict Bridgerton as young boys. (And Colin as a baby!)
But beyond that, the Rokesby books have enabled me to visit new locales. The Girl With the Make-Believe Husband was set in Revolutionary War-era New York City, and The Other Miss Bridgerton had a few chapters in Lisbon. Readers still get the tone and pacing they expect from my UK-set books (all of the characters are British), but it's been fun to visit more exotic locales. (Side note: I grew up close to NYC, and I am laughing that I just called it exotic, but in the world of my books, it is!)
Georgie and Nicholas have a friends-to-lovers and marriage of convenience story. Because they know each other relatively well, was it easier or harder to write their happily-ever-after?
Both, really. Their preexisting knowledge of each other made it easier to dispense with a lot of the getting-to-know-you moments, but at the same time, it meant that the conflict had to be almost 100% internal. And while I'm a firm believer that you need a healthy dose of internal conflict for a good romance (it can't all come from an outside villain), the internal stuff can often be more difficult to write.
Everyone I know is clamoring for information about the upcoming Bridgerton show, based on your beloved Bridgertons series, on Netflix. What an exciting time! What has been the most surprising thing about your series coming to life, so to speak?
The sheer scope of it. I've been out to the UK twice to visit the set, and I can't wrap my head around how many people are working on it. There are hundreds and hundreds of people bringing this project to life, and the craziest thing is—they're all closer to it right now than I am.
Everyone needs a comfort read right now! What books/genres/tropes do you turn to when you need some relief?
Romance (obviously) and I've always been a big reader of dystopian fiction. You'd think I wouldn't want to read this while we're in the middle of a pandemic, but it's oddly soothing. I mean, as long as we're not at The Hunger Games levels, it feels like things might not be so bad.
What can readers expect from you next?
Honestly, I have no idea. It's probably time to start brainstorming.
Rapid Fire Random Questions
Favorite animal:  Honey badger
Coffee or tea:  Both! (But more often coffee)
Favorite book to re-read:  I'm not actually much of a re-reader.
Beach or mountains:  Beach.
When you were younger, what did you want to be when you grew up?:  Changed daily, I'm afraid.
Dream vacation: These days, just about anything outside my house.
Aside from reading and writing, what are your hobbies?:  I'm a real puzzle person. I love jigsaw puzzles, and I've recently gotten into "Spelling Bee" over on the New York Times puzzle section. It's a nice short one—I feel like I need things in my life right now that aren't huge time commitments.
Five people you'd invite to your book club (dead, alive, fictional, etc.!):  Jane Austen, Gloria Steinem, Eleanor Roosevelt, Shonda Rhimes, and my great aunt Millie.
Favorite movie:  Hope and Glory
You have a totally free afternoon – no deadlines, no obligations, no Twitter notifications!  What do you do?:  Nap!
Bridgertons Prequel
She was given two choices…
Georgiana Bridgerton isn't against the idea of marriage. She'd just thought she'd have some say in the matter. But with her reputation hanging by a thread after she's abducted for her dowry, Georgie is given two options: live out her life as a spinster or marry the rogue who has ruined her life.
Enter Option #3
As the fourth son of an earl, Nicholas Rokesby is prepared to chart his own course. He has a life in Edinburgh, where he's close to completing his medical studies, and he has no time—or interest—to find a wife. But when he discovers that Georgie Bridgerton—his literal girl-next-door—is facing ruin, he knows what he must do.
A Marriage of Convenience
It might not have been the most romantic of proposals, but Nicholas never thought she'd say no. Georgie doesn't want to be anyone's sacrifice, and besides, they could never think of each other as anything more than childhood friends… or could they?
But as they embark upon their unorthodox courtship they discover a new twist to the age-old rhyme. First comes scandal, then comes marriage. But after that comes love…
Romance Historical [Avon, On Sale: April 21, 2020, Mass Market Paperback / e-Book, ISBN: 9780062956163 / eISBN: 9780062956170]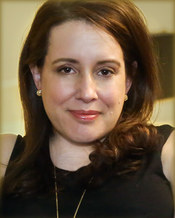 #1 New York Times bestselling author Julia Quinn loves to dispel the myth that smart women don't read (or write) romance, and if you watch reruns of the game show The Weakest Link you might just catch her winning the $79,000 jackpot. She displayed a decided lack of knowledge about baseball, country music, and plush toys, but she is proud to say that she aced all things British and literary, answered all of her history and geography questions correctly, and knew that there was a Da Vinci long before there was a code.
Ms. Quinn is one of only sixteen members of Romance Writers of America's Hall of Fame, her books have been translated into 31 languages, and she currently lives with her family in the Pacific Northwest.
The Bridgertons, her popular series of historical romance, is currently in development by Shondaland as a Netflix original series.