Hi everyone! I thought this week, I could talk about what I've been reading lately and why I think I am reading these things.
Just like everyone else, I am struggling a lot with the social distancing and isolation as a result of the Corona Virus Pandemic. I moved out three years ago to my own place and I currently live alone with my two dogs (a big reason I picked the place I did – it allows up to two pets). Normally, that's not so bad and I like having my own space, but it's been difficult this past month. Also, my younger dog, Lady, has been having trouble too because she's very social and misses my family too. We've had some recurrence of accidents and she is easily scared more than usual by things. If anyone else is dealing with this with their pets, one thing that has been helping immensely is having special body massage time and extra cuddles!
I have always taken comfort in reading. When I was in junior high and struggling to make friends, I reread Anne of Green Gables and Tamora Pierce over and over, finding comfort in the found families and the strong friendships, especially Anne and Diana being "kindred spirits." I think that's why so many readers are turning to romance, especially right now. There is a massive comfort in knowing everything will be ok somewhere, with all the uncertainty going on in the country and the world right now.
My current reading habits fall along two genres, at the moment: mysteries and romance, especially if they coincide. I think I need the extra comfort of the genres that require a tidy ending. I started the stay at home time with The Ultimate Pi Day Party by Jackie Lau, a new read for me. I had read the novella prequel, One Bed for Christmas, and it was so fun to enter that world again! I definitely wanted to eat pie (savory and sweet!) after, but unfortunately, I don't know how to make those pies and I also don't have the ability to at the moment. I'm hoping to bake some once I replenish my groceries!
Right before this all happened, I read an e-arc of Close Up by Amanda Quick, the fourth book in the Burning Cove series, so my goal was to try to read the previous three. I will admit, I have not yet gotten a library card in my new town, but I did recently get a digital-only card and downloaded the Hoopla app, so I should be able to check out more books digitally through my library. I did see they have some of Beverly Jenkins's early romances that I don't own, so I am definitely adding those soon.
Speaking of, another one of my recent reads was Indigo and wow, I wish I had read it sooner! I had seen discussion of Galen redoing the inside of his carriage with indigo fabric (after Jen and Sarah talked about it on Fated Mates), but it was still swoony reading it. I've talked before how Beverly Jenkins's Belle and the Beau was influential to me as a young romance reader and the Beau in that book was named Daniel. . . If you've never seen the original covers for Belle and the Beau and Josephine and the Soldier, check them out! I like the newer covers as well, but the original ones are great!
Next up will be some more ARCs (advanced reader copies)! I am trying to get a good sense of upcoming books for the summer. I recently finished an arc of Something to Talk About by Meryl Wilsner and I will say that if you're a fan of slow-burn, you need to get your hands on it. If you aren't, I still think it's a great read!
I hope everyone is staying safe and healthy out there! I also hope you are able to find comfort in reading! Until next week,
Marissa
—
COMMENT TO WIN: What's the last book you read that you loved? Let us know in the comments and you'll be entered to win a Corner Cafe soy candle from NOVELLY YOURS and a cute LSA Button, made by BestFriendKelly. US Only – GOOD LUCK! 
—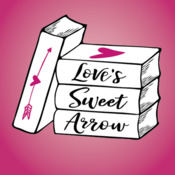 LOVE'S SWEET ARROW is a romance-focused independent bookstore in Tinley Park, IL. LSA has been featured in Forbes, the Chicago Tribune, BTW, Love In Panels, and more. You can find out more about the store (and their adorable bookseller dogs) on Facebook, Twitter, and Instagram. You can also shop their online store, sign up for their newsletter, and check out their Patreon. For more information, please visit http://lovessweetarrow.com.