Welcome back to Fresh Fiction, Julie Anne! Please tell us about your new Cider Shop cozy mystery series and the first book, APPLE CIDER SLAYING.
Hi! Thank you SO crazy much for having me back!! I'm really amped up about this new release! APPLE CIDER SLAYING is near and dear to my heart, set in the Blue Ridge Mountains of northern West Virginia, an area I know well. Winnie lives with her Granny Smythe on the family apple orchard and becomes entangled in a murder investigation when Granny's arch-nemesis is found lodged in the apple press, and the new sheriff names Granny as his number one suspect.
Winnie Montgomery is just trying to keep her family's apple orchard in business, but when her beloved grandmother is accused of murder, Winnie is having a hard time keeping things in order and just wants to prove her grandmother's innocence. What do you think made Winnie a good amateur detective?
Winnie is the best. Her natural curiosity gives her the little push she needs to get started once the urge hits. Before that, her big heart gets her started. Anytime Winnie sees an injustice or an underdog, she's nearly compelled to jump in and right that wrong or lift the fallen. In APPLE CIDER SLAYING, when her neighbor is killed and her granny is accused, Winnie has two reasons to take action. She wants to protect her granny's reputation, but she also wants to see her neighbor get justice. When the sheriff seems to start down the wrong path, Winnie gets the ball rolling with that curious mind and finds herself in the thick of things because of her roots to the community. Folks in Blossom Valley know and trust her, so they're ready to help out. And that is also a real asset.
In addition to being the home of the Smythe Apple Orchard and the scene of an unfortunate crime at the cider press, Blossom Valley, WV, is the quintessential smalltown! Who are some of your favorite side characters that populate this lovely little town?
So many! For starters, I love Granny Smythe and her whole crew of needle pointing seniors. I also love Winnie's BFF, Dorothy Summers, AKA, Dot, the local park ranger / animal rescuer. I even like Winnie's ex, Hank, who's admittedly a bit of a pill, but I'm going to have him work on that. Don't worry. Oh! And of course, Sheriff Colton
Wise has my vote among favorites, because a heroine as spunky as Winnie needs a hero who can hold his ground.
One of the things I like about cozy mysteries (aside from the punny titles) is the balance between humor and, well. . . murder. How do you strike the right amount of smalltown charm and more nefarious plot points?
I think the key for me is to stay focused on the heroine and the adventure. The reason for her quest is sad, but I do my best to keep the reader so swept up in her quest and side quests, that the murder is nearly forgotten. What becomes most important is solving the puzzle, laughing, eating and making memories with the heroine.
Even though this book is set during the Christmas Holidays, this current time of year is prime time for apple picking, hayrides, and all of those fun fall activities! What's your favorite thing to do in the fall? Did you base the Smythe Apple Orchard on a real orchard?
I love fall everything! Living in the Midwest has been a lifelong treat, and I take full advantage of this time of year. I make smores and take hayrides. Pick apples, carve pumpkins. All of it! And there's an orchard nearby that I love to visit. The county hike and bike path practically comes to my door, and in about twenty minutes, I'm at Beckwith Orchards, a family-run orchard about a mile away by trail. I've become a regular since I made this discovery! There's a ton to do there and I often drop by after dinner to carry a pie home from their oven. Or apple dumplings. Or caramel apples. Or cider.
You write in a variety of genres – which do you find the easiest to write? The hardest? Is there a genre or form of storytelling you'd like to tackle that you haven't yet?
I do! I just LOVE to tell stories! I think cozies are the easiest, or at least they come the most naturally to me. Everything about the genre works the way my brain operates. LOL! I tend to be a bit dramatic and silly, upbeat and hopeful. So, writing stories about people we love and live in places we want to go to is the perfect outlet for my creativity. As for a new genre?? I do have one of those I want to tackle! I'm actively working with my agent on a possible romantic comedy, which I think will also work very well with my happy, silly, romantic brain.
Halloween is almost here! What are your plans this year? Dressing up? Or if you aren't, what would you dress up as?
I am. I love to dress up. I will literally dress up for ANY reason. I even bought a costume that made me look like a giant bag of movie popcorn and wore it every week to my kids' elementary school to sell popcorn on the playground and raise money for parties and field trips. This year I'm going to be Little Red Riding Hood, I think. Our neighborhood makes a HUGE deal out of trick or treat, so I'll set up shop on the porch and deliver sweets to the kids, hard ciders to the parents.
What can readers expect from you next?
So much! APPLE CIDER SLAYING launches my brand new Cider Shop Mysteries series on October 29th, and I am ecstatic! From there, I have a full 2020 with four new romantic suspense titles from Harlequin Intrigue, Books Two and Three in the Cider Shop Mysteries as well as additional titles from another cozy series I write, and fingers crossed, maybe even news on that romantic comedy idea of mine!
Rapid Fire Random Questions
Dragons or unicorns: Dragons
Five people you'd invite to your book club (dead, alive, fictional, etc.!): Edgar Allan Poe, Stephen King, Emily Bronte, Stephanie Meyer, Emily Dickenson
Some of your auto-buy authors: Janet Evanovich, Stephen King, Rose Pressey, Susan Mallery, Roni Loren
Favorite flower: Poppies!
Earliest celebrity crush: Johnny Depp (21 Jump Street)
Random interesting fact you like to tell people: I once walked the plank on the Jolly Roger in Barbados.
Hobbies you have (aside from reading and writing): I organize things and binge-watch shows.
Dream vacation: Oceanfront home, in a small seaside town, with maybe 1 close friend and zero plans for the entire week
Sweet or salty snacks: BOTH!
You have a totally free afternoon – no deadlines, no obligations, no Twitter notifications! What do you do?: I would hands down take a walk to Beckwith Orchards and buy me some pie! Swing in a hammock. Enjoy the silence. Read. Nap and have the pie for dinner. Probably with wine.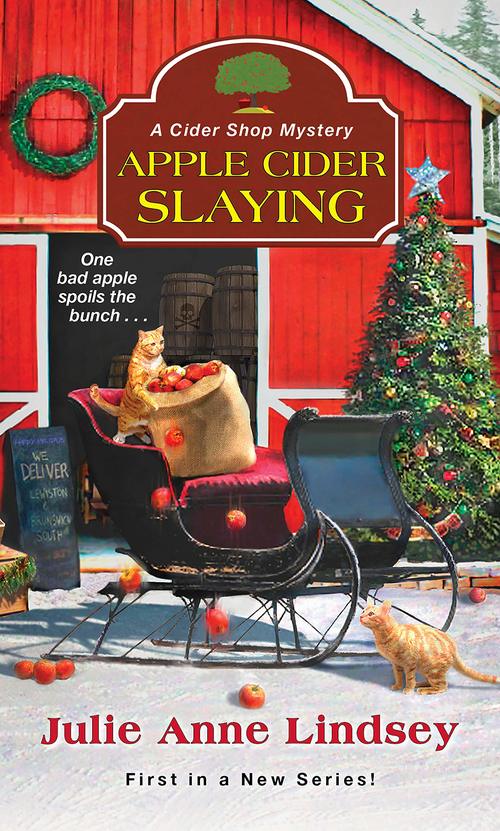 Apples are at the core of the family business run by Winona Mae Montgomery and her Granny Smythe. But this year's crop is unseasonably ripe with murder . . .
ONE ROTTEN APPLE
Blossom Valley, West Virginia, is home to Smythe Orchards, Winnie and her Granny's beloved twenty-five-acre farm and family business. But any way you slice it, it's struggling. That's why they're trying to drum up business with the "First Annual Christmas at the Orchard," a good old-fashioned holiday festival with enough delicious draw to satisfy apple-picking locals and cider-loving tourists alike–until the whole endeavor takes a sour turn when the body of Nadine Cooper, Granny's long-time, grudge-holding nemesis, is found lodged in the apple press. Now, with Granny the number one suspect, Winnie is hard-pressed to prove her innocence before the real killer delivers another murder . . .
"The characters are delightful . . . Plenty of action and suspense."
—RT Book Reviews on Murder in Real Time
Includes Recipes!
Mystery Cozy | Mystery Culinary | Mystery Woman Sleuth [Kensington, On Sale: October 29, 2019, Mass Market Paperback, ISBN: 9781496723475 / ]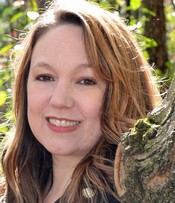 As an only child Julie always had plenty of time to people watch and make things up. When she didn't think she could make a living at the latter, her love of people led her to a BA in Psychology instead. A few years and three kids later, Julie discovered the thrill of writing. Writing lets her harness a seemingly endless supply of energy and enthusiasm and create something of value in the wake.
Mother of three, wife to a sane person and Ring Master at the Lindsey Circus. Most days you'll find her online, amped up on caffeine & wielding a book.