Music is a huge part of THE SOUND OF US. Kiki Nichols, the main character, is always searching for songs that speak for her—choosing to express her emotions through the words of other people, instead of using her own.
While working on the book, I created a huge playlist of songs to inspire me while writing (or thinking about writing). These are some of the tracks I think Kiki would've been listening to while trying to survive opera camp, her tumultuous ex-best-friendship, and her relationship with Jack.
Untouchable Face by Ani DiFranco (NSFW): First rule of mixtaping is that you never include two songs by the same artist, so I had to 86 both "Superhero" and "Falling Is Like This," even though Ani was such a huge influence on both Kiki and me. I think "Untouchable Face" is one of the best angry love songs on the planet.
Romeo and Juliet by the Indigo Girls: This is Jack and Kiki's song. Yeah, Dire Straits did it first, but Amy and Emily (okay, really just Amy) did it best.
Deathly by Aimee Mann: Another Jack and Kiki song. The first line of this one kills me every time. No wonder Paul Thomas Anderson used it verbatim in the movie Magnolia. It's simply perfection.
Break Your Heart by the Barenaked Ladies: I don't think he'd admit it, but this song is Jack to a T. He's afraid of change, afraid of making waves, and afraid of making anyone feel bad—but by trying so hard to be the "good" guy, he manages to do just that.
Elsewhere by Sarah McLachlan: Oh, this song. This was one of my favorite "You are speaking right to my life, lady songstress" tracks when I was in high school. It's all about growing up and finding your own path, even if your parents (and the other people in your life) just don't understand.
Northern Lad by Tori Amos: This is the song Kiki's playing when she first meets Jack. I love the lyrics, but I also love the vocal range of this song. I used to sing it myself when I was a (bad) voice student. It was one of my very favorite songs to sing when performing my own solo concerts in my parents' basement, just like Kiki.
Language or the Kiss by the Indigo Girls: Sorry, I have to break the mixtape rules here. But of course, mixtape rules were made to be broken (and I broke them often in my mixtape making days). That said, I'm going to call my flagrant rule-breaking legal on a technicality—the first Indigo Girls song on this list wasn't really an "Indigo Girls" song.
"Language or the Kiss" is one of the greatest, saddest songs about being a creative person, and it is so representative of Kiki. What's more important—art or love?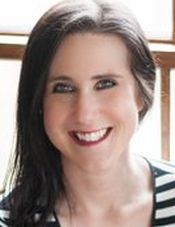 Julie Hammerle is the author of THE SOUND OF US (Entangled TEEN, 2016). Before settling down to write "for real," she studied opera, taught Latin, and held her real estate license for one hot minute. Currently, she writes about TV on her blog Hammervision, ropes people into conversations about Game of Thrones, and makes excuses to avoid the gym. Her favorite YA-centric TV shows include 90210 (original spice), Felicity, and Freaks and Geeks. Her music playlist reads like a 1997 Lilith Fair set list.
She lives in Chicago with her husband, two kids, and a dog. They named the dog Indiana.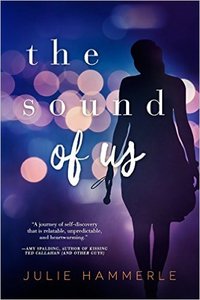 Kiki Nichols might not survive music camp.
She's put her TV-loving, nerdy self aside for one summer to prove she's got what it takes: she can be cool enough to make friends, she can earn that music scholarship, and she can get into Krause University's music program.
Except camp has rigid conduct rules—which means her thrilling late-night jam session with the hot, equally geeky drummer can't happen again, even though they love all the same shows, and fifteen minutes making music with him meant more than every aria she's ever sung.
But when someone starts reporting singers who break conduct rules, music camp turns survival of the fittest, and people are getting kicked out. If Kiki's going to get that scholarship, her chance to make true friends—and her first real chance at something more—might cost her the future she wants more than anything.