Colton Garrett, the hero of Hot Target Cowboy, is used to being the responsible one among the three Garrett brothers. But when he meets Misty Dalton, he totally falls in love. He learns to loosen up and lead with his heart instead of his head.
Misty, on the other hand, has been trying to hold her family together, though it has been steadily falling apart since her mother passed away. Her father is terminally ill, and her older brother seems to be hell-bent on throwing away their few resources. The one she is trying to protect is her 12-year old brother, Mark. Although she is, at first, reluctant to accept Colton's help, she learns he is the one man who won't let her down. She must learn to trust.
Colton's father, Big Jim Garrett, the fearsome patriarch of the Garrett clan, thinks Misty is after Colton for his money. He has to learn to trust his son's ability to make his own decisions and fend for himself when it comes to matters of the heart.
EXCERPT from HOT TARGET COWBOY
Misty Dalton scanned the churning crowd for either one of her brothers. Joe was dead set on selling off the Dalton stock, no matter what she or her little brother, Mark, thought about it. With their dad so very ill, she supposed they didn't have much choice, but it killed her to see the pain in Mark's eyes over losing his beloved Appaloosa stallion. He was only twelve years old and had raised the horse from a colt.
This was just too much misery for one so young to bear. At least she had gotten to enjoy a childhood with both parents.
When their mother was alive things had been different. Her mom had been a cheerful, church-going woman, a "treasure above rubies" according to her dad.
But when her mom had been killed, riding on the church bus to a women's retreat, everything changed. The remaining family members seemed to have stopped functioning when they buried their matriarch. They slogged through their days with no particular plan or ambition. Misty was only fifteen at the time, and somehow it had fallen to her, as the surviving female in the household, to shop for groceries and produce simple meals; to wash dishes and laundry. At first, Joe shouldered a lot of the responsibility for the ranch, while their father had fallen into the bottle, deadening his pain with liquor to make it through the sleepless nights. Now, he was dying of liver disease and stomach cancer. Not fair. The whole thing is just not fair.
Misty pressed her lips together and swept the hall with her gaze again, searching for Mark or Joe. She blew out an exasperated breath when she spied the Garrett brothers. Big assholes. She compared the two, walking side-by-side.
Beau, the younger one, had gone to school with Joe. She guessed he was okay. Not bad to look at. Tall and broad shouldered, he almost appeared downright puny standing next to the other one. Colton. Mister everything at Langston High.
She could see his eyes from where she stood. Bright blue, almost turquoise, set in his tanned face. Ringed with black lashes all around to match his dark, dark hair. He wore an expensive western shirt and Wranglers that fit just right, showing off his muscular thighs. Sitting on his head was a soft gray Stetson. Absolutely freakin' perfect, Mr. 'Check me out. I'm a hot cowboy'.
She knew her brother Joe had looked up to his friend, Beau's, big brother. Idolized him, in fact. Colton Garrett went out for all sports and seemed to do well in all of them, Like all small towns, Langston citizens were very supportive of their athletes. She recalled all the games where her entire family had sat together on the sidelines, cheering on the local boys.
She pressed her lips together. Those had been good days, but then her family had fallen apart.
Yes, Colton Garrett had been everything Joe Dalton aspired to be. An athlete. A scholar. And rich.
Too bad Joe had never been any of those things, and if Fred Hamilton, the president of the bank, had anything to say about it, the Daltons would be penniless and tossed off their land soon enough.
His loyalty is to his family.
But his heart belongs to her.
Eldest son Colt Garrett is the biggest, strongest and steadiest of the Garrett brothers. Colt accepts his responsibilities, knowing his future is tied to the land. Colt has stayed centered-but when he falls in love, he falls hard. He is mesmerized by Misty Dalton, the younger sister of one of his brother's friends.
Misty Dalton has held together a family plagued with problems since her mother passed away. But when the threats to her family turn deadly, Misty turns to Colt. If anybody wants to hurt Misty, they're going to have to go through the toughest of the Garrett boys first.
Romance Western [Sourcebooks Casablanca, On Sale: January 1, 2019, Mass Market Paperback / e-Book, ISBN: 9781492667698 / eISBN: 9781492667704]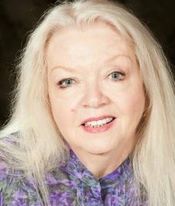 JUNE FAVER loves Texas, from the coast to the panhandle. Her novels embrace the heart and soul of the state and the larger-than-life Texans who romp across her pages. A former teacher and healthcare professional, she lives and writes in the Texas Hill Country.