I've always loved to travel, so I'm particularly drawn to novels set in interesting locations or featuring characters who take a journey of some sort. It's my way of exploring the world even when I need to stay close to home. I've heard people refer to it as "armchair travel." It's the perfect escape from the daily demands—kids, job, friends, bills—you name it.
Back when I was first dreaming of being an author, I remember reading a whole stack of Robin Jones Gunn's delightful Sisterchicks books. As I closed the final cover, a thought jumped to mind. "This writer has it figured out. She must travel to all of these exotic locations to do book research—and it's probably a business expense!" I realized the same was probably true of many of the other authors I made a habit of reading. Professional vacationers. Wouldn't that be the life?
Now that I've been on multiple book trips, I can tell you for sure: it is incredible. Traveling for novel research is a dream come true.
It's also a lot of work.
My current series is set in some of our country's most beautiful places, our national parks. When I first proposed the Vintage National Parks Novels, it was more a case of  "write what you know" instead of  "write where you want to go." The first book was set at Mount Rainier National Park. I'd grown up nearby, spent family vacations there, and had the honor of working two summers as a seasonal park ranger. It felt like home to me.
But the next two novels were set in Yosemite and Yellowstone. The time had come to realize my book-travel fantasies. I informed my family that we'd be hitting the road. They weren't as excited as I had anticipated. You see, national parks are my dream. I'm the outdoorsy one. My teenagers? Not so much.
And traveling for research is a little different than family vacations. I frowned at our packed calendar. My high schoolers were busy with activities. My husband's work schedule was demanding. And then he pointed out something I hadn't considered before. "To be perfectly honest, wouldn't we just be in the way?"
That was an uncomfortable thought, but I spent some time pondering it. I love my husband and my kids, how could they ever be "in the way?" But I can't deny the fact that when I dive into a story, I'm pretty single-minded. I can spend hours focusing on tiny aspects of the setting or the characters. For a kid or a mostly-patient husband? That would be boring, with a capital "B." Would I be able to focus on my research and them at the same time? Could I be the involved mom I love to be? Or would my heart be with my book?
They were honestly relieved when I scheduled the trips on my own, but I still felt a little guilty. Shouldn't I be sharing these places with those I love?
As strange as it felt to go solo, I spent my time walking the trails, touring historic lodges, snapping pictures of wildlife and waterfalls, and soaking in the sounds and smells of the places—all so I could bring it to life in my novels. The freedom to go where I wanted, when I wanted, was a strange experience for a mom. But it was empowering, too.
I discovered that the parks had research libraries and archives. This history geek was in research heaven! I pored over documents carefully typed by park administrators in the 1920s and 30s, now saved in giant binders or on aging microfiche. Every nugget of information made me giddy. At one point during my Yellowstone trip, I texted my husband a picture of a report I found particularly interesting.
"What am I looking at?" he texted from our home in Oregon.
"Eeeee! The men on the 1933 CCC crew were all from Brooklyn and the Bronx!"
"And… that's good?"
I typed as fast as I could. "It means my hero is from New York! Isn't that cool?"
"Uh, sure. How long have you been in the archives?"
"Ten hours. They're going to kick me out soon. I"m coming back first thing in the morning."
There was a long pause, and I went back to thumbing through papers filed during the Great Depression. Had anyone looked at them since?
My phone vibrated, and I glanced at my husband's text. "Don't take this wrong, but I am SO glad I'm not there."
At that moment, I understood. Traveling for book research is not exactly how I pictured it years before. Rather than a vacation, it's diligent work. I scarf down protein bars on the run instead of sitting down to a meal. I'll walk the same path three times to figure out a plot problem instead of opting for a bus tour to the next scenic vista. I spend hours upon hours digging through dusty files to find one little interesting factoid. Standing on the boardwalk at Yellowstone's Norris Geyser Basin, I closed my eyes and breathed in the sulfur-scented air, preserving the descriptions for use in Ever Faithful.
As a wife and mom, my mind is often on others' needs—lunch plans, bathroom breaks, sunscreen. But when I'm doing research, the book is my baby. Its needs come first.
Do I love traveling for book research? Absolutely. It's a dream come true.
But do you know what I'm doing this month? Ever Faithful is done and out on store shelves. I'm taking the whole family to Yellowstone and leaving my research binder at home. It's time for a real vacation. And the teenagers will just have to deal with it.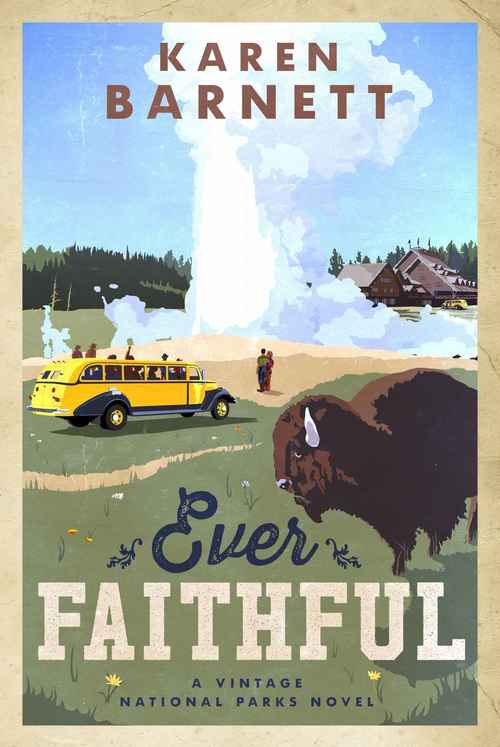 Vibrant historic Yellowstone National Park comes to life
in this romantic mystery about a man hiding the truth,
braving the west to become something more—and the woman who must confront his deception.
A man who can't read will never amount to anything—or so Nate Webber believes. But he takes a chance to help his family by
signing up for the new Civilian Conservation Corps, skirting
the truth about certain "requirements." Nate exchanges the
harsh Brooklyn streets for the wilds of Yellowstone National
Park, curious if the Eden-like wonderland can transform him
as well.
Elsie Brookes was proud to grow up as a ranger's daughter, but she longs for a future of her own. After four years serving as a maid in the park's hotels, she still hasn't saved enough money for her college
tuition. A second job, teaching a crowd of rowdy men in the
CCC camp, might be the answer, but when Elsie discovers
Nate's secret, it puts his job as camp foreman in jeopardy.
Tutoring leads to friendship and romance, until a string of suspicious fires casts a dark shadow over their
relationship. Can they find answers before all of their dreams go up in smoke?
Inspirational Historical | Mystery Historical [Waterbrook, On Sale: June 18, 2019, Trade Size / e-Book, ISBN: 9780735289581 / eISBN: 9780735289598]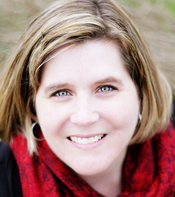 Inspired by God's devotion to His people and her own passion for research and learning, author Karen Barnett creates historical romances that explore her characters' faith and how their experiences impact the way they view God.
A graduate of Valparaiso University and Oregon State University, Barnett's debut novel, Mistaken, was released in 2013 and earned her the Oregon Christian Writers "Writer of Promise" award. A former park ranger, she loves getting out into God's creation. She spends her free time taking photographs, dragging her kids through dusty history museums, decorating crazy birthday cakes and watching movies.
Karen, her husband and their two children live in the beautiful Pacific Northwest.