After a day spent listening to Baby Shark ad nauseam, I crave peace and quiet. To be fair, sometimes a little Rage Against the Machine is just what I need to release the stress of the day, but I digress. When I write my historical romances, the music I listened to needs to be void of lyrics but heavy on the emotional feels. And do you know what kind of music fits that bill? TV and movie scores! Depending on the scene I'm going to write, I select a song from a movie score I know is going to deliver the emotional punch I need to bleed the feels into the words I type. So here are my top five TV/movie score songs to write to.
5. "Marry Me" by Hans Zimmer from the Pirates of the Caribbean: At World's End score
The combination of horns and strings creates a romantic, soulful sound perfect for writing those grand gesture scenes.
4. "The Way" by Zach Hemsey from A Discovery of Witches trailer
This is the perfect song to listen to during the black moment. The crescendo leading to the climax of the song is potent and soaring, and the last trickling notes disappear in a cloud of melancholy. It's haunting and memorable. *kisses fingertips*
3. "Comptine d'Un Autre Été" by Yann Tiersen for the Amélie soundtrack
The entire Amélie soundtrack, fueled by the accordion and piano, is quirky, cheerful, and charming, just like the title character of the movie, Amélie Poulain. But amongst all the songs, I have a particular affection for Comptine d'Un Autre Été for the stunning, emotional piano work.
2. "The Maestro" by Hans Zimmer from The Holiday soundtrack
Hans Zimmer is one of the very best in the business, but his work on The Holiday soundtrack is one of my favorites. The songs are upbeat and lively, and then others are bittersweet and emotional. "The Maestro", though, perfectly encapsulates the feel of the entire
movie. This soundtrack, along with the Titanic soundtrack (I listened to it non-stop as a teenager!) were my gateways to TV/movie scores.
1. Literally the entire Game of Thrones soundtrack, seasons one through eight by Ramin Djawadi
I listen to the Game of Thrones soundtrack more than anything else because composer Ramin Djwadi is a musical genius. From "Winds of Winter", "Blood of the Dragon", "The North Remembers", "The Light of the Seven", "Winter Has Come", "Truth", and the newest song on repeat, "The Night King", all the songs are evocative, passionate, and powerful. The score features a song for every scene I need to write, and it's my go-to music choice. I'm going to see The Game of Thrones music tour when it hits my city this fall and I'm so excited to lose myself in the gorgeous music for a time. And while there will be no more Game of Thrones episodes to keep me on the edge of my seat (or gnashing my teeth) I can relieve each dramatic moment through the score.
So there you have it. My list of the top five TV/movie soundtrack songs for setting an impactful writing mood. I could have listed so many more (Braveheart! Gladiator! Castaway! Inception! Interstellar! Arrival! Told you!) but hopefully these will set you on a path to find the music to inspire your own writing muse.
***

Once Upon a Scandal #2
Entangled: Amara
June 2019
On Sale: June 24, 2019
Featuring: Charlotte Taylor; Finlay Swinton
ISBN: 1640638059
EAN: 9781640638051
Kindle: B07QZMLPG3
e-Book
For Finlay Swinton, Viscount Firthwell and only son of a powerful earl, life has been a lark…until he discovers a terrible family secret that could ruin him. Determined to make a name for himself free of scandal's shadow, he runs for Parliament. However, he encounters Charlotte, the mysterious woman who disappeared after their one night together, and he finds it impossible to stay away, despite her working-class status and Jewish faith that threaten to destroy his chance for success.
Widowed, penniless, and desperate, Charlotte Taylor secures a teaching position at a foundling home and relaxes into a predictable existence. That is, until Finlay, the man she shared one romantic night with, reappears, a specter from her past. He ignites her passion, even while he threatens the precarious foundation on which she's rebuilt her life. But when those from her past return to endanger her hard-earned security, she'll have to reveal his secret or go to prison.
Liana De la Rosa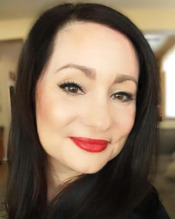 Liana De la Rosa is a historical romance writer whose stories are set in the Late Regency and Victorian periods. Her Once Upon A Scandal series is published by Entangled Publishing's Amara Imprint. Her writing also appears in the Avon Romance anthology, A DUKE TO REMEMBER.
As a longtime fan of the romance genre, Liana can remember sneaking Harlequins into her bedroom to read on the sly. After her second child was born, her husband challenged her to write her own book and she's been pulling all-nighters, slugging wine, and perfecting her craft ever since!
Liana has an English degree from the University of Arizona and enjoys cheering on her alma mater in all things. When she's not writing witty heroes, saucy heroines, and secondary characters screaming for their own stories, she's a wannabe domestic goddess and fashionista who wrangles her rambunctious brood of small children with her patient husband in Arizona.
Liana is a member of the Romance Writers of America and the Beau Monde chapter of the RWA. She is represented by Rebecca Strauss of DeFiore and Company.