And How My Story Extended Hers
Lately, I've been having some challenging conversations with a friend concerning the ongoing inspiration I find in what my parents told me (many years ago now) about their own lives—particularly their lives before my existence. "You have your own experiences, your own perspective, not to mention your own vivid imagination," my friend says. "Why do you feel the need to carry the burden of your parents' stories? Are you setting aside your own material, better, more immediate material, trying to keep them alive?"
Her questions have left me shaken. They've made me reflect again on that frequent question: where do your ideas come from as a writer? And, yes, for me, some of those ideas have been influenced by the stories my parents told me, and the stories my parents didn't tell me—the ones I only learned after my mother's passing (she died when I was fourteen years old, and was a notably reserved woman before that time). The ones I only learned from others who knew her, in so many ways, better than I ever got the chance.
My dad, the verbose one in our little family of three, was a fabulous storyteller—a performer, actually. Our after dinner-ritual consisted of me asking him for a story from his childhood or from his time as a soldier in WWII, and him exuberantly complying. And all the while, my mother would typically be found at the kitchen sink, washing up the dishes.
My mother was dying of cancer when she told me that she had been married once before she married my father, to her childhood sweetheart who died in WWII. She told me to keep that information to myself. My father knew it, but it troubled him. She didn't tell me anything else. Years later, her sister and her cousins shared photographs and details. They were the ones who told me about her terrible depression after her young husband's death. They told me that one day she pulled herself up and got herself out of Oklahoma—the first woman in the family to travel across the country (to California) in order to pursue her college education. It always seemed to me a mythical journey. Given her nature and the era and the kind of family in which she was raised, I imagine the effort she expended was Herculean. This aspect of her life became the thing I held on to (hold on to), when I missed her and needed inspiration upon encountering my own specific challenges.
The thing I tell myself, the thing I want to tell my friend is this: the stories my parents told me are not etched in stone, fixed and unchanging. The stories my parents told me evolve as I evolve, and, when I choose to draw upon them as a writer, they become most malleable, influenced by the present and my wonderings about the future. In the case of my forthcoming novel, BROKEN GROUND (S&S/Howard Books, 5/16), my mother's loss and her journey west took on a whole other dimension when I began doing research on the Dustbowl Refugees of the 1930s. I learned something I never knew: during the 1930s, a large number of people of Mexican heritage, many of whom were citizens of the United States, were deported without due process to provide jobs for "real Americans." Some say the number of these deportations was as high as one to two million. Families were separated. Homes and businesses lost. Without any real warning, people, some of who spoke only English, were carted off in trains and buses and driven south of the border.
This information collided with my mother's story and made another story altogether. Why? Well, I wanted to understand more about this event. I wanted to know why I KNEW NOTHING ABOUT IT. Also, and with more to-the-bone immediacy, there's the fact of my own children. My husband and I adopted our two kids from Guatemala. I am a different person because of this fact. Certain assumptions aren't there any more. I care differently about what and whose stories are told, and what and whose stories aren't told, and how they're interpreted and dismissed.
So there was my mother first, and now there are my children. And then there's me, and the wonderings and imaginings that take over when the fictional process grabs hold. It's a complex thing—where inspiration comes from, and there can be a real danger in dissecting and analyzing it, or any aspect of creativity, perhaps. Maybe it's simply best to be open and grateful, and let that little flicker of new life shine. Come to think, maybe that will be my New Year's resolution.
Emily Dickinson says it better than I ever could:
SPLIT the lark and you'll find the music,
Bulb after bulb, in silver rolled,
Scantily dealt to the summer morning,
Saved for your ear when lutes be old.
Loose the flood, you shall find it patent,
Gush after gush, reserved for you;
Scarlet experiment! sceptic Thomas,
Now, do you doubt that your bird was true?
Giveaway
What are some of the memories you want to pass to your children or to understand? One commenter will win a copy of SING FOR ME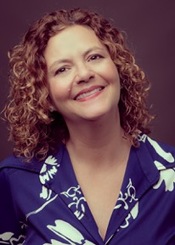 Karen Halvorsen Schreck's latest novel, BROKEN GROUND, will be published by Simon & Schuster's Howard books in May 2016. Her most recent novel, SING FOR ME (Spring, 2014) was called "Impressive . . . a well-wrought
and edifying page-turner" by Publisher's Weekly (Starred Review). Her other novels include While He Was Away, a Finalist for the 2012 Oklahoma Young Adult Book Award, and Dream Journal, a 2006 Young Adult BookSense Pick. Her published short stories and articles have received various awards, including a Pushcart Prize and an Illinois State Arts Council Grant.
Karen received her doctorate in English and Creative from the University of Illinois at Chicago. She works as a freelance writer and editor, teaches writing and literature, and lives with her husband, the photographer Greg Halvorsen Schreck, and their two children in Wheaton, Illinois.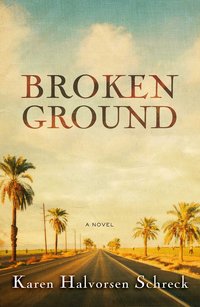 When a young oil rig widow escapes her grief and the Texas Dust Bowl, she discovers a surprising future—and new passion—
awaiting her in California in this lyrically written romance by the author of SING FOR ME.
Newly married to her childhood sweetheart, twenty-one-year-old Ruth Warren is settling into life in a Depression-era, East Texas oil town. She's making a home when she learns that her young husband, Charlie, has been killed in an oil rig accident. Ruth is devastated, but then gets a chance for a fresh start: a scholarship from a college in Pasadena, CA. Ruth decides to take a risk and travel west, to pursue her one remaining dream to become a teacher.
At college Ruth tries to fit into campus life, but her grief holds her back. When she spends Christmas with some old family friends, she meets the striking and compelling Thomas Everly, whose own losses and struggles have instilled in him a commitment to social justice, and led him to work with Mexican migrant farmworkers in a camp just east of Los Angeles. With Thomas, Ruth sees another side of town, and another side of current events: the forced deportation of Mexican migrant workers due to the Repatriation Act put into place during President Herbert Hoover's administration.
After Ruth is forced to leave school, she goes to visit Thomas and sees that he has cobbled together a night school for the farmworkers' children. Ruth begins to work with the children, and establishes deep friendships with people in the camp. When the camp is raided and the workers and their families are rounded up and shipped back to Mexico, Ruth and Thomas decide to take a stand for the workers' rights—all while promising to love and cherish one another.
To comment on Karen Halvorsen Schreck's blog please click here.