I love the name Fresh Fiction and think it's a truly inspired marketing choice. So isn't it funny that often, the book that's being released to readers (in my case, TAKE ME TWO TIMES–sequel to TAKE ME IF YOU CAN)–is not the one that's fresh in an author's mind because we work so far ahead.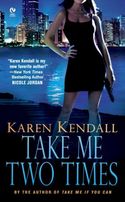 You see, I'm currently struggling with the revisions on the, uh, threequel, which is called TAKE ME FOR A RIDE and will be out in November.
So when people ask me what TAKE ME TWO TIMES is about, sometimes I begin telling them about the wrong set of characters. Forgive me!
The TAKE ME series is about an international agency that recovers stolen art.
And TAKE ME TWO TIMES is the story of Gwen Davies, the one-time debutante who's a rookie in the art recovery biz.
Gwen may look sweet and proper, but she can kill a man with a spike heel . . . and she's got some skeletons in her past who are about to pop out and shake, rattle n' roll. Our Gwennie once spent a secret, steamy summer down south in Brazil. And she got a little too bad with bad boy Quinn Lawson—though in her defense, he really was irresistible. All that tough muscle, dark-blond hair, five o'clock shadow and talented hands. His mouth left a brand on her.
Now, fifteen years later, he's her client. Surprise! And the cursed, solid gold Venetian mask she recovers for him is not quite what it seems. The Borgias commissioned the original, but who forged this one—and where is the real mask?
Ready for the rest? And an opportunity to win a copy of the NEXT book in the series…then read on…