My name is Sunshine Meadows, but everyone calls me Sunny. I'm the heroine of Kari Lee Townsend's Sunny Meadows Mystery series. I used to live in the Big Apple with my well-meaning parents who just don't get me. So, I moved to the small town of Divinity, NY to start over. Something about the town spoke to my soul. You see, I'm psychic. I have visions, but they're not always clear, so I use fortune-telling tools to help me figure out what my visions mean. I bought an ancient Victorian house I call Vicky, and a large white cat appeared on day one. He came with the house and decided to let me live with him. I never see him eat or sleep, and he moves at lightning speed, appearing from out of nowhere in random places. I'm thinking he's immortal, so I named him Morty. After I settled in, I opened my own business and started giving readings in a special room I call my sanctuary. When a person comes to me for help, I get a vibe on what fortune-telling tool to use for that particular person, and then everything becomes clear.
In TEMPEST IN THE TEA LEAVES, I use tea leaves to give a reading for a frazzled librarian, but what I find at the bottom of the cup is anything but helpful. It's harmful, and when the librarian winds up dead, I become the number one suspect. That's when I meet Detective Mitch Stone. He calls me Tink because he says I look like Tinker Bell. I call him Grumpy Pants because we don't exactly see eye-to-eye, and he thinks I'm fake. Let's just say he and the other man in my life, Morty, don't get along.
In CORPSE IN THE CRYSTAL BALL, Detective Stone's ex-girlfriend winds up dead, and this time he is the prime suspect. Morty helps me with clues, and thank goodness for my Granny Gert. Her amazing cookies solve any problem. I'm closer to her than anyone and she moves in with me to help out. Just when Mitch and I are getting along and sparks are starting to fly, I have to put our relationship on hold and use my crystal ball for clues, but this time my clairvoyant abilities might not save me as what I see can actually hurt me.
In TROUBLE IN THE TAROT, I give tarot card readings at the Summer Solstice Carnival, but life can deal out bad cards along with the good. Granny Gert and her arch-nemesis get into a fight over the bakeoff. When the local baker winds up dead, clues point to the Dynamic Duo. Detective Stone has finally asked me on a date, but once again our relationship is put on hold. The police department uses me as a consultant because my psychic visions have come true and helped solved cases before, but Detective Grumpy Pants is not a fan, putting us at odds once more.
SHENANIGANS IN THE SHADOWS is a short story where my naughty cat Morty and my new boyfriend, Detective Stone, cause all sorts of mischief and mayhem when my best friend and her fiancé's antique wedding rings go missing. Mitch and I are finally dating, but we won't be for long if my two favorite men can't behave and learn to get along.
In PERISH IN THE PALM, my boyfriend, Mitch, and cat Morty are more at odds than ever when he moves in with me. With Granny Gert under foot and my parents coming to town for my best friend's wedding, my life derails. After giving palm readings at the rehearsal dinner, the innkeeper winds up dead at the wedding the next day with my mother the number one suspect and me questioning everything.
My latest adventure takes place in HAZARD IN THE HOROSCOPE. I'm engaged! Morty and Mitch have called a truce, so I check our horoscopes to pick the perfect wedding date. When my parents retire and move to Divinity to run the inn, my granny moves in with them. Life is good. My best friend is pregnant with twins, and I suddenly realize I want children but Mitch might not, which could be a deal breaker. Her new husband is charged with murder after his old biker gang rival winds up dead. My happiness will have to wait once more as the calendar calls for a little clairvoyant intervention, but will my fiancé wait for our timing to ever be right?
—
COMMENT TO WIN: To win an autographed copy of HAZARD IN THE HOROSCOPE as well as a mysterious box of goodies, comment on what your favorite fortune-telling tool is. Have you ever had a reading done or want to have one done? If so, what kind?
—
For Psychic Sunshine Meadows, reading a person's sign can lead to disastrous consequences…
Sunny's parents have returned and taken over Divine Inspiration, the idyllic inn on the outskirts of the small town of Divinity, New York. Sunny can live with that since Granny has decided to move in with them, leaving her blessedly alone with her new fiancé, Detective Mitch Stone. Okay, not completely alone since her cat Morty still lives there, but Morty and Mitch have come to a truce of sorts, and life is finally good. If only she could pick the perfect month to get married in. But when she checks the horoscope, the hazard she sees is not a good sign. Shortly after Sunny's vision, her best friend's new husband Cole West is framed for murder when an old biker gang rival winds up dead. Sunny's happiness will have to wait once more as the calendar calls for a little clairvoyant intervention, and saving the date has never been more important.
Mystery Cozy | Mystery Paranormal [Oliver-Heber Books, On Sale: June 22, 2021, Paperback / e-Book, ISBN: 9781648391040 / eISBN: 9781393715177]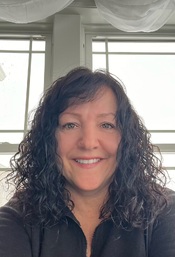 Kari Lee Townsend is a National Bestselling Author of mysteries & a tween superhero series. She also writes romance and women's fiction as Kari Lee Harmon. With a background in English education, she's now a full-time writer, wife to her own superhero, mom of 3 sons, 1 darling diva, 1 daughter-in-law & 2 lovable fur babies. These days you'll find her walking her dogs or hard at work on her next story, living a blessed life.