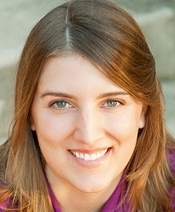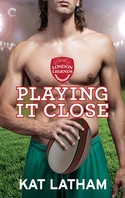 On April 14, Carina Press is publishing six brand-new sports romances. Today Kat Latham is here to tell us about her rugby novel, PLAYING IT CLOSE.
Hey, everyone! I'm so excited to be here today to introduce you to the world's hottest rugby team, the London Legends. Now, I'm going to go out on a limb here and guess that most of you have never been to a rugby match or watched one on TV. And, since there aren't many of us authors writing about rugby players, you might not have read much about these men with unbelievable bums, abs and thighs, wearing tight uniforms and short shorts. Mmm…
Sorry, I drifted away there for a second. I'm back. If you'd told me when I was a kid that I'd grow up to write about rugby players, I'd have said, "What's rugby?" You see, I'm from California, and rugby's not exactly a big sport there.
But when I was 23, I moved to the Czech Republic and met the most wonderful British man—a man who's crazy about rugby. And as I fell in love with him, I fell in love with his favorite sport.
That's why I created the London Legends Rugby Club, a professional rugby team in London who are as passionate off the field as they are on it. I have to say, they've stolen my heart.
But don't worry if you don't know anything about rugby. I've been assured by many readers that they completely understand what's going on—and even learn a few things about this very sexy sport.
On April 14, PLAYING IT CLOSE, the second book in my London Legends series, is being published as part of Carina Press's Sports Week. I'm so excited to join five other sports romance authors to bring you our sporty heroes and heroines!
Excerpt
This takes place as Tess is at a photoshoot for the team's nude calendar, which raises money for charity. Tess is watching Liam pose under a fake waterfall, which brings back delicious memories of how she once teased Liam by skinny-dipping in a waterfall just after they met. (In this scene, Andre is the photographer, and "Mr. Callaghan" is Liam.)
Her jacket felt suddenly too tight, and she wanted to flip open her buttons, undo her shirt and flap some air beneath it to cool her skin and help her breathe again.
"All right, we don't have all day," Andre said. "Mr. Callaghan, walk under the waterfall and dunk your head back, slowly. Just a bit at a time. Thaaat's it."
Tess's breath caught in her throat. Liam leaned back, teasing himself with the water as his back arched and his chest tilted forward. She felt the pose as if she'd made it herself—which she had, when she'd first reached their Venezuelan waterfall. She recognized the natural sensuality of it and remembered the cool water streaming over her shoulders and between her breasts, down her belly and legs, just as the water sluiced along Liam's muscles now.
Was this a show just for her? Was he cruelly teasing by adopting her pose? Or was it so instinctive when one met a waterfall that neither of them could help it?
"Excellent! Excellent! Now look this way and let the water fall over your shoulders." Andre moved around just enough that he partially blocked Tess's view. Liam did as he was told, looking toward Andre—
No. Looking toward her. He raised his hands to his hair, threading his fingers through it so his arms and chest flexed to form great mountains and valleys for the water to run through. He never broke eye contact, leaving her in no doubt whom he posed for. His motives for posing remained unclear to her though.
Torture. That had to be it. He was torturing her.
Giveaway
Kat Latham is giving away a digital copy of PLAYING IT CLOSE to one person who leaves a comment here. Good luck!
Question: Have you ever seen a rugby match? What words do you think of when you hear the word "rugby"? I hope the word "sexy" comes to mind!
To comment on Kat Latham's blog please click here.