Harper hadn't thought she would be this nervous. But as an ominous fall wind whipped her pale hair and dark clouds threatened rain, Harper's mouth felt dry and her palms were sweating. Crossing the sidewalk, she paused to take a deep breath, then pushed through the glass front door into the single-story brick building that housed the offices of Maximum Security.
For her meeting with Chase, she had dressed with care in a navy blue cotton pencil skirt, a crisp print blouse, tucked in and belted, and high-heeled navy pumps. Simple, classic pieces, moderately priced, from the latest Elemental Chic collection.
"May I help you?" A perky little receptionist, pretty and dark-haired, with big blue eyes behind round tortoiseshell glasses, sat at the front desk.
"I'm Harper Winston. We spoke on the phone yesterday. You made an appointment for me with Chase Garrett."
"Yes, I remember. Chase saw it when he checked his calendar this morning. I'll let him know you're here." She buzzed him and announced Harper's arrival. Harper had no idea what sort of greeting she would receive.
The petite brunette smiled. "You can go on back. His office is just through that door."
Harper crossed the room, paused for a moment to steady herself and pulled open the door. She walked into an airy corner office furnished with a big oak desk, a brown leather sofa, and photos on the walls of the Hill Country ranch Chase owned with his brothers, Reese and Brandon.
Seated behind the desk, Chase rose, walked around and took the hand she extended in greeting. "Hello, Harper. It's been a while."
"Hello, Chase." She managed to come up with a smile. "Actually, I saw you last night at the gala."
His mouth curved. He'd always had the sexiest smile. She wished she hadn't remembered.
"Now that you mention it, I saw you there, too."
She withdrew her hand, ignoring the little tingle that raced up her arm. "You must have left early. I saw the article about your daring rescue in the newspaper this morning. You found that missing girl, Tammy Bennett."
He shrugged as if it meant nothing. "I followed a lead. I got lucky."
"You did a good thing."
"At least she's back home. It's going to take some time for her to heal after what happened. I hope it works out for her."
He walked back behind his desk. "Why don't you sit down and tell me why you're here."
She took a seat on the opposite side of the desk in one of two dark brown leather chairs, and Chase sat back down.
"Can I have Mindy get you something? Coffee? Soft drink?"
"No, I'm fine." Her nerves returned. He had always had that effect on her. She crossed her legs. Chase's whiskey-brown eyes followed the movement of her skirt hem, his gaze sliding over her bare thighs. She tugged the skirt down, surprised he had noticed.
"What can I do for you, Harper?"
She steeled herself. She had to convince him. Her brother's life could very well depend on it.
"I need your help, Chase. Mikey's missing. I'm afraid something terrible has happened to him."
"Missing? Are you sure? How long has he been gone?"
"Today's the fifth day. Almost a week without a word."
"As I recall, it wasn't unlike Michael to disappear for several weeks at a time. He always turned up sooner or later."
"He's isn't the same man he used to be. Michael doesn't do drugs anymore. He hasn't for nearly five years. He turned his life around, moved to Houston and started his own tech company. He was doing really well before he disappeared."
"What happened?"
"Remember how he loved to sail?"
"I remember. We went out on your dad's yacht a few times when we were in college."
"Michael always loved the ocean. Last year he bought a forty-two-foot Beneteau. This year, he took a month off to sail the Caribbean."
"That's where he was the last time you heard from him?"
"That's right. He would email or text every day or two, letting me know where he was and where he was going. He had a satellite phone and internet on the boat." Her chest was beginning to ache. She was so worried about him.
"Everything was fine. He was having a wonderful time. Then five days ago, I stopped hearing from him. No emails, no texts. Nothing. I've called his cell phone over and over, but the calls go straight to voice mail." She swallowed past the lump that was forming in her throat. "I know he's in trouble. I can feel it."
"You could be wrong, Harper."
She pulled herself back under control. "I'm not wrong. I know my brother. After he moved to Houston, we got really close. We made a deal before he left. I was worried about him going on a trip like that by himself. He promised he would stay in touch every few days so I wouldn't worry. He would never go this long without letting me know he was okay."
"You think he could have had some kind of trouble at sea? Some problem with the boat?"
"No. He is a fantastic sailor. I think it's something else. But I called the authorities in Aruba and reported him missing. I called the US Coast Guard and asked them to look for the boat. Apparently, they weren't able to make radio contact, but they said sometimes that happened."
"What about the hospitals? Maybe he was in a car accident on shore or something."
"I called everywhere. Even the morgue." A chill swept through her at the memory of the dreaded phone call she had forced herself to make.
Chase shifted forward in his chair. "Aruba? That's where he was the last time you heard from him?"
"That's right. So far no one's found any sign of the boat or my brother."
His dark gaze never wavered. "So you're here because you want me to find him."
Not exactly, but close. "I want you to go with me. I'm leaving for Aruba in the morning. I won't be back till I know for sure Michael is safe."
Chase eyed her with speculation, then leaned back in his chair, giving himself some time, she figured.
He didn't want anything to do with the Winstons. He'd never approved of her father's business tactics. And he believed Knox Winston's emotional abuse had been the cause of Michael's addiction.
Chase had done his best to help her brother, but it hadn't been enough. Not back then. But Michael had finally found the courage to defeat his addiction. Harper prayed Chase would be willing to help him again.
"All right, I'll go after him," Chase finally agreed. "But I go alone, Harper. I'm a private investigator. That's what I do for a living. I'll find Michael for you. There's no reason for you to get involved."
She shook her head. "I knew that's what you'd say, and I understand your feelings. But I won't sit here and do nothing. Not when I know Michael is in trouble." She had only one brother. Her mother was dead. She and her father rarely spoke. She couldn't lose Michael, too.
"I don't know what you think of me," she continued, "but I'm not that naive young girl you knew all those years ago. There are ways I may be able to help. I'm going, Chase—with or without you."
The words hung in the air, and she silently prayed he would agree. She needed his help, and both of them knew it. She prayed his past affection for Michael would be enough to sway him.
She swallowed, felt the sting of tears. "Please, Chase…" She couldn't believe she was pleading, but she was desperate. "There isn't anyone else I trust. I need your help."
(C) Kat Martin, The Conspiracy, 2019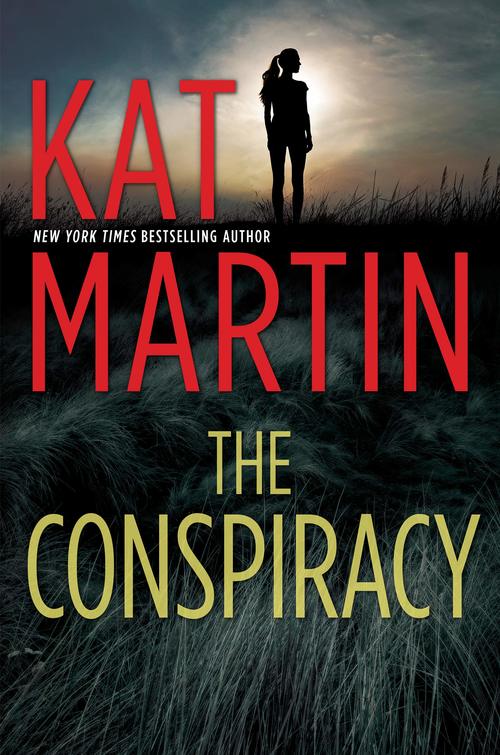 Perennial New York Times bestselling author Kat Martin returns to her Harlequin home with a brand-new series doing what she does best! Maximum Security is full of larger-than-life heroes and whip smart heroines caught up in high-stakes, fast-paced romantic suspense. Fans of Sandra Brown, Linda Howard and Julie Garwood will fall in love with The Max.
As the wealthy owner of Maximum Security, Chase Garrett has made his share of enemies managing a team of private detectives, bail enforcement agents and personal security experts. Although risk is his stock in trade, when Harper Winston hires him to find her missing brother, Michael—his former best friend—dealing with the Winston family goes against everything he knows. No matter how attractive his new client, Chase knows all too well that the Winston family patriarch is mixed up in some deadly business, and suspects there's more to Michael's disappearance than meets the eye. In a fast-paced thriller that takes readers from the jungles of South America to sultry Miami and the dry Texas heat, Kat Martin returns with her hottest novel yet.
Romance Suspense [HQN, On Sale: January 22, 2019, Hardcover / e-Book, ISBN: 9781335541895 / eISBN: 9781488098901]
For New York Times bestselling author Kat Martin, a career in real estate led her down the road to romance.
Through real estate, Kat found her own perfect match–her husband, Western author Larry Jay Martin.
"We were on opposing sides of a transaction–I represented the seller and he represented the buyer," Kat recalls.
A short time after the two became acquainted, Larry asked her to read an unpublished manuscript of an historical western he'd written. Kat fell in love with both the book and the author!
"It was quite a romantic story," she admits. "I'd still like to see it get published." Then, after doing some editing for her future husband, she thought she'd try her own hand at writing.
Kat moved on to become the bestselling author of over fifty historical and contemporary romance novels. To date, 15 million copies of her books are in print, and she's been published around the globe, including Germany, Norway, Sweden, China, Korea, Bulgaria, Russia, England, Estonia, Lithuania, South Africa, Italy, Poland, Thailand, Portugal, Turkey, The Slovak Republic, Spain, Argentina, Estonia, Czech Republic and Greece.
When she's not writing, Kat also enjoys skiing and traveling, particularly to Europe. Currently, she's busy writing her next book.