Kate could hardly believe it.  Jason Maddox, the last man in the world she wanted to see, was sitting right beside her.  Worse yet, he was the man she had just hired to help her find Chrissy's killer.  What the unholy hell had just happened?
"So…umm…where do we start?" she asked, accepting whatever circumstances fate seemed to have set in motion.
"I need to take some notes," Maddox said.  "I'll be right back."  He rose from the swivel chair next to hers and she tried not to think how good he looked in a yellow knit pullover and dark blue jeans.
But the pullover stretched over his powerful chest and an amazing set of biceps, one with a tattoo of an eagle perched on a globe and the words Semper Fi inked beneath it.  She had noticed it that night in the parking lot.
She blocked the thought as he walked away and tried not to notice his long legs, broad back, and round, muscular behind.  She felt like fanning herself.  Just looking at all that hard masculinity made her face feel warm.
He disappeared out the door, returned a few minutes later with a lined yellow pad, and sat back down at the conference table.
"In my line of work you have to be pretty tech-savvy, but writing things down helps me focus and gives me something solid to look at."  He clicked the end of his pen and settled back in his seat, stretching those long legs out in front of him.
"Tell me about Chrissy."
She forced herself to concentrate, thought of her sister as a child, and warm memories slipped through her.
"She was a beautiful little girl.  By the time she was a teenager, she was gorgeous.  Blond hair and big blue eyes.  She was always popular in school.  In her freshman year, she was a cheerleader."
Kate told him how she and Chrissy had been raised in Rockdale, a tiny town northeast of Austin, how Chrissy had always hated it and wanted to move to the city.  "I left for college as soon as I finished high school and she was so envious.  She couldn't wait to get old enough to leave."
"Were the two of you close?" Maddox asked.  Kate forced herself to think of him that way, as Maddox, not Jason, not the man she had kissed, then seduced in the parking lot, not the man who had held her when she cried.
"She was eleven years younger, so no, we were never very close.  By the time Chrissy was in high school, I was working in Dallas.  By then, Mom and Dad were fighting all the time.  That's when Chrissy started having trouble with drugs and alcohol.  When Dad left home, things got worse."
"In what way?"
"Mom couldn't control her.  She was constantly in trouble at school.  I tried to talk to her, but it didn't do any good.  She was sixteen when she ran away.  My dad was remarried and living in New York.  Mom blamed herself.  She died later that year."  And Kate missed her every day.
"The cops never came up with any information on your sister's whereabouts?"
"The police did everything they could to find her, but it was like she had vanished into thin air.  I never saw her again, not until I went to the morgue."  She glanced away, the pain still close to the surface.  "If I'd known she was in Dallas, maybe I could have found a way to help her.  At least talked to her, done something."
"Maybe that was the reason she came here.  She wanted to see you again."
A lump swelled in her throat.  "There's a chance, I guess, but it never happened.  I wish it had."
Maddox made notes on the yellow pad, but she thought he was using it more as a tool to connect with a client than a way to jog his memory.
"I need to see the police report," he said.  "See what they've got on the case so far."
"They said she was using the name Tina Galen.  According to Detective Benson, she was a heroin addict and a prostitute.  God, just saying it hurts."
"Benson's the lead on the case?"
"Yeah.  He seemed like a real dick, but I guess I could be wrong."
Maddox's lips twitched.  "You're not wrong.  Benson's definitely a dick.  I still need to talk to him, see what I can find out.  They continued for a while, Maddox asking questions about Chrissy, anything she could remember that might help him.  He asked her to get him a photo, the most recent one she had.
"I'd like to get started on this," he said, rising from his chair.
Kate stood up, too.  "I want to help.  I'll take some time off so we can work on this together."
"You can trust me to handle this, Kate.  You don't have to get involved."
She straightened her shoulders.  "That's not an option.  I failed Chrissy before.  I won't do it again.  I'm going to do everything I can to help bring her killer to justice."
Maddox studied her face.  She could almost see his mind working behind those intriguing blue eyes.  "All right, we can do that.  As long as we're just digging up information and following leads.  But if things get dicey, I take over and you stay out of it."
Kate didn't argue.  Arguing hadn't worked with Benson and she had a hunch it wouldn't work with Maddox.  It didn't matter.  Whether he approved or not, she wasn't stopping until Chrissy's killer faced justice.
"You parked in the front or the back?" he asked.
"I'm out front."
Maddox walked her to the front door of the office.  "I'll need your contact information."  A corner of his mouth kicked up.  "Just Kate isn't going to work this time."
A memory arose of those lips moving hotly over hers and desire clenched low in her belly.  It was ridiculous.  She tried to tell herself it was just that she hadn't been with a man in over six months, not since her breakup with Andrew.  And the truth was, she was wildly attracted to Jason Maddox.
She forced herself to concentrate.  Pulling a business card out of her purse, she turned it over and wrote her personal information on the back, including her address and cell phone number.  She handed Maddox the card.
"Gallagher and Company Consulting," he read.  "Owner and Management Analyst."  He glanced up.  "What's a management analyst do?"
She smiled.  "We study a company's efficiency, the systems they're using, that kind of thing.  Then we recommend ways to increase productivity and make them more profitable."
"Sounds useful."  He pulled out his cell and punched her number into his contacts.  "Your turn," he said, then rattled off his number and waited while she added it to her phone.
"I researched your rates and how all of this works," Kate said.  "Don't you need money up front?  A retainer of some kind?"
A smile lightened the blue of his eyes.  "Are you good for it?"
"Of course, but–"
"I'll call you as soon as I talk to Benson.  With any luck, we can meet up again tonight."
Her breath caught.  Meet up again tonight?  She hadn't thought that far ahead, but she hadn't imagined seeing him again so soon.
"If I have something, that is," he added.  "Like I said, I'll call you."  Maddox pulled open the door and waited for her to walk out onto the sidewalk.
Kate headed for her car and didn't look back.  For the first time it occurred to her it what had happened with Jason that night in the parking lot wasn't the problem.
It was the temptation he posed in the days ahead.
(C) Kat Martin, HQN, 2020. Reprinted with permission from the publisher.
***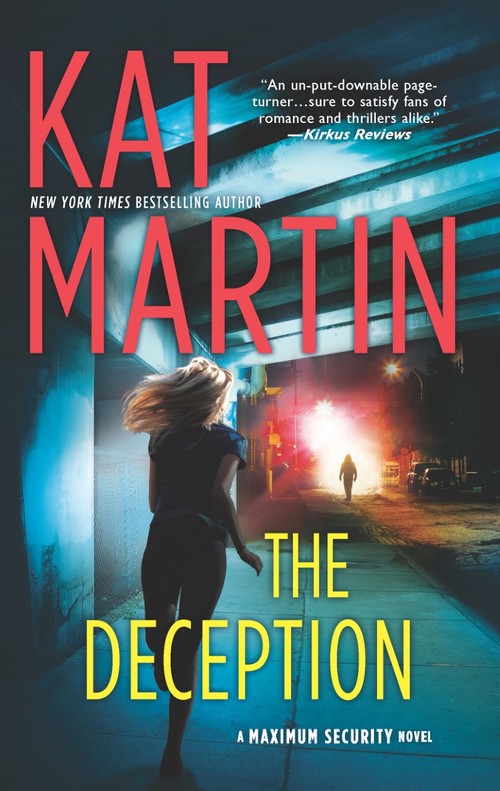 When missing turns to murdered, one woman's search for answers will take her to a place she never wanted to go…
After searching for her sister for two long years, Kate Gallagher is devastated when she's called to the morgue to identify Chrissy's body, the runaway teen the victim of a brutal attack. Guilt and grief send Kate into a tailspin. She failed Chrissy once…she won't do it again. Even if finding her sister's killer means following a lethal bounty hunter into the heart of darkness, placing both their lives in danger.
Working at Maximum Security has taken Jason Maddox down some dangerous paths, but never for a client he's so drawn to, or for a case so monstrous. As clues lead them deeper into the city's underbelly, connections to human trafficking draw them closer and closer to peril, but even Jase's warnings can't convince Kate to walk away. As the deadly operation puts a target on their backs, they'll have to decide what matters most: the truth…or their lives.
Romance Suspense [HQN, On Sale: April 28, 2020, Mass Market Paperback / e-Book (reprint), ISBN: 9781335090256 / eISBN: 9781335090256]
Kat Martin is the New York Times bestselling author of more than sixty historical and romantic suspense novels. To date she has over 17 million copies of her books in print in seventeen countries, including Sweden, France, Russia, Spain, Japan, Argentina, Poland, and Greece. Kat and her husband, author Larry Jay Martin, live on their ranch outside Missoula, Montana, and spend winters at their beach house in Arizona. Kat is currently busy writing her next romantic thriller.