As a writer, I'm always looking for new story ideas. For most writers, past experiences can be a very big help. Have you ever survived a dangerous situation? How did you do it?
When I was first learning to snow ski, I got caught on top of Stowe Mountain, Vermont in a blizzard, after the lifts had closed. It's a huge ski area. It was my first day on skis and somehow I got separated from my friends and wound up on a black diamond run. Of course, I started falling, and falling, and falling. Throwing myself down in the snow was the only way I knew how to stop!
By the time I got halfway down, it was pitch black and freezing cold. I tried taking off my skis and walking, but the snow was deep and it was even harder than trying to ski. The clothes I had on weren't nearly thick enough for a New England winter and I was afraid hypothermia would set in. I knew I was in big trouble.
Maybe the reason I started writing Romantic Suspense had something to do with that day. Just when I was ready to give up, just sit down in the snow and wait for whatever was going to happen, a guy came skiing down the hill out of nowhere.
Instead of skiing on by, he swished to a stop right next to me. He must have realized I was in trouble and if I didn't get down the mountain, I could die in the subzero weather that night. The guy–my hero–helped me get up and start "skiing" back down the hill. He showed me how to snowplow, helped me make the necessary turns, and never left me, no matter how many times I fell.
It took hours to get off that mountain. We wound up in an empty parking lot, where fortunately his car was parked, and he drove me back to the main lodge, which was snowed in by that time. I never saw him again, but I've never forgotten him. There is a chance he might have saved my life that night.
So I guess there really are heroes out in the real world. Chase Garrett, the hero in THE CONSPIRACY, is that kind of man.
The oldest of the three wealthy Garrett brothers, Chase, a private detective, owns Maximum Security, a highly successful Dallas security firm.
In THE CONSPIRACY, Harper Winston's brother has disappeared. Desperate to find him, Harper is forced turn to Chase, once her brother's best friend. But dealing with the Winston crime family won't be easy. With time running out,
Chase must find a way to keep Harper safe…and both of them alive.
I hope you'll watch for THE CONSPIRACY, out in paperback on July 30th, and that you enjoy it. Till next time, all best and happy reading, Kat
Maximum Security #1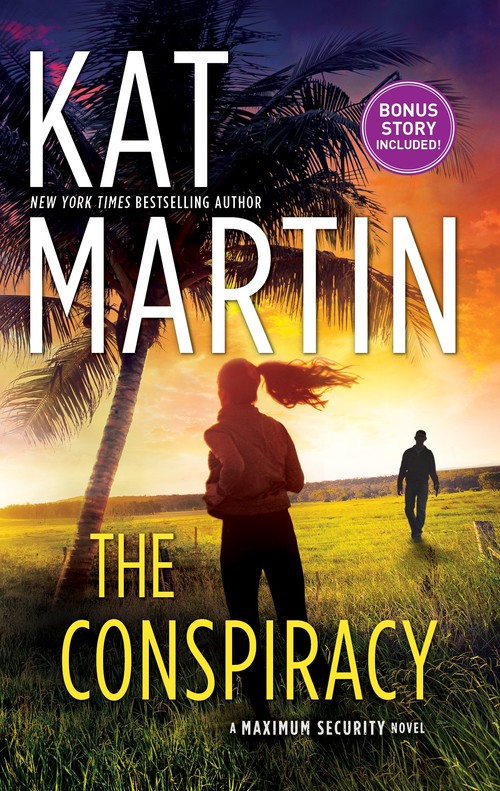 Harper Winston's brother has disappeared. Pursuing his dream of sailing the Caribbean, Michael hasn't responded to texts or emails in days. When even the Coast Guard can't find him, Harper is forced to take desperate measures. Which means going to Chase Garrett, once her brother's best friend, now the only man she can trust…or so she hopes.
As the successful owner of Maximum Security, Chase has learned to trust his gut. He knows Harper's father is mixed up in a deadly business, and suspects there's more to Michael's disappearance than meets the eye. Getting involved again with the Winstons goes against everything he stands for, yet old loyalties die hard. As the case draws him closer to Harper and deeper into the Winstons' snarled crime family, he is forced to put everything on the line to keep Harper safe…and both of them alive.
Romance Suspense [HQN, On Sale: July 30, 2019, Mass Market Paperback, ISBN: 9781335045751 / ]
For New York Times bestselling author Kat Martin, a career in real estate led her down the road to romance.
Through real estate, Kat found her own perfect match–her husband, Western author Larry Jay Martin.
"We were on opposing sides of a transaction–I represented the seller and he represented the buyer," Kat recalls.
A short time after the two became acquainted, Larry asked her to read an unpublished manuscript of an historical western he'd written. Kat fell in love with both the book and the author!
"It was quite a romantic story," she admits. "I'd still like to see it get published." Then, after doing some editing for her future husband, she thought she'd try her own hand at writing.
Kat moved on to become the bestselling author of over fifty historical and contemporary romance novels. To date, 15 million copies of her books are in print, and she's been published around the globe, including Germany, Norway, Sweden, China, Korea, Bulgaria, Russia, England, Estonia, Lithuania, South Africa, Italy, Poland, Thailand, Portugal, Turkey, The Slovak Republic, Spain, Argentina, Estonia, Czech Republic and Greece.
When she's not writing, Kat also enjoys skiing and traveling, particularly to Europe. Currently, she's busy writing her next book.