Where did you come up with the idea for A BIG FAT GREEK MURDER?
I was sitting in the chair at my hair salon watching in the mirror as my stylist wielded her long sharp scissors. I started thinking about scissors as a murder weapon, and since my main character Athena's sister Selene is a hairstylist, it seemed like a great idea to use her in a plot. As I watched customers walk past my chair, I realized how easy it would be to snatch a pair of scissors off a tray at an unmanned station and stuff them into a purse. Because the other stylists are busy with their customers, talking, snipping, blow drying, etc., no one would even notice.
Naturally, it would take advance planning. Timing would have to be right, so the perpetrator would have to know the stylist's schedule. But as I plotted out the story, I realized that a determined murderer would be able to pull it off. Then it would be a matter of wiping the scissors clean and incriminating the stylist, leaving misleading evidence in places like a dumpster behind the salon. There's more, of course, but you'll have to read the book to find it.
Kate, are you Greek? You seem to understand the Greek culture.
Nope, I'm English and Irish, but I married into a big Greek family, giving me plenty of material to draw upon for this book and for the entire series. In this story, the Parthenon restaurant becomes almost a main character, with YiaYia (Grandma) and Papou (Grandpa) in the kitchen producing mouth-watering Greek dishes and spouting their pessimistic views on the tragedy that unfolds in their outdoor dining area. They behave just like the elder Greeks I've gotten to know. And by the way, there are delicious Greek recipes at the end of A BIG FAT GREEK MURDER.
And here's a true story: I was introduced to my future husband's big family when he took me to a dinner at the Greek Islands Restaurant in Chicago. There I met all of his sisters and brothers, nieces and nephews, with names I struggled to remember. I was warned that one of his sisters was notorious for stealing food off plates, and unfortunately, she was seated right beside me. Sure enough, after our entrees were delivered, she remarked how good my dish looked, picked up her fork, and stabbed a bite of it. Everyone at the table paused to see how I'd react. Luckily, my future husband made a funny remark about it and everyone laughed, breaking the tension.
One of the nephews actually gave this sister a telescoping fork to keep in her purse as a joke. I believe she's used it several times.
How did you come up with the setting of Sequoia, Michigan?
My intention was to design a coastal tourist town similar to Saugatuck, Michigan, a place I find very charming. Since I'm a part-time resident of Key West, Florida, as well as Northern Indiana, (near the Michigan border), I drew upon my knowledge of Key West to design the main street in Sequoia – Greene Street, which is based on the famous Duval Street. I blended the charm of the Lake Michigan city with the tourist-based economy and attraction of Key West to come up with the unique town of Sequoia.
I hope you'll try A BIG FAT GREEK MURDER. It's the second book in The Goddess of Greene St. mystery series. The third book, BIG TROUBLE IN LITTLE GREEKTOWN, will be a 12-21 release.
Kate
A Goddess of Greene St. Mystery #2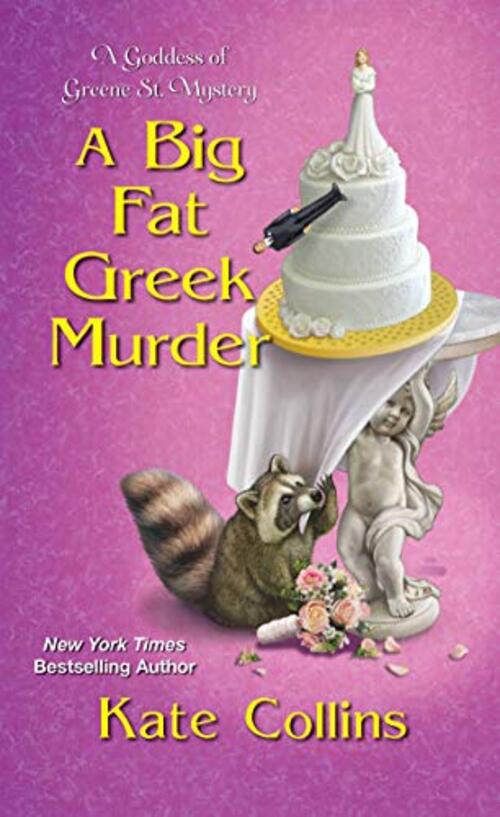 Single mom Athena Spencer is back in Michigan working at her family's garden center, raising a pet racoon, and digging up clues in the smart new mystery series by the New York Times bestselling author of the Flower Shop Mysteries . . .
The entire family has been put to work when a big fat Greek wedding rehearsal is booked at the Parthenon. All hands are needed for rolling grape leaves, layering moussaka, and keeping the bride calm. But then the groom goes MIA and there's far more to worry about then just whether Yiayia's lemon rice soup has gone cold.
No matter how tangy the tzatziki, everyone's appetite is ruined when the groom is found dead, a pair of scissors planted in his back. When the bride accuses Athena's sister Selene, a hairstylist, of seducing and stabbing her fiancé, it's all-out war—and it's up to Athena to dig up the dirt on the suspects and nip these suspicions in the bud . . .
"Kate Collins delivers an entertaining, amusing, and deliciously suspenseful mystery."
—Cleo Coyle, New York Times bestselling author
Mystery Private Eye | Mystery Cozy [Kensington, On Sale: December 1, 2020, Mass Market Paperback / e-Book, ISBN: 9781496724359 / eISBN: 9781496724366]
Nothing Ruins a Wedding Like A Dead Groom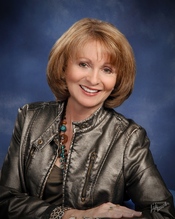 Kate Collins is the author of the national best–selling Flower Shop Mystery series. Her books have made the New York Times Extended Bestseller List, Barnes & Noble bestseller lists, the Independent Booksellers bestsellers lists, as well as lists in Australia and England. All of Kate's mysteries are available in print, digital, and large–print editions both in the U.S. and in the UK. Kate's historical romances are also available in digital format at Amazon, B&N, and other e–booksellers. Kate lives in Northwest Indiana and Key West, Florida.