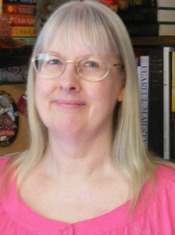 Brought to you from Kathy Lynn Emerson (aka Kate Emerson and Kaitlyn Dunnett)
When this blog was originally scheduled, I planned to talk about the next Kate Emerson historical, SECRETS OF THE TUDOR COURT: AT THE KING'S PLEASURE, which first had a release date of September 20th , then August 23rd. And now? December 27th! The novel is written and edited and has a gorgeous cover. It will be in stores eventually, but when my editor phoned to explain about the delay (actually a good thing in terms of marketing), I was disappointed, as I know readers are at having to wait those extra months.
SECRETS OF THE TUDOR COURT
In a writing career that stretches back  more years than I like to count, this is far from being the worst setback I've ever experienced. That "honor" goes to something that happened in 1988, when I had three young adult novels already written and edited and scheduled for Silhouette's Keepsake line. One even had a cover. Then Silhouette decided to discontinue the line, and none of them saw the light of day, at least not in that incarnation. Now that's a setback.
I've always been a glass-half-full kind of person. On the plus side of that bad news, came the good news of my first sale of a novel for grown ups. And I was able to resell one of the three Y.A. novels to another publisher. I eventually rewrote the second as a romance for Loveswept. And the third? Well, that was one I really liked a lot, probably because it was loosely (very loosely) based on my own experiences in high school. I held onto the manuscript, did some revision here and there over the years, and eventually issued it myself as the ebook original, SOMEDAY. What can I say? I've never been one to let setbacks slow me down. I just hang in there . . . and keep on writing.
I hope readers will find SECRETS OF THE TUDOR COURT: AT THE KING'S PLEASURE worth waiting for. It is a novel I thoroughly enjoyed writing. Set in the early days of the reign of Henry VIII, it starts with the December wedding two real people, Lady Anne Stafford and George, Lord Hastings. Like the other heroines in my Secrets of the Tudor Court series, Lady Anne was rumored to have been one of the king's mistresses. The novel gives a new spin to that story, a tale that involves romance, intrigue, even treason, and includes Lady Anne's infamous incarceration in a nunnery.
During the wait for publication, I'll be busy writing the next entry in the series, THE KING'S DAMSEL, tentatively scheduled for publication in August 2012, but I have a few suggestions for readers looking for something else to read in the interim. I also write a contemporary mystery series using the pseudonym Kaitlyn Dunnett. My amateur sleuth is a former professional Scottish dancer named Liss MacCrimmon who now runs a shop, Moosetookalook Scottish Emporium, in the tiny rural village of Moosetookalook, Maine. The previous books in the series are KILT DEAD, SCONE COLD DEAD, A WEE CHRISTMAS HOMICIDE, and THE CORPSE WORE TARTAN. The new one, SCOTCHED, set at a small mystery fan convention, will be in stores October 25.
Liss MacCrimmon Scottish Mysteries
If you're not a mystery fan, you might still want to try SOMEDAY, the ebook I mentioned above. And if you only like historical novels? Before I started writing as Kate Emerson,  I wrote three Tudor historicals as Kathy Lynn Emerson—WINTER TAPESTRY, UNQUIET HEARTS, and THE GREEN ROSE, as well as a mystery series set in the Elizabethan era (FACE DOWN IN THE MARROW-BONE PIE and its sequels). All of those are available as ebooks, too. Whatever you choose, be it one of my books or someone else's, I wish you many happy hours of reading.
To comment on Kaitlyn Dunnett's blog please click here.