In this scene Nicholas has let Zelda's down and she knows that he's a professional illusionist, it's the show that matters not the people around him, but he proves there is more to him than the showman.
***
Nicholas stood in Zelda's kitchen, wondering what the hell he was doing. He'd come out here not because of the kid… Well, maybe a little bit, because Stetson reminded him of himself in some ways. But also for her. Her house felt homey, comfortable—the kind of place he imagined normal families lived.
He'd grown up in a brick and stone 12 bedroom mansion with a kitchen that had been meant for a large staff of workers, and he and his grandfather had always eaten in the master suite to be near his grandmother. He'd grown up believing that his parents had died when he was a baby. His grandparents had raised him in their big mansion, treating him like he was a special gift in their lives. It had only been after they'd died that he'd realized everything he'd known had been an illusion. He'd been an adopted baby they'd used to replace the son they'd lost as an adult.
He shook those thoughts off. He rarely allowed himself to indulge in remembering the past.
There was something sunny about the room, much like the woman who owned it. She followed him into the kitchen, her bare feet making a soft rubbing sound against the tile floor. He waited for her, looking around and realizing he was as out of place here as he was in her life. He wanted to tell her he'd come for the chest, but he knew that was a lie.
While he always acknowledged that everyone lied to a certain extent—even himself—he tried to avoid it. There was no use buying his own illusions. That had led him down the path to mistakes like Jade. Mistakes he wasn't planning to repeat.
He wanted to blame his anxiousness on the fact that he'd lost his talisman. That water chest was more to him than just a collectible. It had been something he and his grandfather had purchased and then taken the time to restore. The chest had been in rough shape when they'd found it, and because his grandfather had been in his eighties, it had taken a long time to bring the chest back to its former beauty. The two of them had worked on it, taking breaks to visit with his grandmother, who'd always been bedridden, and in those long conversations, the seeds of the man he was today had been born.
In more ways than one, he thought ruefully.
His belief that life was an illusion had been planted in his seemingly idyllic childhood. He saw the chair over by the stove—used, he assumed, to reach the top cabinet—and then the tequila bottle on the countertop. There was more to this shop girl than he had imagined. He had been busy filtering through his spectrum, trying to figure out if she'd
been complicit in the theft of his water chest, never once seeing that she had her own demons.
Fair enough, he thought. They were strangers, but tequila could change that. Was he making a colossal mistake? Of course he was.
Did he care?
The police station lead had been a bust. The shipment had been full of knockoffs that weren't anywhere near the quality of his chest. So he still needed to see the one she'd purchased. But he wanted more than that.
He wanted the woman.
Zelda.
Even her name seemed magical. And, well, he couldn't
deny the sexual energy that flowed through him every time he thought about her.
"Uh, yeah, I was just getting started when you arrived," she said. "Since you're here, can you grab two shot glasses." She gestured to a cabinet, and he easily reached them as she took a lime from the bowl on the counter and sliced it up. She took the cutting board with the limes to the table, and he picked up the bottle and followed her. She went back for the salt and the chair, but he took it from her, easily hefting it and setting it down at the small table that was nestled into
the nook. "Thanks."
"I was raised to be a gentleman." It had been his grandfather's belief that no one resented being treated with kindness and good manners.
"You were?" she asked, sitting down on one side of the table. He took a seat opposite her.
"Yeah," he said. "So, are we just doing shots?"
"I wasn't planning on anything else," she said. "What did you have in mind?"
"Twenty questions." Twenty questions? What was he thinking? Leo would be shaking his head if he saw him right now. But he didn't care. He hadn't met a woman who affected him this deeply since Jade. He wasn't going to lie about it—Zelda intrigued him.
"Okay. Are you sure about this?" she asked. "You might not want to answer mine."
"Fair enough. Every time one of us wants to skip a question, we take a shot," he said.
"How about we set a limit? You can only skip one out of three questions?" she suggested.
Leaning back in the chair, he crossed his arms over his chest and studied her. She had a direct way of looking at him that made it seem as if she could see through him. But he knew she couldn't. He knew what kind of illusions to use to protect himself.
He nodded. "Okay then. So, are you game?"
She tipped her head to the side, studying him, and he couldn't help noticing the way her long red hair fell across her shoulder to curve on the upper slope of her breast. She wasn't wearing a bra under her T-shirt, and he knew he should look away, but he couldn't.
He wanted to believe she was as guileless as she appeared to be. It was a little scary how much he wanted that. But he simply smiled at her, looking forward to this. He was already thinking up questions he shouldn't ask, just to see how she'd react.
(C) Katherine Garbera, Entangled Publishing, 2020. Printed with permission from the publisher.
***
Jokers Wild Series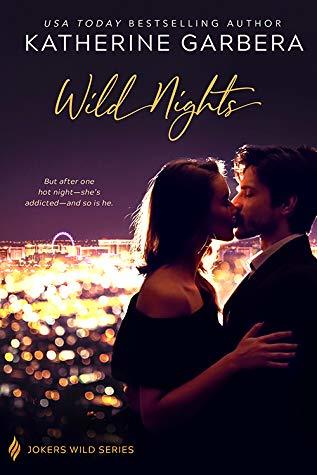 Master illusionist Nicholas Pine has learned the hard way that nothing–and nobody–is what they seem. So when he runs into sexy antique shop owner, Zelda Quincy, he knows there's more to her than meets the eye. Still, what he sees is very, very intriguing. . . and he can't get her out of his head.
Zelda has spent her whole adult life running away from her family's reputation. She's changed her name and tried to move on. The last thing she wants is to return to the world she left behind, even with someone as hot as Nicholas by her side.
But after one hot night––she's addicted––and so is he.
Too bad the skeletons in Zelda's closet won't stay hidden for long. . .
Romance Contemporary [Entangled Brazen, On Sale: February 10, 2020, e-Book, ISBN: 9781640638655 / eISBN: 9781640638655]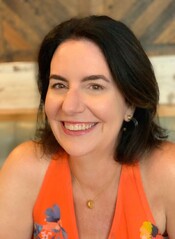 Katherine Garbera is the USA Today best-selling author of more than 90 books. Writing is the chief focus of her time after her family and the only thing she likes more than working on her own books is reading other authors. She is a frequent speaker at conferences and loves the opportunity to talk about writing with anyone who'll listen.