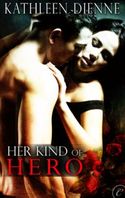 The back cover text for a book is meant to do just one things – sell you the book. I'm super excited about my second novella, HER KIND OF HERO, and the back cover text is… well, super exciting:
Kissing him is better than nothing.
Young widow Vanessa Bingham is ready to stop mourning. She misses the intimacy and tenderness of a man's touch. It's obvious her old friend Derek Lane wants her, so why does her first attempt at seduction cause him to flee?
Kissing her is a dream come true.
Derek has been in love with Vanessa forever. His feelings have kept him from having a serious relationship—or a casual one—with any other woman. So when she finally turns to him, he doesn't want to settle for being friends with benefits. But Vanessa is a hard woman to resist for long…
Someone doesn't want them kissing at all.
Just as things with Derek begin heating up, disturbing photos start to arrive at Vanessa's door. Someone is watching her every move: someone she may know. Terrified by the stalker's very real threats, Vanessa soon realizes that Derek may be just the hero she needs after all.
That's all true. But between you and me, the real heart of the story isn't the action. It's the romance between Vanessa and Derek.
I wanted to write a story where friendship turned to love. Okay, and if I'm being honest, it's because I wanted to read a romance where the shy awkward guy got in touch with his inner alpha male. That's how Derek came to life. We all know a guy like Derek. He's a catch. He's hard working, loyal, intelligent, kind, generous… and because he's no good at small talk, and even worse at talking to women he doesn't know, he's still single.
Imagine if the Derek in your life had stayed single, not just because he was shy, but because you were his dream girl. If he couldn't have you as a lover, he'd rather have you as a friend and not date at all. That would be gratifying to someone a lot more cynical than I am!
From there I started to imagine how the sparks of friendship might be coaxed into flame. Not all friendships can make that leap (as my heroine learns the hard way). It would take two people who cared more for the other's feelings than they cared for their own. It would take sensitivity and more than a little humor. The more I thought about it, the more I knew I had to tell Derek and Vanessa's story.
If you took a friendship to a happily ever after, I'd love to hear your story. How'd you meet? And why did you change your mind about keeping it at friends? Post in the comments, and out of all the people who comment, we'll randomly select someone to win a free copy of HER KIND OF HERO.
Buy Her Kind of Hero