When I had the opportunity to write a novella for AN AMISH MARKET, I jumped at the chance. I live near Middlefield, OH and visit there often. One of the prime attractions is the Middlefield Market. Each Monday they hold a large flea market which includes clothing, fruits and vegetables, Amish baked goods, and in the spring and summer, vegetable plants and flower baskets. I wrote about the Middlefield Market briefly in my novella "Flowers for Rachael" (in the anthology AN AMISH GARDEN) and I was excited to revisit it in this novella collection. In "A Bid for Love", a fictionalized version of the DCC Benefit Auction is featured. A series of misunderstandings at the quilt portion of the auction leads Hannah Lynne and Ezra to sort out their feelings for each other.
Several years ago I had the opportunity to attend the DCC Benefit Auction. This is a yearly auction that supports the DCC Clinic for Special Needs Children located in Middlefield. There are several auctions held throughout the year that support the DCC Clinic and the Clinic for Special Needs Children in Lancaster, Pennsylvania. I knew this would be a special auction, but it far exceeded my expectations.
This auction draws many Amish and Mennonites from Ohio and Pennsylvania, so the market was packed with people. There was an entire tent of baked goods (yum!) along with hot dogs, pop, chips, and homemade donuts available for purchase. There was a Chinese auction similar to the one in "A Bid for Love", along with a main auction where a variety of items were sold off—a cord of wood, quilts, services for buggy repair, farrier services, tools, even broom and dustpan sets. The bidding was lively, and there were several Amish auctioneers running the auction. Some were young teenagers, and I was impressed with their professionalism and skill. It's not easy to speak fast and keep track of bids, but these guys did it with aplomb.
I strive to show the similarities between the Amish and non-Amish in my books. Certain cultural norms set us apart, but at the end of the day we're all part of the body of Christ. It was interesting to see the different mixes of Amish and Mennonite families in one large place. There were several families with adopted children, and several with special needs kids. There were also plenty of "Yankees" in the mix, and we all had a great time.
The last event of the evening was Cow Patty Bingo. Being the auction novice that I am, I had no idea what that was so I asked a woman standing next to me. She explained with a smile how people purchased a number that corresponded with one of the squares marked on the market floor. Soon a cow would come in, and whoever had the square the cow dropped a patty on would win the pot. Then she laughed at my expression of disbelief. Sure enough, a few minutes later, the cow did its business and made one bingo player very happy.
The DCC Clinic's mission is "to enhance the quality of life for people with special needs caused by rare genetic disorders". As a former special education teacher, this is a cause near to my heart, and it was inspiring to see so many communities coming together to support these children, their families, and the personnel who work with them. That takes true community spirit and love—two things that are bountiful among the Amish.
Giveaway
Auctions and markets accross the country raise money for causes. Do you have one you're familiar with or attend? Tell us below and one person will win a copy of the AN AMISH MARKET that includes Kathleen's story: "A Bid for Love."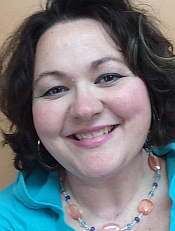 Kathleen Fuller was born in New Orleans, Louisiana, grew up in Little Rock, Arkansas, and currently lives in Geneva, Ohio. Fuller has been married to James for 21 wonderful years (really, they have been wonderful!) She started writing in 2000, and published her first short story a year later. Fuller has a Masters degree in Special Education, emphasis on teaching the blind and visually impaired, and a Bachelors in Early Childhood/Elementary Education.
A few of her favorite things: her relationship with Christ, chocolate (of course!), autumn, a satisfying book, good friends, a sense of humor, people who don't take themselves seriously, haunting melodies, NFL football, and did we mention chocolate?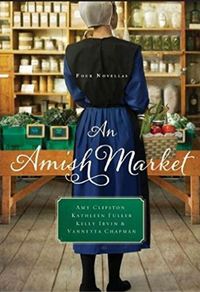 All the color and variety of a quaint Amish shop in a charming collection of novellas by four of your favorite authors. Feel free to come in and browse!
A Bid for Love by Kathleen Fuller
Every week, Hannah Lynne brings her home-churned butter to the local market. And every week Ezra stops by to purchase some. Hannah Lynne knows not to read too much into it—Ezra is a confirmed bachelor and barely even glances her way, despite any hope to the contrary. But when Ezra bids an exorbitant amount to win the quilt she had her heart set on, Hannah Lynne can't stop her heart from taking over her mind. Could Ezra finally be in the market for love?
Sweeter Than Honey by Kelly Irvin
Shattering a jar of pickled beets wasn't the impression Isabella hoped to make on her first trip to the local Combination Store of Bee County, Texas. But as embarrassed as she was by the accident, she didn't think it warranted the frosty reaction from the handsome manager of the store, Will Glick. As she soon learns, though, Will's heart has been broken one too many times. And now, for some reason, Isabella finds herself determined to be the one to repair that broken heart and renew his faith in love.
Love in Store by Vannetta Chapman
Stella Schrock works at the Old Mill in Nappanee, Indiana, with new employee David Stoltzfus, a recent widower. When strange happenings begin occurring around town, it appears as if someone wants to close the mill. Stella and David have to work together to solve the mystery of what is happening at the Old Amish Mill, and in the process they might just find that God has more in store for their future than they would ever have dreamed possible.
Love Birds by Amy Clipston
While Ellie Lapp and her mother are still mourning the loss of her brother, Seth, Ellie starts working at one of the gift shops in town. Seth's friend Lloyd is talented at carving wooden birds, but his father disapproves and expects him to take over the family farm someday. Ellie sees the beauty in Lloyd's creations and insists Lloyd sell the birds in the gift shop where she works. As Ellie and Lloyd spend more time together, they begin to develop feelings for one another, but she accidentally betrays his trust. Will she lose any hope of a future with him?