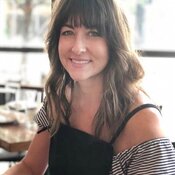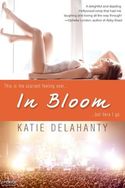 My debut novel IN BLOOM was an accident. When I started writing it I wasn't trying to write a book; I was trying to save my job. I never set out to be a writer—I was always a reader, but writing my own stories never occurred to me. No, I wanted to be a fashion designer, and that was the path I followed after college, landing a position as an assistant designer for a new dress line being started by Diane Samandi, an established lingerie designer. We were just beginning to have some success—selling to stores like Anthropologie, Barney's, and Nordstrom—when the economy collapsed. The dress line went under and the lingerie line merged with a larger company. I was given a lingerie design position at the new firm, but it soon became apparent that my design skills weren't congruent with their more technical systems, and it was suggested that I try something else entirely, like starting the ecommerce website for In Bloom Intimates.
Building an online business from scratch was completely new to me and I tried to learn the ins and outs of SEO, PPC and Facebook fans, but again, I couldn't quite meet expectations. The numbers weren't good enough and I felt like I was failing. My self-worth was at an all time low and things got even worse when Google accused me of selling mail order brides and banned me from advertising. In a last effort to drive traffic to the website, I decided to start a blog. The problem was, I wasn't an expert in lingerie, and I had no idea what to write about. In Bloom is predominantly a bridal lingerie line and I knew I wanted to use lots of wedding keywords, so my solution to my content problem was to write the blog as a fictional serial about a girl who worked for In Bloom and was engaged. The blog was to be her live wedding journal. As I started to write, though, I realized I couldn't plan her wedding without knowing how she fell in love with groom…who was this guy anyway?
And it began. Relying heavily on my personal experiences for inspiration, I started to tell Olivia Bloom's story. My real life leading man, my husband Jason, was immersed in the Los Angeles music scene, and in the years post college we'd had a backstage view as some of our friends' bands went on to become world famous, while others, despite their success, couldn't keep it together and broke up, and still others never got off the ground. Being a part of this creative crew, but terribly shy, I was adept at hiding in corners at celebrity parties, wondering how I got there.
And that was the basis for my story. I started writing about recent college grad, Liv, who moves to Los Angeles to pursue her dream of becoming a costume designer, but ends up designing lingerie instead. Along the way she is spun into an It girl by her Hollywood-insider neighbors and a chance meeting with her favorite rock star, Berkeley Dalton, ignites a whirlwind romance. I put all of the emotion that stemmed from my own dreams and recent feelings of inadequacy onto the page and the story took over. It started waking me up at night, demanding to be told, and as Olivia Bloom fell in love with Berkeley Dalton, I fell in love with storytelling.
For nine months I posted two chapters a week to "The Bloom Blog", live tweeted in real time as eight of the characters, and eventually turned the whole thing into a book with the intention of self-publishing it. But that was easier said than done. I was having terrible bouts of self-loathing and I wasn't confident in the story I'd written. I wanted another set of eyes on it before I sent it into the world so I found an editor online that I wanted to work with me on it. But I was scared. I was afraid she'd tell me I wasn't a good enough writer, and I wasn't sure I could handle that, so I stalled—and made excuses—until finally I decided enough was enough. Giving up fear, I took a deep breath, and emailed her.
I'm so glad I did—she changed my life. Because of her, some crazy magic swirled, and I ended up with an agent and a three-book deal. My head is still spinning.
At its heart, IN BLOOM is about following your dreams and never giving up, even when it feels like you're failing. This experience has taught me that what seems like failure may just be life nudging you toward the right path. Be brave. Keep going. Dreams can come true…and in ways you never expected.
To comment on Katie Delahanty's blog please click here.