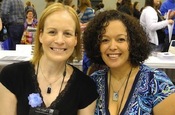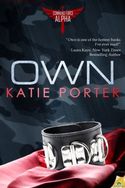 I'm so excited to be able to talk about my newest book, OWN. Katsu and Evan are a really fun couple, mostly because of the sparks that fly between them. You see, this isn't their first go-round. Evan is in a secret special ops unit, and Katsu is his boss's daughter—and they had their first affair the summer before she left for college. Katsu will never forget the time they spent together:
Doubts would carry her back to when she'd been too young to be anything but reckless. Head-over-heels reckless over Evan Sommers. Once they'd landed in bed, they'd hardly made it out for six weeks. Every night together, and every strange and quirky date they would end up on, had felt like a present.
The thing is, young love isn't like anything else in life. There's something special about that first flush of emotion and connection that you feel with a person. When it comes with something special—like quirky dates—you feel like you don't only have something special, you are something special.
So what do quirky dates mean to Evan and Katsu?
1. Going to the Museum of Fine Arts in Boston (Katsu's hometown) and pretending to be docents. Katsu did a much better job of saying believable stuff about the art, but Evan was able to bluff the security guard who questioned their authenticity.
2. The time they went to Allandale Woods, a gorgeous park in the Boston area, and tried to find two identical leaves. They did not succeed, despite several hours of fooling around in the woods. Evan had a really great time pinning Katsu to a tree and kissing the heck out of her, though.
3. The time they convinced a diner line cook to make them his signature dish. It turned out to be an amazing chocolate soufflé. Katsu left him a fifty-dollar tip for being so cool.
4. They went to a cyber café and IMed each love notes and sappy sentiments from across the room. Evan couldn't resist turning around and peeking at the gorgeous line of Katsu's back, but she never turned around.
5. Katsu wore a sheath dress and her mother's good pearls and Evan wore his uniform. They took turns test driving Maseratis. Evan insisted that Katsu drove better, but she insisted that he was better. Young love makes you silly, after all.
Unfortunately, Katsu and Evan's relationship didn't last the first time around. Which is to say they flamed out in a kind of epic way. By the time Evan shows up in Katsu's life again in OWN, she is seriously displeased with him. Even though her special ops father has been shot and is in danger, she gives Evan a hell of a time about going to a safe house. But they're both older, and they've both been through a lot, so things have changed.
There's danger in the air, so they don't have a chance to go on many quirky dates, unfortunately. Most of the time they're locked in a safe house…where smokin' hot naughty times help heal the wounds left by their first relationship. You know. As these things go in erotic romances… So I hope you'll join Kat and Evan for the ride!
About Katie Porter
Katie Porter is the award-winning co-writing team of Lorelie Brown and Carrie Lofty, friends of nearly seven years. After wishing, scheming and planning, they finally share an office in the Chicago area.
Both are multi-published in several romance genres. Carrie holds an MA in history, loves movies, and has no fear of gross things like dissecting formaldehyde sharks. Her two daughters aren't appreciative. Lorelie is a US Army veteran and true-crime devotee, whose three boys love when she screams like a little girl around spiders.