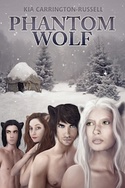 As a fantasy author who enjoys writing about attacks, draining, and bloody fight scenes, I must confess — I hate violence and fear the paranormal.
No, no, no; let's rephrase that: I am a believer in the supernatural and the paranormal, I just try to avoid it. Just don't be nominating me to go watch a scary, suspenseful movie with anyone because I can't do it. I'm a scardey cat.
Most readers don't realise that as wild and vivid as my mind may be, I don't have the courage to watch scary movies or become involved with an activity that may be too risky or haunting. I am scared of the dark, jump when someone says boo, and I become faint and ghost-white at the smell of blood.
I have always been a visual person and my books contain a lot of fight scenes and feature a lot of supernatural abilities. Have I ever been in a fight? No. Well… I may have beat up the little sister now and then when we were younger. Do I enjoy writing about them? Yes, I do.
Every fight is different. When abilities and the paranormal abound it makes the possibilities endless. I endeavor to produce work that confronts our fears, whether it is through digital manipulation, paintings or writing. Because at first, when seeing these images, it is haunting and eerie. Much of the time, I am exemplifying a much deeper issue as an active feminist, vegetarian and animal lover. But in my joy of writing, I am able to express the thoughts, the reasons why my heroine chooses to fight.
Readers can relate to the mixed emotions, unknown endings, feeling lost in themselves and the confrontations of morals. Although not all of us are kick-ass, super-power women, we certainly can relate to that.
Both my heroines, Karla and Sia, are emotive as they walk through paranormal worlds, discovering themselves as they do. And as cautious and scared as they are, they fight until the very end with their fierce determination. As will we, as we venture into their worlds, reading until the very end.
If you want the sense of adventure, love, fear, tragedy, revenge and epic fights — without having to watch a movie in the dark — purchase a copy of my book today.
POSSESSION OF MY SOUL — The Three Immortal Blades was released on the 15th of May, 2014, and
PHANTOM WOLF is available on the 19th of June, 2014.
Don't be scared.
To comment on Kia Carrington-Russell's blog please click here.