His First Letter
One day into the voyage, one day in Earth time 
I said goodbye to the guys, as they won't be seeing me until the wedding. In four years and four months, to be precise. They all said they'd come. We took photos and I gave each of them a small leather frame on a lanyard to hold the pictures. The wedding venue gave them to me for free when I paid the deposit on our booking. I told them to come to the ceremony wearing the photos around their necks. That way I won't make a fool of myself asking each of them who they are. They made fun of me. "It must be great to be getting married. Leaving your pesky friends behind, huh?" "You interstellar marrying types are all traitors."
I told them it wouldn't be an easy time for me either. I almost got punched when I added it was going to take me a whole eight weeks to get to our wedding day. A month to get up to the speed of light, and a month to slow down enough to make a safe landing. That's how it works. And that's even with the newest engine and latest gravity controller. It's always at least two months, however fancy the ship.
I remember how worried you were before leaving for Alpha Centauri four years ago. You said you had no choice but to go with your parents, promised you would come back to me as soon as you could. But even that meant eight Earth years apart.
"Are you sure you'll be alright?" you asked me. "It'll only feel like a few months for me, but you have to wait four years before you can take that spaceship. It won't be easy, you know." "I'll be fine," I said, our foreheads touching. I tried to make you laugh, "You really got lucky, didn't you! When we meet again I'll be two years older than you, instead of the other way around." Finally, you gave a goofy smile.
"You know what they say," my friends teased, "people really mellow out after an interstellar journey. Either that or go crazy. Must be something to do with spending months-on-end doing nothing."
I told them I wouldn't have time to loaf about. I'd have two months' worth of work with me. Different ledgers to sort out, accounts analysis, research on my firm's competitors, sales figures. To be honest, it'll all be outdated in four years, but as they said at the office, they don't really expect much. They'll just be looking to see if I made the effort.
I met some other grooms-to-be on the ship and we all decided to share a cabin. Every night we stay up chatting, joke around and boast about our fiancées. You won't believe how cheesy these guys are; the big romantics made the place look like a wedding cake. They hung ribbons and paper flowers around the cabin, and the ship attendants had to chase them around attaching everything to the walls with Velcro. One of the attendants explained that if the acceleration stops we'll lose gravity, and the room would be chaos.
Speaking of hopeless romantics, I bought something for you at the market on board. The stallholder called it a "music ring" and said she could put whatever songs I wanted in it. I thought of a few for you and got her to put them in. If you press the jewel it plays one of the songs. I hope you'll give them a listen.
*
The ship's like a small city. It's got cafes and even a flea market. Sure, the company I work for makes parts for space vessels, but I only ever saw the parts, never all the parts put together. I get a kick out of reading the user instructions for the different parts printed on stickers around the ship. I was the one who edited them. I've even taken some photos to show my friends how my work's being used.
It's getting really dull after a couple of days on board though. I thought in space I'd get to see loads of stars, but I couldn't see a single one when I got a chance to look out a window. You know how you can't see anything when you're in a brightly lit house and it's dark outside? Well, it's always night-time in space. Whatever, it's fine. It's only two months.
The people on board call this route "the Orbit of Waiting." It draws a helix around the sun and then returns to the place it departed from.
Everyone on the ship is emigrating to a different time, not a different place. Trying to get to the future faster, for whatever reason. Some people are travelling to the year their pension plan matures, others hope real estate taxes will come down while they're away. There are artists, too, who believe they were born in the wrong era. I even met a high school student who's waiting for the new university entrance exam that's supposed to be implemented soon. And there are other dopes like me of course, travelling to arrive back on earth at the same time as our fiancées flying in from other stellar systems.
The year we all end up arriving in will be better than the one we left. Discrimination against people coming back from other stellar systems shouldn't be so bad, and welfare and state pensions will have improved, too. The busy hive of people on Earth will rush around putting things together, taking things apart, then fixing them, right in time for us to benefit. Though I guess that's the kind of attitude people scorn with the saying "blowing your nose into someone else's hands."
It might sound over-the-top, but when I think about our wedding I'm too excited to sleep. I toss and turn in bed like a little kid, hug my pillow tight and hum myself to sleep. When I open my eyes in the morning, I picture you lying next to me. Even just imagining us like that makes me so happy. Sometimes I hide under the blankets and dream about what it'd be like to be a dad. I even imagine a baby wriggling on the bed between us. I don't know how I'll manage to wait two more months. Even another day is hard to bear. I wish I could be with you right now.
I love you.
(c) Kim Bo-young, Harper Voyager/HarperCollins, 2021. Reprinted with permission from the publisher.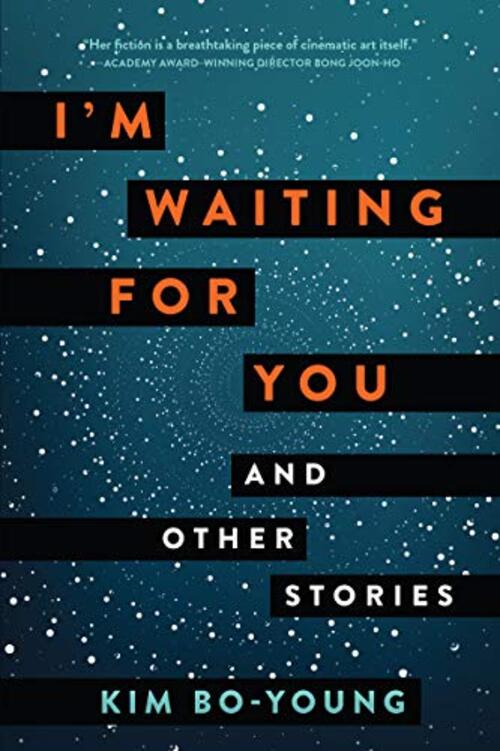 "Her fiction is a breath-taking piece of a cinematic art itself. Reminiscent of the world we experienced in Matrix, Inception, and Dark City, still it leads us to this entirely original structure, which is a ground-breaking, mystic literary and cinematic experience. Indeed, powerful and graceful."—Bong Joon-ho, Oscar-winning director of Parasite
In this mind-expanding work of speculative fiction, available in English for the first time, one of South Korea's most treasured writers explores the driving forces of humanity—love, hope, creation, destruction, and the very meaning of existence—in two pairs of thematically interconnected stories.
Two worlds, four stories, infinite possibilities 
In "I'm Waiting for You" and "On My Way," an engaged couple coordinate their separate missions to distant corners of the galaxy to ensure—through relativity—they can arrive back on Earth simultaneously to make it down the aisle. But small incidents wreak havoc on space and time, driving their wedding date further away. As centuries on Earth pass and the land and climate change, one thing is constant: the desire of the lovers to be together. In two separate yet linked stories, Kim Bo-Young cleverly demonstrate the idea love that is timeless and hope springs eternal, despite seemingly insurmountable challenges and the deepest despair.
In "The Prophet of Corruption" and "That One Life," humanity is viewed through the eyes of its creators: godlike beings for which everything on Earth—from the richest woman to a speck of dirt—is an extension of their will. When one of the creations questions the righteousness of this arrangement, it is deemed a perversion—a disease—that must be excised and cured. Yet the Prophet Naban, whose "child" is rebelling, isn't sure the rebellion is bad. What if that which is considered criminal is instead the natural order—and those who condemn it corrupt? Exploring the dichotomy between the philosophical and the corporeal, Kim ponders the fate of free-will, as she considers the most basic of questions: who am I?
Science Fiction | Fantasy Anthology [Harper Voyager, On Sale: April 6, 2021, Hardcover / e-Book, ISBN: 9780062951465 / eISBN: 9780062951465]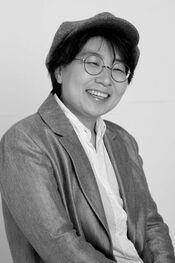 Kim Bo-young is one of Korea's most unique and important authors. Her first published work of fiction, a novella titled 'The Experience of Touch', unanimously won the award for the best novella at the Korean Science & Technology Creative Writing Awards in 2004. In 2010 she published a two-volume collection of short stories, The Story Goes That Far and An Evolutionary Myth. 2013 saw the publication of her first novel, The Seven Executioners, which won the South Korean SF Award. Kim's work enjoys widespread popularity in Korea and has been praised by award-winning film directors Park Chan-wook and Bong Joon-ho. She acted as a script advisor for Bong's 2013 film Snowpiercer.