Welcome back to Fresh Fiction, Kim! Please tell us about yourself and your new book, COWBOY FIREFIGHTER HEAT.
Thanks for inviting me back to Fresh Fiction! It's always a pleasure to be here. COWBOY FIREFIGHTER HEAT is a special book for me, so I'm delighted to talk about what motived me to write it. We all share a love of music, because it uplifts us, motivates us, inspires us, and simply pleasures us. I can't imagine life without it. We owe a great deal to the many musicians who give their creativity through this medium. I particularly appreciate the musicians in my own family who generously share their talent at family reunions and other events. COWBOY FIREFIGHTER HEAT is my tribute to them and musicians everywhere.
Wildcat Bluff County, Texas, is as much a character in the novel as it is the setting. What do you love about setting your books there? Is it inspired by a real location? 
I absolutely love setting my books in Wildcat Bluff, because I keep learning more about the landscape, community, towns, and fascinating folks with each novel I write in the series. I started with the town of Wildcat Bluff, but soon Sure-Shot, named for Annie Oakley, the legendary sharp-shooter of Wild West shows, turned up, and now the small town of Destiny with a mystery all its own has appeared in my books. Of course, each ranch has its own personality, too, such as Steele Trap Ranch, home of Fernando the Wonder Bull. In COWBOY FIREFIGHTER HEAT, Wildcat Hall Park, an iconic 1880s dance hall with cowboy cabin rentals, is the music center that provides a meeting place for the local community. And yes, Wildcat Bluff is inspired by small Texas towns with their volunteer cowboy and cowgirl firefighters.
Craig Thorne is a cowboy singer turned firefighter and Fern Bryant is the one that got away. How do you think Craig handles Fern's return? What will readers love the most about him?
Craig is determined not to lose Fern again. He pushed too hard the first time, even though he knew she had a dream of sharing her music on a bigger stage. He learns that sometimes you must let a wild thing fly free, so that it will want to return to you…and stay. I believe readers will love Craig's determination, no matter the price or danger, to help Fern understand that she can have it all—love and home and career—and share it…with him.
Fern Bryant leaves Wildcat Bluff to make it as a country singer, but comes home to find out that the Park she thought she owned with her sister is half-owned by her former flame (pun intended, LOL), Craig. What surprised you while you were creating the character of Fern?
Fern was more emotionally fragile than I realized at first, so she was risk-adverse to intimate relationships. She was willing to share her emotions with others through music, but Craig wanted so much more than felt safe to her… even though she loved him. And then there was her long-time dream of making it as a country singer that had always come first in her heart, and she believed there would be time later for romance.
COWBOY FIREFIGHTER HEAT is a second chance romance! Do you have a favorite romance trope to write about? To read? Give us some book recs, too!
 I adore all the romance tropes, but second chance romances are special because that first love always stays with us. Novels mirror real life. We often hear, or know someone, who went to a class reunion many years later to find love again with the first flame. And so I couldn't resist writing about a second chance romance in COWBOY FIREFIGHTER HEAT. As far as great books to read, here are a few favorites:
YOU HAD ME AT WOLF by Terry Spear
RISK IT ALL by Katie Ruggle
THE SISTER'S CAFE by Carolyn Brown
IT STARTED WITH A COWBOY by Jennie Marts
Fern is a singer on a cruise ship before she comes back home – an interesting job to say the least! What is the most interesting job you've ever had?
Once upon a time, I worked at an advertising agency in downtown Beverly Hills. When I walked downstairs for lunch on the square, I never knew what Hollywood star might be eating beside me or window shopping there.         
What can readers expect from you next?
SMOKIN' HOT COWBOY CHRISTMAS will be released 9/29/20, and I'm really excited about this book. Rowdy Holloway is the unluckiest cowboy in Wildcat Bluff County…and he's drawn the short straw to slow down Belle Tarleton's ranch renovations. She's determined to turn her new working ranch into an arts center just in time for her Christmas party, but the county matriarchs are not up for the drastic change. Rowdy and Belle will need to tap into their fiery personalities and off-the-charts chemistry…if they're ever going to find a way to thaw the reluctant town's heart.        
Rapid Fire Random Questions 
Favorite candy: Chocolove XOXO Orange Peel in Dark Chocolate…what can I say except its chocolate!
Favorite way to be kind to yourself: I love to take a long walk—maybe follow the deer trail—on the ranch down to the pond and sit on the brick bench to watch the water lilies, birds, fish, frogs…and whatever happens by.
Best compliment you recently gave to someone: You make me happy.
Favorite flower: Wildflowers that look like a multi-colored carpet across the ranch in the spring.
Random interesting fact you like to tell people: Life is what you make it. 
Best vacation you've ever taken: Sedona, Arizona
Cake or pie: Pecan pie
Last book you read that you really LOVED: HONOR AMONG THIEVES by Rachel Caine & Ann Aguirre
You have a totally free afternoon – no deadlines, no obligations, no Twitter notifications!  What do you do?: If I feel like relaxing for a bit, I'll spend time in my herb garden, but if I'm feeling more adventuresome, I'll saddle Blaze and go for a trail ride with family and friends.
Smokin' Hot Cowboys #6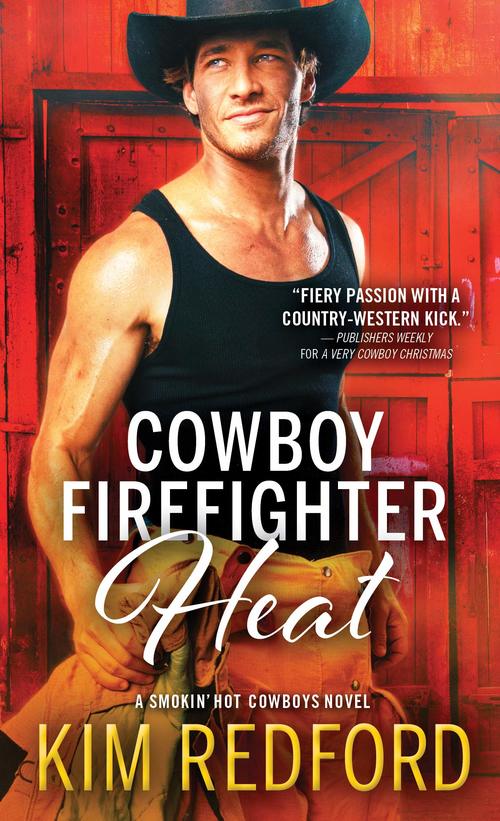 She's back and hotter than ever. Good thing this firefighting cowboy can handle the sparks.
When country singer Fern Bryant returns to her cabin in Wildcat Hall Park, the last thing she expects to find is Craig Thorne in her home…asleep in her bed. Fern had big dreams, and chasing those dreams required sacrifices. Unfortunately, Craig was the cowboy singer and firefighter she left behind. Much to her surprise, now they're the co-owners of her beloved Wildcat Hall Park.
Craig hasn't seen Fern since she left Wildcat Bluff County—and him—to sing on a cruise ship. When she storms back into town, the sparks between the two aren't only rekindled but burn hotter than ever. As long days turn into long nights, Craig is determined to show Fern that she belongs in Wildcat Bluff…and his arms.
Romance Contemporary [Sourcebooks Casablanca, On Sale: March 31, 2020, Mass Market Paperback / e-Book, ISBN: 9781492695028 / ]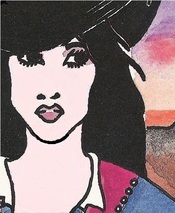 Kim Redford is the bestselling author of Western romance novels. She grew up in Texas with cowboys, cowgirls, horses, cattle, and rodeos for inspiration. She divides her time between homes in Texas and Oklahoma, where she's a rescue cat wrangler and horseback rider—when she takes a break from her keyboard.