Have you ever read a book and fallen in love with the male lead? Waving my hand. I still sigh just thinking about Marcus O'Malley from Dee Henderson's book The Guardian. But the thing that tripped me up is that same man would have driven me crazy in real life. Marcus was a bossy, alpha-male who expected everyone to do what he said. Okay, so he was a US Marshal and had a job to do, but still . . . LOL, if my husband was like that, neither of us would be happily married. But for some reason heroes in fiction can get away with this type of behavior, and we love them all the more for it.
I suppose it's because we are able to get into their heads and see their loving intentions. To this day, I still adore Marcus. I was drawn to his strength, courage, tender heart, his desire to protect the heroine at all costs, his sense of justice, and most of all his values. Yet if he were real, he'd drive me nuts. J
This got me to thinking about the heroes in the books I write. What is it that draws me to write them the way that I do? What qualities are a must in a hero? I think the number one quality is he must have a good heart. Without that, he would be an epic fail for me. Secondly, he must put the heroine's best interest ahead of his own—but that doesn't mean she has to let him. Finally, all my heroes must adore the female lead, so that no matter what he says or how frustrating he might behave at times we will forgive him because we know he has a good heart and would never intentionally hurt the heroine.
In ISLAND HOPE Derrick is a widowed father of a fifteen-year-old girl. He loves his daughter and wants the best for her, but his daughter is determined to have her own way. I love that he sought out help from my heroine, Hope. A most unlikely source considering Hope was partly to blame for the problem he was having with his daughter, at least she was to his way of thinking.
I enjoyed Derrick's strength of character, his perseverance, and his passion. What kind of characteristics do you enjoy in a book hero?
Giveaway
Tell us about your hero favorites and you may win a copy of ISLAND HOPE & a Starbucks card for $10.00
Kimberly Rose Johnson married her college sweetheart and lives in the Pacific Northwest. From a young child Kimberly has been an avid reader. That love of reading fostered a creative mind and led to her passion for writing.She especially loves romance and writes contemporary romance the warms the heart and feeds the soul.
Kimberly holds a degree in Behavioral Science from Northwest University in Kirkland, Washington. She is a member of American Christian Fiction Writers.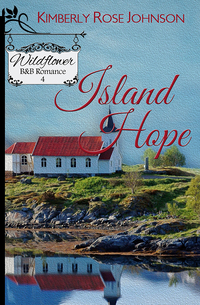 Metal sculptor Hope Michaels gave up on art when her creativity was zapped by another. Burying herself in her electrical contracting business, Hope takes a job on Wildflower Island. She never imagines that a job at the Wildflower Resort will turn everything in her life upside down. But that's exactly what happens when her best friend and employer, Piper, plays matchmaker.
A lonely widower throws all his energy into raising his teenage daughter, but when he is promoted to manager of the Wildflower Resort, things at home don't go as smoothly as planned. Worried about his relationship with his daughter, he seeks advice from a feisty-but-sweet newcomer. Will she help smooth his path or will things only get more complicated?