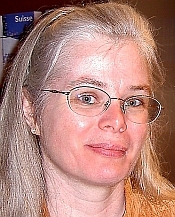 Once Upon A Time, I wanted to be a historical romance writer.  I even majored in history in college, although I dropped out of the honors program when they won't let me write an accurate historical novel ("like Michael Shaara's THE KILLER ANGELS," I said) for my thesis.  They told me I had to go to the English department for that.
Well, everyone I knew who majored in English ended up teaching writing, and I didn't want to teach, I wanted to write.  In truth, I was already writing.  I had paid much of my way through college as a freelance nonfiction writer, and in my sophomore year, I started working as a reporter for a local radio station.
There—and in my history classes—I learned about the importance of accuracy, of not committing anything to paper until it was absolutely right.  Which, somehow, I took over into the fiction side.
It would take me years, I reasoned, to write a good historical romance.  And honestly, I didn't (and don't) have the attention span for that.
So I gave up and wrote science fiction and fantasy (sf/f). Because I could make it all up.  All of it—the setting, the people, the culture.  I could do what I wanted and no one would say that I was doing it wrong.
Except…those sf/f editors, they didn't like romance.  And the romance editors back then, they didn't like any fantasy or sf cluttering up their romance novels. I was stuck.
And since sf/f had a big short fiction market, and since I wrote a lot of short fiction, I went over there, even editing the most prestigious magazine in the field for a while—and sneaking in that romance stuff where I could. I became an award-winning bestselling science fiction writer under my real name, Kristine Kathryn Rusch.
But I kept reading romance, and loving romance, and finally one day, I wrote a short story (that eventually won Le Prix Imaginales, France's top fantasy award), called "The Strangeness of the Day."  My husband, the handsome writer Dean Wesley Smith, said, "Write the book."  I said, "But it's a romance."  He got an evil grin, and said, "I know."
Because I was this hoity-toity sf/f writer, I put the book under a pen name.  And the book sold and because the RT Book Reviews Reviewers Choice winner for Best Paranormal (before vampires became hot).   And my romance career was launched.  Albeit, without the history.  I still haven't committed historical romance yet. But that's coming. Eventually…
Anyway, WICKEDLY CHARMING comes from a short story too.  I wrote "The Charming Way" for an anthology edited by one of the best editors in sf.  He wanted "star-crossed lovers" in a fantastic setting.  I figured who could be more star-crossed than Snow White's evil stepmother and Cinderella's Prince Charming.  I mean, really.
But the anthology editor got offended by the story.  Don't ask me why. He turned it down.  Dean, sly devil that he is, said, "Write the novel." And I did just to shut him up.
But of course, he got the last word. Because Deb Werksman at Sourcebooks loved the novel, and the reviewers and readers are praising my somewhat screwy imagination.
So here's the odd thing: I've always wanted to be a historical romance writer, and while I've written in every other genre, I haven't tried that one yet. But I went from that desire to sf/f, and twice sf/f short stories have led me back to romance—where I'm happiest.
I don't think I would have been able to write WICKEDLY CHARMING without the sf/f background.  Somewhere along the way, fantastic creatures have become part of the landscape for me.  And blurring genres…well, that's just fun.
So I guess, since I started this with a once-upon-a-time, I'll end traditionally.  I'm going to continue writing romance. Which means that I (and my handsome husband) will live happily ever after.
WICKEDLY CHARMING BY KRISTINE GRAYSON – IN STORES MAY 2011
He's Given Up on Happily-Ever-After…
Cinderella's Prince Charming is divorced and at a dead end. The new owner of a bookstore, Charming has given up on women, royalty, and anything that smacks of a future. That is until he meets up with Mellie…
But She Might Be the Key to Happily-Right-Now…
Mellie is sick and tired of stepmothers being misunderstood. Vampires have redeemed their reputation, why shouldn't stepmothers do the same? Then she runs into the handsomest, most charming man she's ever met and discovers she's going about her mission all wrong…
It's only natural that sparks fly and magic ensues when these two fairy tale refugees put their heads—and vulnerable hearts—together…
ABOUT THE AUTHOR
Before turning to romance writing, Kristine Grayson edited the Magazine of Fantasy & Science Fiction and ran Pulphouse Publishing (which won her a World Fantasy Award). She has won the Romantic Times Reviewer's Choice Award and, under her real name, Kristine Kathryn Rusch, the prestigious Hugo award. She lives with her own Prince Charming, writer Dean Wesley Smith, in Portland, Oregon. Her next book from Sourcebooks Casablanca, UTTERLY CHARMING will be in stores in October 2011. For more information, please visit www.kristinegrayson.com/ and www.sourcebookscasablanca.com.
To comment on Kristine Grayson's blog please click here.