What's in a name?
Everything when it comes to a cozy mystery. It must be witty, eye-catching, combine a hint about the series and the individual crime all in a couple quirky words. The author must turn a phrase, or twist it or just toss it out there and see if the readers catch the pun.
Of course we do—we always do. That's why we read cozies. They snare our attention with that little wiggle at the end of the line. The one you can't resist even if the pond is full of bigger fish with names that make your eyes pop. The cozy author has given you a taste. A tease. A temptation you can't resist.
The new April releases are just so—titles you can't pass up. Titles that made you go, "hmmm." So what's on your menu for tomorrow?
Until next time, get cozy and read on!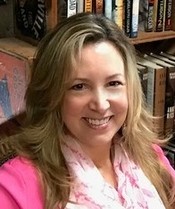 Kym Roberts, author of DEAD MAN'S CARVE, A Tickled to Death Mystery, DEAD ON ARRIVAL, A Malia Fern Mystery, and DEAD RIGHT THERE, A Malia Fern Mystery—Coming 2016, is a retired detective sergeant who looks for passion, mystery and suspense in every book she reads and writes.