Ah, romance, there's nothing better than when that sense of rightness in the world washes over you while cuddling up with a loved one. To learn about your partner's life and the people who've come and gone, their secrets, successes, and failures. Add a little tension and a few heart palpitations and you know you've chosen a good one…at least for the few hours it takes to get to the end of their story.
Yes, I'm talking about not one, but multiple summer flings with great cozy mysteries. Take advantage of the dog days, and delve into as many as you can, I know I am! If you want to hide in your closet with a little moonshine, chocolate, and a great book from the library, here are some mysteries right up your alley!
***
A Southern Homebrew Mystery
by Diane Kelly
7/6/2021
In this intoxicating new cozy mystery series, the future for modern-day moonshiner Hattie Hayes looks bright–until death darkens the doorstep of her Moonshine Shack.
The Hayes family has made moonshine in Chattanooga since the days of Prohibition, and Hattie is happy to continue the tradition, serving up fun, fruity flavors in mason jars for locals and tourists alike. All signs indicate her new 'shine shop will be a smashing success. What's more, mounted police officer Marlon Landers has taken a shine to Hattie. For the first time ever, the stars seemed to have aligned in both her work and romantic life. But when a body ends up on her store's doorstep alongside a broken jar of her Firefly Moonshine, it just might be lights out for her fledgling business.
The homicide detective can't seem to identify the person who killed the owner of a nearby bar. The only witness is Hattie's longhaired gray cat, and Smoky isn't talking. When the detective learns that the victim and Hattie had a heated exchange shortly before his murder, she becomes her prime suspect.
Lest Hattie end up behind bars like her bootlegging great-grandfather a century before, she must distill the evidence herself and serve the killer a swift shot of justice.
***
A St. Marin's Cozy Mystery
by ACF Bookens
7/28/2021
The murders in St. Marin's Library's mystery section just got very real.
When the local librarian is found dead among the stacks, the rumors about her reputation reach a fever pitch, but Harvey Beckett can't let a fellow book-lover's name be sullied. But when she drags her friends and her dogs into the investigation, she finds that it's more than just rumors she has to contend with.
Will Harvey's curiosity be the end of her this time? 
***
The Chocolate Raccoon Rigmarole
A Chocoholic Mystery
by JoAnna Carl
8/3/2021
In this eighteenth mystery in the national bestselling Chocoholic series, a gang of crooks with a wicked sweet tooth wreaks havoc on the resort town of Warner Pier, and it's up to Lee Woodyard to rout the hungry rascals.
A frantic late-night phone call from her right-hand woman Dolly Jolly brings Lee Woodyard to the scene of a break-in at the Warner Pier jewelry store next door to TenHuis Chocolade. To her shock, the suspect being held at gunpoint by police is Dolly's boyfriend, Mike Westerly, who was recently hired as a night watchman specifically to prevent break-ins. Dolly hopes Lee can help straighten out the crazy misunderstanding.
Even crazier? The thieves took nothing of value from the jewelry store, only swiping some snacks. It's another in a series of break-ins by burglars the media has dubbed the Cookie Monsters. They've been hitting shops selling everything from sunglasses to shoes but stealing only sweets: lollipops, cookies, even chewing gum!
It all seems pretty funny–until the discovery of a dead body. With her friends and community in danger, Lee must stop one very sour killer before someone else comes to a bitter end.
***
A Charlotte Adams Mystery
by Mary Jane Maffini
8/17/2021
Professional organizer Charlotte Adams knows that every closet hides a skeleton…
When a grieving mother reaches out to her, professional organizer Charlotte Adams can't refuse: the poor woman recently lost her young daughter in a tragic accident, and Charlotte feels compelled to help her through her despair, even if that comes in the form of sorting through her half dozen or more closets of designer clothing. But when the heartbroken woman confides to Charlotte that she's sure her daughter's death was murder, Charlotte doesn't know if she's dealing with delusional feelings or foul play.
Reluctantly agreeing to look into the young woman's death, Charlotte questions the police and the witnesses and comes to the same conclusion as everyone else: it was a terrible accident. But then she uncovers a fleeting clue that points to a devious culprit and a cover-up, and what started as a mission of mercy is quickly turning into something far more menacing . . .
Organizing Tips Included!
***
Until next month when I feature the re-released classics of Mabel Seeley, get cozy and read on!
Thanks to Netgalley, the publishers, and authors for an opportunity to feature their books.
***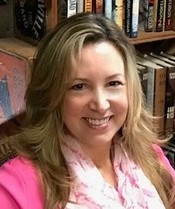 Kym Roberts writes by day and is a pro-surfer in her dreams by night. Her humor is often raunchy, her jokes are often bad, but her hunger for a story keeps the adventures coming fast. Experience the thrill & catch the wave of passion, mystery, and suspense with her at kymroberts.com, on Facebook @KymRobertsAuthor911, and on Twitter @kymroberts911.