There's something about a crime-fighting duo that draws me in. Batman and Robin, Holmes and Watson, Scully and Mulder—they just make the story that much richer as a team. The same can be said about a couple of witty authors who put their heads together to write a fabulous mystery. Double the criminal masterminds at work! I've interviewed Lorraine Bartlett here on Fresh Fiction, and now I have the honor of interviewing her new partner in crime, Gayle Leeson! What a rocking duo these two make!
***
Kym:  Welcome to the Cozy Corner Gayle!
Gayle:  Hi, Kym! Thank you for having me!
You've started writing A Victoria Square Mystery series with Lorraine Bartlett, how did that come to be?
Lorraine was swamped with her existing series and needed some help meeting deadlines. She liked my writing style and thought our voices would mesh well together, and now here we are.  
I love when two authors collaborate for a great book and I'm always amazed at how many different methods authors use to write as a team. In this series, however, it's even more complicated since you came in on book five of the series. Can you tell us how you and Lorraine wrote Yule Be Dead and your new release Murder Ink, which released on New Year's Eve, together?
Prior to starting the first book, I familiarized myself with this charming series. Then Lorraine and I decided what we wanted to do with the book. Mainly, we knew we wanted a Christmas book, but that was about it. We brainstormed and came up with the plot for Yule Be Dead. Writing is such a solitary endeavor, so it's really nice to be able to bounce ideas off someone else. We handled Murder Ink the same way: brainstorm the main points of the plot and then narrow down the specifics as we work on the story.
Because no two writers create alike, what was the biggest challenge the two of you faced?
I think it's probably when the book is passing between us. If I come up with a great idea when Lorraine is working on the manuscript (or vice versa), I have to make notes and then make sure it works with whatever Lorraine has added.  
You're no stranger to mysteries having written under the pseudonyms Gayle Leeson Amanda Lee along with your name, Gayle Trent. What makes mysteries your favorite genre to write and what genre intimidates you the most to write?
I love solving the puzzle, dropping in the clues, going back and making sure I don't give too much away but providing enough so that the reader has the chance to solve the murder before or along with the protagonist. No one wants to be hit out of left field with a solution to the mystery and need a summary to make tie all the points together. What genre intimidates me the most to write? Hmmm. . . that's a toughie. In addition to the mystery, I've done romantic comedy, thriller, and women's fiction. I'd love to write a psychological thriller. When I read The Silent Patient by Alex Michaelides this past summer, I was blown away and thought, "I wish I'd written that!" LOL 
You've tackled fashion design, embroidery, cake baking and decorating, consignment shops, and now, a tea cake house, the Artisan Alley along with a dose of a merchant's association. Are any or all of these wonderful hobbies/businesses a passion in your real life?  
Most of them are things I'd love to be able to do but can't do very well. LOL For example, my daughter and I took a Wilton cake decorating class years ago. So I can decorate a cake well enough for family gatherings, but I'm totally amazed by what true cake artists can do. Kerry Vincent allowed me to set up a table at two of the Oklahoma State Sugar Art Shows to sell books (and Penguin Random House provided some of the books as prizes), and those cakes–even in the amateur division–were breathtaking.
I love that you and Lorraine have added a tattoo parlor to your quaint small town, since in reality, a lot of small towns have them. Did you face any opposition from adding this not-so quaint yet very artsy business into Victoria Square–other than fictional characters like Sue who didn't feel a tattoo parlor fit the 'theme' of the town? (I'm trying not to give away the secrets!)
We didn't. We wanted to accentuate the point that tattoos are true works of art–you can't mess up!–and that even though some of the fictional characters were uptight about the shop not fitting in with the theme, it really does fit in with the artsy vibe of Victoria Square. I think that's one of the fun things about the series, though. You have the rigid characters butting heads with those who are more forward-thinking, like Katie. 
I've gotta ask–are you or Lorraine sporting any ink (like maybe a paw print with a crown–loved that!) and if so, what?
I can't speak for Lorraine, but I have no tattoos. I'm too afraid of needles and blood. My cousin has several, and he told me about the process and made me turn green. Of course, being more like an older brother than a cousin, he might've exaggerated; but I'm still scared. He was in a horrible accident, and the first thing he asked was, "Are my tattoos ruined?" They weren't. His face had to be reconstructed, but the tattoos on his arms and back were fine.
LOL, forget my body, what about my tats! I loved the way everyone on Victoria Square gets their feathers ruffled at once. From the staff at Tealicous quitting, to venders nitpicking each other Artisan Alley, to visitors at the Sassy Sally's Bed and Breakfast getting embroiled in the mix of town gossip. The old adage of when it rains it pours is soooo true! It also makes the pot of red herrings wide and deep;) What was the hardest part about creating such a deep pot of suspects for Murder Ink?
I think that, for me, it was keeping everybody straight! We had the victim's family, the merchants, the guests at the B&B–like you said, people all over town–and out of town–had either something to gain or something to lose from killing poor Ken. I ended up going back and rereading quite a bit. LOL
Well, all that reading paid off with a great whodunit! A little bit of an author goes into every book, yet you came to this series after it was well on its way. Could you identify with Katie immediately, or has she developed into someone with a few quirks of your own? (like your Great Pyrenees named Cooper who turned into an Irish Wolfhound in your Embroidery Mystery series–he rocks, by the way!)
Thank you! My muse is lying by my side snoring as I write this! LOL Getting to know Katie was a challenge in the first book. In writing Yule Be Dead, Lorraine changed quite a bit of my dialog and actions for Katie in order to bring her more in line with the Katie she knew and had written for years. By Murder Ink, I felt I knew her well enough to inject a few of my own quirks. 
Murder Ink marks your third full-length release in 2019. Will you continue that pace of writing in 2020?
Yes! A Murderous Misconception is scheduled to be released this spring.
OMG, I adore that cover! Speaking of your other releases;) What can we expect next from Amanda Tucker and Max in your Ghostly Fashionista Mystery series and Amy Flowers in your Down South Cafe Mystery series in 2020? 
Perils and Lace, book two in the Ghostly Fashionista mystery series is also due to be released this spring (I'll have a more definite date for you soon); and another Down South Café Mystery is slated to be out this fall.
Can you tell our readers where they can find you on social media?
I'd love to! Links are below:
Twitter: @GayleTrent
Facebook: https://www.facebook.com/GayleLeeson/
Amazon Author Page: https://www.amazon.com/Gayle-Leeson/e/B01NBSTBDU/
BookBub: https://www.bookbub.com/profile/gayle-leeson
Goodreads: https://www.goodreads.com/author/show/426208.Gayle_Trent
Thanks for visiting with us at the Cozy Corner! We look forward to another Victoria Square Mystery from you and Lorraine in 2020!
Thank you so much, Kym! It's always fun to visit Fresh Fiction and Cozy Corner!
***
Until next month, when Jessica Moor sits down and tells us all about her debut novel, The Keeper, get cozy and read on!
***
Victoria Square #6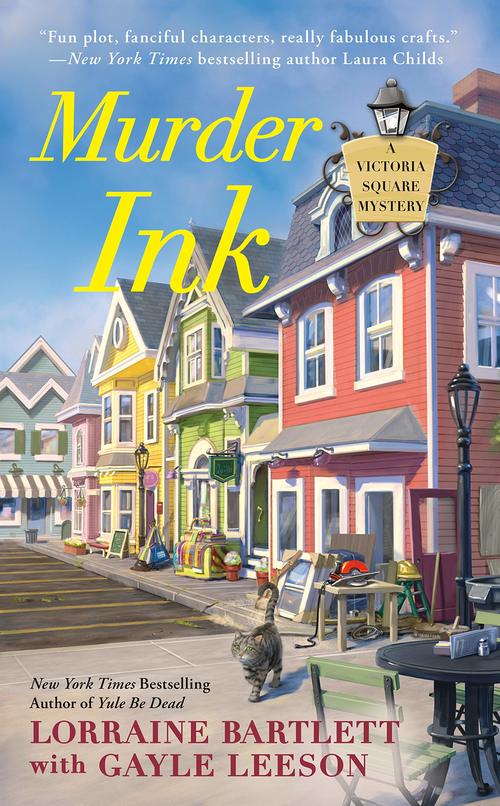 The charm of Victoria Square may prove to be only skin deep when murder follows the arrival of a tattoo parlor in town in this latest installment of the New York Times bestselling series.
A tattoo parlor on Victoria Square? Some of the merchants get hot under the collar at the proposal, but could they be driven to kill to stop it? That's what the sheriff's office and Katie Bonner want to know when the building's owner is electrocuted with his own saw.
Meanwhile, tensions rise when a hot chef takes over the square's tea shop. Will Katie have three men vying for her affections, or will her rival take the tea cake?
Mystery Cozy [Berkley Prime Crime, On Sale: December 31, 2019, Mass Market Paperback / e-Book, ISBN: 9780425266014 / eISBN: 9781101614822]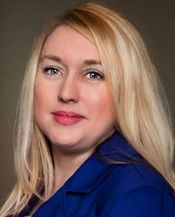 Gayle Leeson is a pseudonym for Gayle Trent. I also write as Amanda Lee. As Gayle Trent, I write the Daphne Martin Cake Mystery series and the Myrtle Crumb Mystery series. As Amanda Lee, I write the Embroidery Mystery series.
I live in Virginia with my family, which includes her own "Angus" who is not an Irish wolfhound but a Great Pyrenees who provides plenty of inspiration for the character of Mr. O'Ruff.
***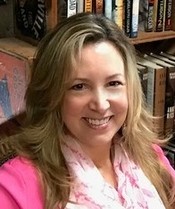 Passion. Mystery. Suspense. Catch the Wave! Because a little PMS can change your world!
Kym Roberts is a retired detective sergeant who looks for passion, mystery and suspense in every book she reads and writes. She can be found on the web at kymroberts.com, on Facebook @KymRobertsAuthor911 and on Twitter @kymroberts911. You can also listen to her new podcast Romance Book Chat with Kym and Misty on iTunes & Stitcher. Her Amazon bestselling Book Barn Mystery #5, Killer Classics was finalist for the Fresh Fiction Awards for Best Cozy Mystery & Best Book! Come say hi to Kym at Book Lovers Con in Nashville, TN March 18-22nd.