Welcome to Fresh Fiction, Blue! Please tell us about yourself and your latest release, CALLING ON QUINN, the first book in the Blackheart Brother series
Oh gosh. I have such a hard time talking about me. LOL Seriously, I typed the beginning of this reply several times. Let's see. First thing to know about me is that I love what I do. Creating worlds and love stories through words is my happy place. Add in a bit of actions, mystery and suspense and I'm in bliss with a grin on my face. Oh, give me some magic to play with and I'm going to burst at the seams. LOL
Calling on Quinn has been one of my favorite books to write out of the over fifty titles I've written. There's one scene in this book–I'll just say it's an action scene–I legit took the drive in real life to live out the experience.
Quinn and Alicia pop off the page. I love how they love through their challenges. Quinn sees nothing but perfection in Alicia, even the flaws she thinks she has and the issues he knows she needs to push through. And as always there's family and friends in the background that are always there for them.       
Alicia Rhodes is just a driving instructor who is suddenly caught up in the crazy life of the Blackhearts – and is immediately and intensely attracted to Quinn. What do you think readers will love about Alicia and how she handles these situations?
 I think readers will love watching her growth. She's in a vulnerable place in her life, but she's not weak. She's finding her way back and she's willing to do the work to do that. You may want to shake her here and there, but you can also understand her why? Which makes you also cheer her on as she reclaims her inner fighter.        
Quinn Blackheart is devoted to keeping his family safe, and when Alicia is inadvertently involved with their trouble, he wants nothing more than to protect her, too. How does Quinn's loyalty and protective nature help him and/or hinder him throughout your book?
 Quinn's loyalty and protective both helps and hinders him. It helps him to find love and not allow it to slip away from him.
However, it does block him from seeing the bigger picture for a moment as his focus becomes singular.       
I loved the entire Blackheart family, as well as Alicia's friend group! Who are some of your favorite side characters, and will any of them get future book in this series?
Oh, this is hard one. I know so much about everyone. LOL! I love the kids and they will be featured throughout the series. I think Trenton is also one of my favorites. He will be in the third book in the series. Honestly, I love them all and think everyone has something unique to offer. Tari has been buzzing in my ear a little, but that's something to think about down the line. Same for the Carter sisters. I know at least one of the sister's story already.       
You have a pretty awesome author-reader event in the summer – Blue's Divas, Queens, and Readers Retreat! Can you tell us more about it and where the idea for this fabulous event originated?
The retreat will be from July 16, 2020 (my birthday!) to the 20th. Four days and cool events and parties. I'll be joined by three other authors as well.
I'm a giver. My readers have been so awesome in their support of me. I wanted a way to give back to them. Which birthed the first retreat four years ago. I spend four days spoiling my readers.
I wanted to treat them like queens for a weekend and I do. We spend time on an exclusive luxury resort. This year, I thought what better time to celebrate with the people are have become my extended family than my birthday?   
I always love to ask authors about books they've been reading! What have you read lately that you absolutely adored?
I haven't been doing much reading lately, at least not books that have been released. I have a ton of writing on my plate. However, I've been reading a book that's yet to be released by author Tiya Rayne. The title is Hawk and it's an awesome romantic suspense with a mind-blowing twist. I love it. I think she'll be releasing it in the spring if not sooner.      
What can readers expect from you next?
Blue: I'm finishing the Brothers Black series with an epic two-book climax in book 6 and 7. Book 2 in The Blackheart Brother series is wrapping up on my end. I will also close my Hush series this year. I also plan to release a few paranormal romance books as well. I'm sooooo excited about those.       
Rapid Fire Random Questions
Dragons or unicorns: Dragons. One of my next series has dragons!
Five people you'd invite to your book club (dead, alive, fictional, etc.!): My mom! She passed away before I started publishing. I know she would love this journey. Carbi B, I totally think she would make it fun. Chris Hemsworth so we could totally talk him into playing a hero in the movie for one of my books. Michael Bay so we could talk him into directing the movie for one of my books. Paige Tyler, OMG! Have you meet her in person? I'm totally shy and she was so nice to me my first time meeting her. Her vibe is so awesome to me.
Some of your auto-buy authors: Tiya Rayne, Ivy Harper, KT Alder, Lashawn Vasser, Ancelli, LaQuette, Jeanie Moon, Melody Anne.
Favorite flower: Rose. Although I'm high allergic to flowers. Sadly, I had to have silk flowers at my wedding because of this fact.
Earliest celebrity crush: Ugh, am I old? I can't remember who. I want to say River Phoenix, maybe.   
Random interesting fact you like to tell people: I got my pen name from my mother after she passed away. She would appear in my dreams and dress me from head to toe in blue sapphires and diamonds. When I couldn't get the Blue Sapphire domain, I changed the spelling to Saffire. I like it better that way. LOL.
Hobbies you have (aside from reading and writing): I draw and design clothes. I always make wigs and dye them blue. Something people don't know, I'm an ASCAP card-carrying recording artist. I have work on iTunes. Gets shy and runs. Hahahaha.
Dream vacation: I want to go to an island and sit on the beach. I'd probably end up inspired and start to write therefore ruining the vacation part. LOL But I'd be happy.
Sweet or salty snacks: I like salt and sweet. Hence the dark chocolate and salted caramel squares sitting next to me.
You have a totally free afternoon – no deadlines, no obligations, no Twitter notifications!  What do you do?: Seriously–ducks my head–I would write. I love this gift. I write to breathe. Even if I didn't type a word, I'd sit and watch the movie in my head that my characters show me.
—
COMMENT TO WIN: Do you prefer Sweet or Salty snacks (or both, like Blue)? Answer this question in the comments and you'll be entered to win a copy of CALLING ON QUINN! US and Canada only, good luck!
—
The Blackheart Brothers #1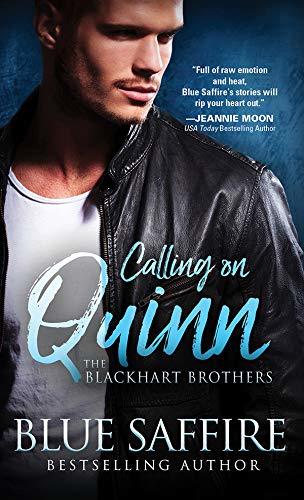 He's trouble—of the very best kind
Quinn Blackheart is a private investigator, former cop, and no-nonsense, take-charge kind of guy who adores his sprawling Irish family. He likes to check all the boxes, and his niece's gorgeous driving instructor just earned a place at the top of his to-do list.
Alicia Rhodes has had a tough, chaotic year, and she's ready to put the past behind her and find happiness in the present. When handsome Quinn Blackhart shows up at a driving lesson, she can see he's the very best kind of trouble—but is she game? Now isn't a great time to get involved with a man—even if he's the most romantic, supportive, understanding, magnificent man she's ever met.
So between unfinished business of Alicia's, and a dangerous case threatening the Blackhart family, Quinn is determined to both woo Alicia and keep her safe—which is going to make for one wild, sexy ride.
Romance Suspense [Sourcebooks Casablanca, On Sale: February 25, 2020, Mass Market Paperback / e-Book, ISBN: 9781492695080 / eISBN: 9781492695097]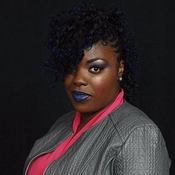 Blue Saffire, award-winning, bestselling author of over thirty contemporary romance novels and novellas, writes with the intention to touch the heart and the mind. Blue hooks, weaves, and loops multiple series, keeping you engaged in her worlds. Every word is meant to have a lasting touch that leaves you breathless for more.
Blue and her husband live in a home filled with laughter and creativity, in Long Island, NY. Both working hard to build the Blue brand and cultivate their love for the arts. Creativity is their family affair.