As I write this blog my flower beds are in bloom. My irises are gorgeous, my daisies are abundant, and my carnations are fragrant. It's too bad something dark and sinister is creeping into the shadows. That's right, a murderer is on the loose in my garden and an APB won't do my beauties any good. Because tonight they will face one of the worst killers known to their kind—Jack Frost. Their death by his hand (or heroic saving by mine) might lead to some nail-biting moments on my part, but I have a feeling I'm the only one who's truly invested or interested in their next chapter. I mean it's not like the New York Times will write about their premature death or my valiant attempt to save their lives.
But I have dug up some truly newsworthy mysteries Jack Frost can't touch. The covers caught my eye like the blossoms in my yard, the plots are much better formed than my best buds and the characters charmed me with their style and wit. Yes, the mysteries are in bloom, and all we have to do to catch the culprits is keep turning the page.
An Ivy Morgan Mystery Book 19
by Lily Harper Hart
March 2, 2021
Jack Harker and his new wife Ivy have beaten the odds, and with that comes a little rest and relaxation. They have a two-week honeymoon planned, and the first leg involves a glamping trip down the river.
Jack has never been one for camping, and the truth is, he would've preferred anything but what they've got planned. Ivy, however, is desperate to prove that camping can be fun. What Jack wants most is for Ivy to have everything, so he gives in.
He may live to regret it. That is if he doesn't die first.
What should've been an idyllic kayaking trip down the river, complete with gourmet meals and glamorous tents, turns into a mystery when one of the other guests finds blood on the ground on the second day. Jack and Ivy are instantly suspicious … but they seem to be the only ones.
There's no body, so no reason to worry, and yet Ivy's dreams won't let her rest. Can you prove murder when there's no body and nobody is missing? That's the plan for Ivy and Jack, although the trip will have them questioning more than their fellow travel-goers. It will have them questioning their instincts, too.
Strap in. Just because it's a honeymoon, that doesn't mean the ride won't be bumpy.
***
A Paranormal Women's Fiction Novel 
Betwixt & Between Book Three
by Darynda Jones
2/22/2021
A Paranormal Women's Fiction with a bit of class, and a lot of sass, for anyone who feels like age is just a number!
Newly indoctrinated witch, Defiance Dayne, discovers there's more to life after forty than she'd ever imagined possible. Especially if one is a charmling, one of only three in the world, with enough magics to make her a target for every power-hungry warlock out there. When one of them sends a hunter to town, she knows it's time to take her talents seriously before the hunter takes her life.
She decides she has three things to do before she can die. Find out who killed her beloved grandmother, teach her BFF the finer points of spellcasting before she blows up the world, and figure out how serious her relationship with the Adonis living in her basement really is. If it's heading in the direction she's hoping for, she can die happy. Though, admittedly, she'd rather not. Die. Happy or otherwise.
None of that will matter, however, if she can't figure out how to foil the supernatural assassin who's been sent for her. Until then, it's business—and hopefully romance—as usual. Now if she can only figure out how to tame a lacuna wolf.
***
by Alicia Beckman
April 13, 2021
When four women separated by tragedy reunite at a lakeside Montana lodge, murder forces them to confront everything they thought they knew about the terrifying accident that tore them apart, in Agatha Award-winning author Alicia Beckman's suspense debut
Twenty-five years ago, during a celebratory weekend at historic Whitetail Lodge, Sarah McCaskill had a vision. A dream. A nightmare. When a young man was killed, Sarah's guilt over having ignored the warning in her dreams devastated her. Her friendships with her closest friends, and her sister, fell apart as she worked to build a new life in a new city. But she never stopped loving Whitetail Lodge on the shores of Bitterroot Lake.
Now that she's a young widow, her mother urges her to return to the lodge for healing. But when she arrives, she's greeted by an old friend–and by news of a murder that's clearly tied to that tragic day she'll never forget.
And the dreams are back, too. What dangers are they warning of this time? As Sarah and her friends dig into the history of the lodge and the McCaskill family, they uncover a legacy of secrets and make a discovery that gives a chilling new meaning to the dreams. Now, they can no longer ignore the ominous portents from the past that point to a danger more present than any of them could know.
(Please check out Alicia's alter-ego's re-release of Treble at the Jam Fest A Food Lovers' Village Mystery by Leslie Budewitz, March 15, 2021)
***
Johanna Hudson Mysteries Book #1
R. Franklin James
April 14, 2021
A 30-year-old genealogist is forced to face the pain of her own past while discovering that her talents can be used to solve more than her clients' ancestor family lines — including blackmail and murder.
Genealogist Johanna Hudson discovers that the intersection of unintended consequences and murder is unavoidable, and her determination to find an heir puts her in the path of a killer who is just as determined to stop her.
***
Until next month get cozy and read on!
—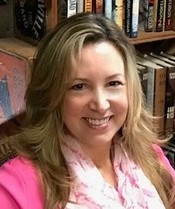 Kym Roberts writes by day and is a pro-surfer in her dreams by night. Her humor is often raunchy, her jokes are often bad, but her hunger for a story keeps the adventures coming fast. Experience the thrill & catch the wave of passion, mystery, and suspense with her at kymroberts.com, on Facebook @KymRobertsAuthor911, and on Twitter @kymroberts911.