Excerpt from Eve Calder's latest Cookie House mystery, "A Tale of Two Cookies," exclusively for Fresh Fiction!
Pastry chef and recent Manhattan transplant Kate McGuire is loving her new life on the laid-back island of Coral Cay, Florida. Now a junior partner in the Cookie House bakery, she's thrilled when old pal Desiree announces a visit — and an impromptu beach wedding. When the marine biologist groom disappears on the eve of the wedding — after spotting criminals in a protected cove — Kate resolves to help her friend find out what really happened. Was it a case of cold feet or something much more sinister?
***
Kate wheeled up to the Cookie House just as Andy Levy's yellow van was pulling up to the curb. He hopped out with two brown-paper carry-out bags.
"Don't tell me you're making deliveries now?" Kate asked the pub owner.
"Hey, from what Sam said on the phone, it was a spaghetti-and-meatball  emergency,"  the pub owner returned,  his face lighting up. "So two specials coming up. And you might recognize the garlic bread—we used Sam's baguettes."
"That smells wonderful," Kate said. "But I'd have been happy to pick it up."
"Nah, we need a bunch of stuff for the pub. Sam's holding it for us. So I had to come over anyway. But between you and me," Andy said, dropping his voice, "I think he was worried you  weren't gonna eat dinner."
Kate looked up in fresh wonder at the gingerbread Victorian that was the Cookie House, glowing palest pink in the evening light. Purple flowers lined the driveway, and pink and white blooms framed the old- fashioned front porch. Courtesy of Maxi. And more spilled out of the upstairs window boxes—the window boxes outside her own bedroom windows. Pup Oliver had left his favorite purple Frisbee on one of the  white benches that flanked the front door. And, inside, Sam was prepping for tomorrow and waiting for the dinner he'd ordered. For both of them. To make sure she  didn't miss a meal.
She smiled.
"The carton on top's just meatballs," Andy said without missing a beat as they stepped across to the walkway. "That's for Oliver. Bridget made 'em special. Nice beefy gravy instead of marinara and no garlic."
"He'll love that," Kate said, softly.
"Oh, and she told me about your friend. The marine biologist. He and his girlfriend ate at the pub a few times. Usually late breakfast. French toast with all the trimmings."
"Did Judson ever talk about what they were doing on the island?" Kate asked, as she looped her bike chain around one of the porch columns.
"Just seeing the sights," Andy said, pausing beside the front  door.  "I remember one  time he asked about  Harper Duval's house. I don't think his girlfriend was with him that time."
"What did he say?"
"He wanted to know what the plans were for the old place. I told him it was on the market. That was before they rented it out. You heard about the reality show, I guess?"
"Yes, in fact, I'm  going to be teaching a cookie class out there for the, uh, house mates," Kate said, opening the door for Andy. Remembering the sullen cast member who was clerking in Amos Tully's market, she almost regretted the decision.
But they needed to learn more about Judd's connection to reality show producer Ken Salazar—and the biologist's seeming fascination with that house.
"Cool!  Well, if they want a cooking lesson, send 'em our way," Andy said, breezing into the shop. "But on second thought, I don't think Bridge wants to give away any of our trade secrets. That spaghetti pasta? She makes it from  scratch.  And fresh noodles taste worlds different than the kind you get out of a box, let me tell you. Same with the sauce. She starts simmering stuff the night before. So the flavor's deep."
"Evenin', Andy," Sam called, as he straightened up from polishing the glass bakery cases. "Got your stuff all fixed up in the back. The big boxes by the back door."
Excellent! You want these on the kitchen table?"
"Yup," the baker said.
Kate followed Andy into the kitchen. "Do you remember anything  else Judson talked about? Maybe spots on the island that he wanted to see?"
"Mainly, we talked about food and the Marlins," Andy said, as he deposited the bags on the table, already set for  supper.  "The guy's a diehard  fan.  A real foodie, too. But one afternoon—another time he was alone, come to think of it—I think maybe he and his lady had a fight. It was pretty late for lunch. And when I handed him a menu, he said it had to be really special because it was a  peace  offering."
"Do you remember what he said exactly?"
"Something about mending fences," he said, sinking into one of the kitchen chairs. "Or making amends. He said he'd done something really stupid, but he was gonna swallow his pride to set it right. Oh yeah, and he also said she'd be less likely to throw a lamp at him if he showed up with food—especially something chocolate."
Kate grabbed a cup from the cupboard, filled it with coffee, and set it in front of him. "Do you remember what day it was? When he told you that?"
"Let's  see.  I remember he asked about the special. It was this really creamy seafood stew Bridge made. We topped  it with a nice buttery pastry crust.  Pretty  good, if I do say so. But you have to serve it piping hot, and the pastry's delicate. I was worried it wouldn't travel too well. So he went with two of the dill salmon salad sandwiches on challah rolls with a couple of Caesars, and a bottle of that lemon sparkling water. Oh, and two of those chocolate mousse cupcakes you make. The ones with the vanilla buttercream frosting? Anyway, if the special was the seafood stew, that was last Friday. Pretty late, too. Closer to dinner than lunch. 'Cause I remember thinking that when I was packing it all into a cold box for him."
"I don't suppose he mentioned what their fight was about?"  Kate  asked.
Andy shrugged, chewed on his lip, and grabbed the cup with both hands.
"Anything you can remember is going to help. Honestly."
"I know she's a friend of yours  …" he started.
"We just want to help Detective Abrams get in touch with him. So that we know he's OK. The rest of it doesn't matter."
Andy heaved a deep sigh. "Well, he mentioned something about a ring. That it was a    family heirloom. And he needed it back."
He took a long swig of coffee as his sneaker beat a nervous rhythm on the tile floor.
Kate could tell he  wasn't quite finished. "But there was more," she said quietly, as she heard Sam bustling in from the shop.
Andy nodded. "He said that life was too short to be with the wrong person. But thank goodness he realized in time."
Read more in "A Tale of Two Cookies," out now from St. Martin's Press:
https://read.macmillan.com/lp/tale-of-two-cookies/  
—
RECIPE: Quick and easy salmon pasta
Face it, most of us don't have time to make everything from scratch, like pub owners Bridget and Andy. That's why I love this dish. It has a wonderful, rich flavor and tastes like the sauce simmered for hours. In reality, I can make it at the last minute using ingredients that all come from the pantry. (Which means I can stash a few things for future quick meals!) Serve it up with a big green salad and some crusty bread.
Ingredients
1 pound dried pasta
2  6-oz. cans of pre-cooked skinned and boned salmon
25 oz. of your favorite pasta sauce
1 canister dry, grated Parmesan cheese
Olive oil
Serves four people.
Instructions
Pour the pasta sauce into a medium sauce pan, add the salmon, and set the burner to "high." As soon as the sauce starts to boil, quickly turn it to "low," put the lid on the pot, and let it simmer for 20 minutes. (Check it and stir it from time to time, to break up the salmon.)
After the sauce has been simmering for about 15 minutes, add the pasta to a (separate) large pot of salted boiling water, cooking according to the package directions.   (If you're cooking for someone who's gluten intolerant, you can substitute Pad Thai rice noodles – I've done this, and it tastes great!)
When the sauce has been simmering about 20 minutes (and should smell wonderful), add 10 to 12 tablespoons of dry, grated parmesan cheese – stirring for a few minutes as the cheese melts into the sauce. Simmer for another few minutes, stirring occasionally. (You can also adjust the amount of cheese, depending on your personal tastes.)
When the pasta reaches your preferred texture, drain it or retrieve it from the pot with tongs, putting a nice helping (like a nest), on each of four plates. Give each nest a drizzle of olive oil. Then ladle on a generous helping of sauce. Enjoy!
A Cookie House Mystery #3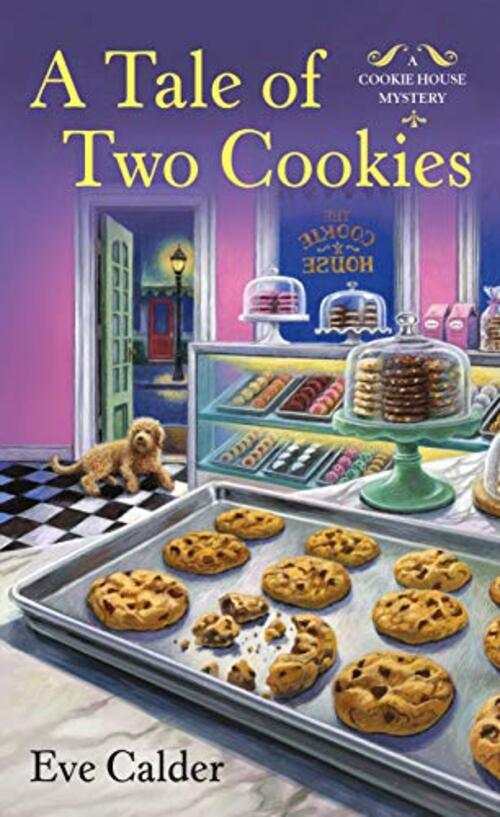 In A Tale of Two Cookies, a cozy mystery from Eve Calder, it's nothing but sugar and spice at The Cookie House, but elsewhere on Coral Cay everything isn't so nice.
Pastry chef Kate McGuire is loving life on the laid-back island of Coral Cay, Florida. As junior partner in a bakery renowned for luscious desserts—especially her cookies—life is pretty sweet. So when an old friend arrives and announces a spur-of-the-moment beach wedding, that's just the icing on the wedding cake.
But the groom vanishes right as a television crew descends on the town to film a hot, new realty show. Is there a connection? Is her friend Desiree somehow involved? Or did groom Judson simply get cold feet? The bride and groom were paired better than warm cookies and cold milk, so Kate doesn't buy it.
As the show's cast runs amok on the island and the investigation into Judson's disappearance heats up, Kate and her pal Maxi, along with town dog Oliver, will brave the rambunctious world of reality TV and a wedding weekend gone awry, in an all-out effort to find the missing groom.
Fiction | Mystery Cozy | Mystery Private Eye [St. Martin's Paperbacks, On Sale: April 27, 2021, Mass Market Paperback / e-Book, ISBN: 9781250313034 / eISBN: 9781250313034]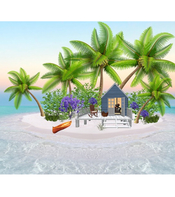 A Florida native, Eve Calder contends that cookies always taste better when you eat them at the beach. She is the author of the Cookie House Mystery series, including And Then There Were Crumbs and Sugar and Vice.