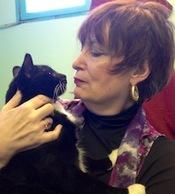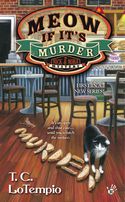 It's a new year and we've got plenty to meow about at the Cozy Corner, like T.C. LoTempio's new Nick & Nora Mystery series! Welcome, T.C.!
Q. Could you tell us about your journey to the release of your book MEOW IF IT'S MURDER, the first Nick and Nora Mystery?
A.  That is a long answer! I've been writing all my life, but I only started with an eye towards publication sixteen years ago!  After a lot of false starts, I finally got an agent who subbed my vampire suspense novel with no success – and then the supervisor at my day job suggested I write about my cat…and thus was born Nick and Nora.
Q. In your novel your characters have the same names as the husband and wife duo in THE THIN MAN, a book by Dashiell Hammett that was made into a movie in 1934 and then later a TV series. What about that story appealed to you and inspired you to use it as a reference for your new series?
A. I've always been a big William Powell fan, the Thin Man movies in particular.  One night I was watching the movie on tv and my cat ROCCO jumped onto my lap. I thought, "What if Nick were investigating a murder, got killed and came back as a cat?"  Thus was born the first draft of Nick and Nora, which Berkley subsequently changed (In the first version, the detective was reincarnated as the cat and the cat talked to Nora).
Q. Nick is such an unlikely hero; can you tell us why he's wearing a tuxedo and who you modeled him after?
A. My own cat ROCCO, who is what's known as a "Tuxedo" cat – black with a white bib and white paws.
Q. Nick's antics are so real, so human, and so heart-warming, I have to know if there's a real-life 'man' who is full of this much spunk and love? (Take a look at T.C.'s webpage and you'll get a glimpse of her inspiration for Nick.)
A.  Ha ha see above.  Right now ROCCO is the only man in my life, and believe me, he's enough!
Q. Nora is driven to solve the murder of a local socialite, Lola Grainger for several reasons, despite the fact that the woman's death was ruled accidental. Her death sounds reminiscent of a famous Hollywood tragedy in the 1980's. Does MEOW IF IT'S MURDER parallel the death of any real life case?
A. Yes, I drew the inspiration for MEOW IF IT'S MURDER from the mysterious death of actress Natalie Wood, whom I adored.
Q. Throughout the book you make references to real life people and events which make your characters more believable and current with today's reader. Was that your intent?
A.  Absolutely! I think it's easier to get a feeling for the characters if you make references to pop culture.
Q. I saw on FB that you have a new title in the works for your next Nick and Nora Mystery. Can you give us a hint as to what you have in store for Nick and Nora?
A.  Well, Nora's investigation into Nick Atkins' disappearance takes a backseat when her sister is accused of the murder of her art professor, and it's Nick and Nora to the rescue…also, someone – male – from Nora's past resurfaces!
Thank you to T.C. for joining us today! Readers, leave a comment below for your chance to win a copy of MEOW IF IT'S MURDER, and connect with T.C. on her website and Facebook.
About Kym Roberts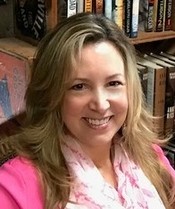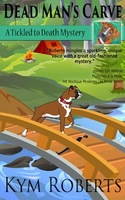 Kym Roberts is a
retired detective sergeant who looks for passion, mystery and suspense in
every
book she reads and writes. She can be found on the web at kymroberts.com, on
Facebook at Kym Roberts (author) and on Twitter @kymroberts911. Look for her
latest release, DEAD MAN'S CARVE, A Tickled to Death Mystery on
Amazon. (All proceeds will be donated to wounded veterans)
Are you crazy about cozy mysteries? Stop by the Cozy Corner every week for recommendations, interviews, and more. Until next time, get cozy and read on!
To comment on T.C. LoTempio's blog please click here.