Confession: I love antlers. I love claws and teeth. Growls that can be mistaken for either love growls or the kind that say, 'I'm going to eat you.' I love these elements all the more when they inhabit human-ish characters engaged in extreme acts of violence while falling in love. In fact, I think it's the supernatural elements of the characters that make the danger and chemistry between characters work so well.
Danger is hot. Antlers are kind of amazing. And falling in love is an extreme act. Isn't it true that the first blushes of love can feel so very violent? (Remember what it felt like to screw up your courage and call up that boy for the first time?).
Danger can lead to love. Danger is a form of chaos that breaks down the barriers people build to shield their hearts from one another. It razes the reasons we build up to keep us from acting on our desires. Think about THE HUNGER GAMES' Peeta and Katniss. It takes a deadly game where their doom is all but assured to bring Peeta to act on his attraction to Katniss. It takes near death experiences to get Katniss to admit to herself she likes him, too.
This is also true for Lucy Fox and Jared Price in the True Born Trilogy. Jared becomes a serious love interest for Lucy because her world is all but destroyed—freeing her from the restrictions of her class and the narrow minds of her society.
But I think the supernatural elements of danger raises the stakes for love. I think we readers like the added mystery of fantasy elements because these heighten the sense of the unpredictable and dangerous. I think this is part of the fascination Lucy has for Jared: who is this True Born? What is he really capable of?
In the end, isn't that what love is? It's about taking the ultimate leap from the known into the mysteries of the magician's box. Like magic, like the supernatural, to fall in love is to be initiated into a hidden realm. My guess is that this form of danger too tantalizing for Lucy—or for the reader—to stay away from.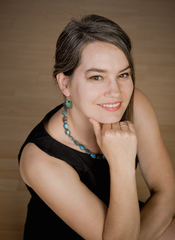 L.E. Sterling had an early obsession with sci-fi, fantasy and romance to which she remained faithful even through an M.A. in Creative Writing and a PhD in English Literature – where she completed a thesis on magical representation. She is the author of two previous novels, the cult hit Y/A novel The Originals (under pen name L.E. Vollick), dubbed "the Catcher in the Rye of a new generation" by one reviewer, and the urban fantasy Pluto's Gate. Originally hailing from Parry Sound, Ontario, L.E. spent most of her summers roaming across Canada in a van with her father, a hippie musician, her brothers and an occasional stray mutt – inspiring her writing career. She currently lives in Toronto, Ontario.