As a New York Times bestselling author with three names (L.L. Bartlett, Lorraine Bartlett, and Lorna Barrett), readers think they know what my most successful series is. The Booktown Mysteries by Lorna Barrett, of course. That's the name most people associate me with—it, and the cozy mystery genre. But in reality, I've sold many more books in my Jeff Resnick series, and yet that name is far from being a household name.
Unlike my cozy mystery series (and I have three), the Jeff Resnick Mysteries are quite a departure as it has an authentic setting—Buffalo, New York—and as I'm not a native, I've had to depend on actually visiting the area so that my books reflect the ambiance of the city and its surrounding suburbs, where most of the books take place.
Why did I choose Buffalo? I (wrongly) concluded that as it was a much bigger metropolitan area than Rochester, where I live, that the crime rate must be much higher. Nope. But it's an edgier city that has been shaking off its run-down reputation as a rust-belt relic and has recently been undergoing a renaissance.
I've had a lot of compliments on the setting for the (so far) seven novels and its companion series (Jeff Resnick's Personal Files). At the beginning of the first book, MURDER ON THE MIND, Jeff lives in Manhattan, but after a brutal mugging, he returns to Buffalo to recover in the home of his older half-brother, who is also a doctor. Jeff's head injury leaves him a little bit psychic—but he relies on his training as an insurance investigator to solve the murder of a local banker.
During the series, I've taken Jeff from restaurants in affluent Amherst to the drag clubs in the heart of the city—visiting many places in between. And while some of these dwellings are based in fact, just as many are products of my imagination. You can tour a number of real-life places Jeff visits by taking a tour of Buffalo on my website. Just click the link:  https://llbartlett.com/buffalo/
Another departure from my cozy mysteries is that The Jeff Resnick series not only features a male character, but the point of view is first person. It took me quite a few years to be able to write from that perspective and get it right. Why don't you take a look and check it out. MURDER ON THE MIND is free for all ebook formats.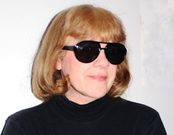 Lorraine Bartlett writes the Victoria Square Mysteries. Under the name L.L. Bartlett, she writes the Jeff Resnick suspense series. She also writes the Agatha-nominated, New York Times bestselling Booktown Mystery series under the name Lorna Barrett.
Lorraine says: "My mind has always been filled with what my father called "tommyrot." I called them stories. But it wasn't until I was a teenager that I started writing them down–and much later until I sold my first short stories. (Romance!) But in my heart I wanted to write mysteries."