Fresh Fiction's Miranda Owen recently sat down with Historical Romance superstar, Stephanie Laurens, to discuss the first book in her Cavanaugh series. They talk finding the right balance of mystery, romance, and action; creating a great heroine; and what she's planning for the series in the future.
Miranda Owen: Even though the reader is made aware of all the shadowy players in THE DESIGNS OF LORD RANDOLPH CAVANAUGH (Review), there is a little mystery for the good guys. Do you find it difficult balancing the mystery, action, and romance in your stories?
Stephanie Laurens: Yes and no. It's certainly something I consciously bear in mind because I actively write mystery-romance (the Casebook of Barnaby Adair series) as well as romance with a touch of adventure/mystery, such as this release. I decide early on what the balance ought to be, and it can vary from about 80% romance/20% adventure-mystery to 20% romance/80% mystery and through all points in between. You could say that striking the right balance takes conscious effort.
Miranda Owen: Let's talk heroines. In online romance book discussion groups, you always get asked to name some of your favorite heroes and heroines. For me, about a billion heroes come to mind, but finding favorite heroines isn't as easy. I find a lot of female characters written as being very reactive. I've read and enjoyed books with bluestocking heroines, but those characters are usually still quick to react to situations and behavior by their male counterparts quickly, rather than taking a moment to plan their next move. What I love about your heroines are how shrewd and contemplative they are. Even though they may vary in many ways, I love that they are not easily manipulated and the way they consider a situation from many angles before making a move. Felicia Throgmorton, in THE DESIGNS OF LORD RANDOLPH CAVANAUGH, is another fabulous heroine you've created – intelligent, resourceful, and not easily pushed around. Are there certain qualities you always try to give your heroines? Who are some of your favorites – both ones that you've created, and those by other authors?
Stephanie Laurens: I learned very early on not to attempt to write very young and passive, and therefore reactive, heroines – I didn't enjoy them and they just didn't work for me. I completely rewrote my 3rd book prior to submission because of this issue – I just couldn't make the heroine work as a young passive woman. I had to keep her young for the plot to work, but I amped up her adventurousness and attitude. That book became Impetuous Innocent. Subsequently, I always went for a heroine I could relate to, and I also always give my heroines a purpose in life – something they are actively pursuing right from the start.
For instance, in the upcoming release, Felicia is trying to hold the household together financially against the depredations of her brother's pursuit of inventions.
Miranda Owen: In THE DESIGNS OF LORD RANDOLPH CAVANAUGH, Rand and Felicia work together – on their engineering project, and while combating a mysterious saboteur. My favorite romances are those in which the hero and heroine work together, rather than have them at odds for most of the book, or when the hero excludes the heroine to protect her "for her own good". You often have the hero and heroine work together in your books. What makes you create these kinds of partnerships in your books? Who are some of your favorite couples you've created?
Stephanie Laurens: Naming favorites is next to impossible because I genuinely like something about most/all the couples I've written about. As for the partnerships angle – and yes, that's true – that's an outcome of the heroines not being passive. If they're active players in whatever the plot is, then unless the hero wants to be left behind, a partnership is pretty much guaranteed. And a partnership is also extremely useful for having them experience and appreciate each other's strengths and weaknesses – learning to work together is a prelude to the partnership of marriage.
Miranda Owen: In THE DESIGNS OF LORD RANDOLPH CAVANAUGH, you created one character who could've turned into a villain but ended up going the other way. When you created the character, did you always know whether you'd have him as a good guy or a bad guy? Do you enjoy writing complicated characters like Malcolm Sinclair?
Stephanie Laurens: I have to admit that I enjoy occasionally working with characters who are shades of gray rather than black and white. Black and white is fairly straightforward while shades of gray characters are more challenging to pull off, and therefore more satisfying.
Miranda Owen: What kind of research did you have to do for the technical info in this story?
Stephanie Laurens: Quite a lot. I was surprised to learn how advanced the proto-types for steam cars were in that period (1840s), but that because of the politics of rail and toll-roads, the subsequent development of the early endeavors was suppressed in England. There was also a certain amount of research necessary for the settings, for instance in the journey to Birmingham and in Birmingham.
Miranda Owen: What are you currently working on? Will we see characters from THE DESIGNS OF LORD CAVANAUGH in future books?
Stephanie Laurens: As it happens, I'm currently working on the second book in THE CAVANAUGHS, which follows on from the end of THE DESIGNS OF LORD RANDOLPH CAVANAUGH, and is the tale of the romance between Rand's brother, Kit, and the lady who believes he will never measure up to the fantasy version of Lord Kit Cavanaugh she's carried in her head ever since seeing him across a crowded ballroom during her London Season. That book is scheduled for release in 2019.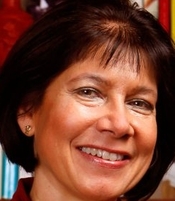 The first romances New York Times bestselling author
Stephanie Laurens ever read were those of Georgette Heyer, and
romances set in Regency England continue to be her favorites.
After escaping from the dry world of professional science,
Stephanie took up writing such romances for her own pleasure.</ p>
Now residing in a leafy bayside suburb of Melbourne,
Australia, Stephanie divides her free time between her husband,
two teenage daughters and an affable idiot of a hound. She
also enjoys gardening and needlework.