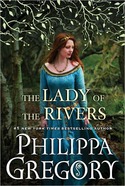 FRESH FICTION is delighted to welcome New York Times bestselling novelist Philippa Gregory.  Ms. Gregory, well-known for her novels of the Tudor era, is currently concentrating on the War of the Roses.  Several of her works were highlighted in the History Refreshed column THE WAR OF THE ROSES PART I, and her upcoming novel, THE KINGMAKER'S DAUGHTER, features Anne Neville, whose husband Richard III is the central character in this month's column, THE WAR OF THE ROSES PART II.
Julia Justiss: Welcome, Philippa, and thank you so much for taking time out of your hectic schedule to give FRESH FICTION readers some insight about your background and writing.  So let's get started!
As a New York Times bestselling novelist whose works have made their way into film, you've captivated readers around the globe. Yet you started your career not as a writer, but as a scholar. Can you tell us a bit about the professional background that resulted in your fascination with history?
Philippa: My first professional training and work was that of a journalist, which had the advantage of teaching me to write on time, and satisfied my enquiring curiosity. I went to university after I had served my apprenticeship in journalism and worked on a newspaper as I felt I needed more scholarly work. When I finished my BA I went on to do a PhD at Edinburgh, and when I had completed that I wrote a novel purely for the pleasure of it, but thought at once that it was publishable. I sent it off to a publisher while I was applying for university teaching posts and to my surprise it was bought and became a best seller. Thus I really "fell" into full time professional writing.
Julia: What led you to decide reading fiction wasn't enough, you wanted to create it?
Philippa: I love writing, it's a different pleasure from the joy of reading. I read, and I also write. I couldn't be happy without regularly writing fiction.
Julia: What comes first, research or plot idea? Especially now that you are writing about characters in a more distant past, how difficult is it to find solid evidence that gives you a glimpse into their lives? How much leeway do you give yourself to deviate from what you find in historical record?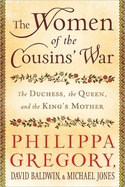 Philippa: The research comes first as this is where I discover the amazing women that I am going to write about. The research dominates the story of the novel as I always follow the historical record as far as it is certainly known – when we don't know, or when there is room for doubt then I make up my own mind after reading all the historians to get their opinions. The more obscure the character the harder it is to discover what they were doing – so the research is sometimes something of a detective process.
Julia: Though you've written many works of historical fiction, this time you also collaborated on a non-fiction work to accompany your Cousins' War series. What made you decide to provide a non-fiction background for these novels?
Philippa: In the case of my essay on Jacquetta, Duchess of Bedford, there simply was nothing available on her when I was doing my research, so I wrote up my research and published it as an introduction to her for other historians and as a guide to her for readers of the fiction who wanted to know more. The other historians had published on their chosen characters but when we were publishing both books were out of print,so if readers wanted to know more about these fascinating women they had nothing to consult. The companion history book was a way of providing readers with the historical background, and offering scholars a starting place for further research. It also restores the women to their place in history by describing lives which have been forgotten.
Julia: Once research and general plotting are finished, approximately how long does it take for you to write the novel? Do you write pretty tightly to an outline, or does the story, (as much as it can, constrained by writing about real people) surprise you by taking on a life of its own?
Philippa: The surprise is the development of character and how they sometimes shine out from the page for me. The story follows the history so that shouldn't be surprising, but sometimes it is a surprise as to its significance or I suddenly see that a scene, though not mentioned by historians, must have taken place – for instance there must have been a conversation about the fate of the princes in the Tower between their mother and their uncle Richard III – but there is no record of this conversation in the chronicles. It takes me about nine months to write – writing at the same times as continuing the research.
Julia: Your most recent work, THE LADY OF THE RIVERS, features Jacquetta, Duchess of Bedford and later, Lady Rivers. What about Jacquetta fascinated you? Did you decide to write about her after doing THE WHITE QUEEN about her daughter Elizabeth, or had you a book about her in mind all along?
Philippa: No, I fell in love with Jacquetta when I discovered the powerful role she played in the life of her daughter, and when I researched her family and her past I saw that she was a wonderful heroine of an historical novel.
Julia: You've often used elements of the supernatural in your novels: second sight in THE QUEEN'S FOOL, witchcraft and black magic in THE OTHER BOLEYN GIRL. Jacquetta was accused, along with her daughter, of using the dark arts to entrap Edward IV. Have you always had an interest in the supernatural? Are you a fan of paranormal novels and movies?
Philippa: Actually, I hate paranormal movies and novels or any sort of horror/ thriller material. I find them too scary! Practising magic (and herbalism and alchemy and spiritual healing) was a major part of the culture of these times and I try to reflect this in the novels. I think this aspect of life has been ignored by historians because of their rationalist scientific background – of course we know that magic such as the medieval people practiced could not make a difference to events – but they did not know that. And since I am writing in first person, present tense, I have to be (as one of the characters) credulous as they would be. Also, women who were troublesome were sometimes falsely accused of being witches and this is something that a powerful woman might experience (like Anne Boleyn, or Jacquetta) and that all women would be aware of.
Julia: You've just returned from a tour to promote THE LADY OF THE RIVERS. Do you have any other promotional events planned where readers could meet you?
Philippa: I don't have anything scheduled for the remainder of this year, 2011 but there will be lots of events in 2012. Readers can find my event diary on my website Philippa Gregory.com
Julia: You have a presence on Twitter, Facebook and Youtube. What sorts of short video do you like to post there? Any special places where fans can interact with you on social media?
Philippa: We regularly make short videos about the themes in the novels, we have been lucky enough to film at Bosworth Battlefield during their annual reenactment and more recently, have used Warwick Castle as the backdrop to some videos for THE KINGMAKER'S DAUGHTER which will be released in the fall 2012. You can find the videos at youtube.com/philippagregory and you can also follow me on facebook.com/philippagregoryofficialfanpage. I keep my website philippagregory.com up-to-date with appearances and provide reading lists and additional material for fans, there's also a readers forum on there.
Julia: Wow, those videos sound fabulous!  Now, readers who haven't visited your website might not know there's a special charity you support. Could you tell us a bit about that and any way that fans could assist in those efforts?
Philippa: I have a small charity that digs wells in The Gambia to provide little gardens in village schools so the children can grow their own vegetables, drink the water, and even grow cash crops. It's a great project, very cheap and well-run – all the funds that people give me I send directly to The Gambia to pay for our work there. You can donate by post or online with as much or as little as you can afford. And if you go to The Gambia you can visit the well you helped to provide.
Julia: What project are you working on now?
Philippa: I am writing a new novel for the Young Adult market – it's been a great departure with much more freedom in the writing as it is fictional characters on a quest in medieval Europe. And I am writing a new novel for the Cousins' War series: THE KINGMAKER'S DAUGHTER.
Julia: Another Richard III book, fabulous!  I know I speak for all your fans in saying I can't wait to read that one.  Thank you again for giving us this glimpse into your life and writing.
---
Julia Justiss is the author of several historical romances including her latest, SOCIETY'S MOST DISREPUTABLE GENTLEMAN