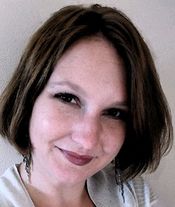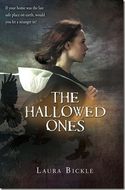 In THE HALLOWED ONES, I wanted to explore the ideas of chaos and order. Most of the time, we tend to frown upon chaos and elevate order as a virtue. Chaos feels dangerous, opening up unknown possibilities. Order seems predicable, a way to keep us warm and safe.
And it certainly feels that way to Katie, my Amish heroine. Katie is on the verge of her Rumspringa, the time when she can experiment a bit with the outside world. She wants to explore controlled chaos, the kind of exhilaration that we all want with pushing limits. She wants to venture to the nearby city, to meet people beyond her own small world, to wear jeans and read comic books. She's read every book in the public library she can get her hands on. She yearns to know what's beyond the confines of her fence. It's the bright side of chaos that makes us feel alive, and Katie is no exception to those feelings.
Before Katie can experiment with Rumspringa, the outside world is overtaken by chaos. Katie's community is a safe haven, seemingly spared by the darkness. But she knows that evil and silence are waiting beyond her fence. There are rumors of unrest and violence, but there are no cars on the road. No lights in the distance at night. No planes in the sky.
And order does have a dark side. The Elders of Katie's community fear contagion and declare that no one is allowed in or out of their settlement. Katie becomes aware of the constraints of order as she questions rules that disturb her own moral compass. When she finds an injured young man just outside her fence, she cannot leave him to die. She brings him inside – but what evil is he bringing in with him? And if she is discovered harboring him, will she be shunned and cast out of her community?
As we all do, Katie must balance the forces of order and chaos in her own life. She must decide which rules are morally acceptable, and what she will risk to protect her loved ones.
By Laura Bickle
Publisher: Houghton Mifflin Harcourt Graphia
Release Date: September 25, 2012
ISBN-13: 978-0547859262
If your home was the last safe place on earth, would you let a stranger in?
Katie is on the verge of her Rumspringa, the time in Amish life when teenagers can get a taste of the real world. But the real world comes to her in this dystopian tale with a philosophical bent. Rumors of massive unrest on the "Outside" abound. Something murderous is out there. Amish elders make a rule: No one goes outside, and no outsiders come in. But when Katie finds a gravely injured young man, she can't leave him to die. She smuggles him into her family's barn—at what cost to her community? The suspense of this vividly told, truly horrific thriller will keep the pages turning.
"This is a book to make you fear the shadows–a horrifying and gruesome tale of faith, and things that blink red eyes in the night. I began reading in the daylight, and read on into the late hours, leaning close, biting my lip. I could not look away; I was obsessed. Katie is an unbreakable soul."
–Lauren DeStefano, New York Times and USA Today Bestselling author of the Chemical Garden Trilogy
"What an eerily believable, unique story! I can't stop thinking about it—or shivering."
—Melissa Marr, New York Times best-selling author of the Wicked Lovely series
"Readers will find it hard to put down this suspenseful, scary, compulsively readable adventure…"
–Kirkus Reviews
THE HALLOWED ONES is available from Barnes and Noble, Amazon, Powell's, and Books A Million.
A free excerpt of THE HALLOWED ONES is available here
For more info about Laura and her books, please visit her website at www.laurabickle.com. She's also on Facebook and Twitter, usually exclaiming over cute cat pictures and nerdy things.
To comment on Laura Bickle's blog please click here.