This summer, my publisher, MIRA, put out my new trilogy—Red Hot Lies, Red Blooded Murder, and Red, White & Dead—back to back to back. Meaning, the first one came out in June, the second in July and the third on August 1.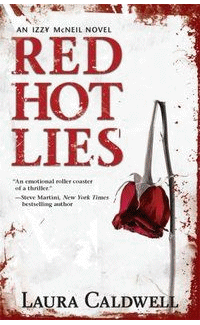 It's tricky enough to promote one book (in a market where book reviews and articles are declining), so we assumed it would be even trickier to try and promote three. Actually the opposite has been true. My publicist, Tom, is a former newspaper man with a southern drawl that drips over his always-kind words. When a magazine tells him, "Oh, sorry, we won't be able to cover Red Hot Lies in our July magazine. We already put the issue to bed," he says in that sweet voice, "Ah, don't worry about it. We've got two more books in the series. I'll send 'em out to you."
Another amazing thing about a quick release trilogy is reader feedback. I get to hear what readers think about the love interests in the book. I get to find out whether they're satisfied with the ending, what they'd like to see in the next book and the next. And I get to hear if they enjoyed Izzy, my main character, a sassy, redheaded Chicago lawyer. It's those comments I always cross my fingers for when I read them. I know writers aren't supposed to do this, but Izzy is rather like me. Don't get me wrong –her story isn't. My fiancé' didn't disappear weeks before my wedding. I haven't moonlighted as a private detective. I haven't sat in the anchor desk of a network news program or been chased by Mafioso. But characteristically, Izzy is a taller, cooler, smarter, younger, prettier me. She's sort of a superhero version of me, I guess, because she doesn't get as cranky as I do, she's much more patient, and although she always talks about sleep she seems to need rather little.
Click here to read the rest of Laura's blog and leave a comment.