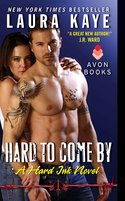 I'm so excited to be here at Fresh Fiction on release day to celebrate my new book, HARD TO COME BY. This book is part of a super sexy and suspenseful series about the surviving members of an Army Special Forces unit investigating the suspicious circumstances that got them dishonorably discharged from the military. HARD TO COME BY is about amputee hero and team technie Derek "Marz" DiMarzio, who finds himself falling for the sister of one of their known enemies.
I have loved Marz from the first moment he walked onto the page in book one, HARD AS IT GETS. In addition to being drop-dead sexy, he's upbeat, outgoing, and always ready with a joke to uplift everyone's spirits. Marz is also selfless and giving, depriving himself of sleep to do all the research the team needs for their investigation. And, of course, that selflessness was never demonstrated more than when he saved his best friend's life on the field of battle and ended up with a below-the-knee amputation. Here's what Marz's thinks about that:
Not that Marz would undo how it'd all gone down. Because him losing his leg meant that Beckett, Marz's best friend in the world and the closest thing he'd ever had to a brother, got to remain a biped. Marz hadn't hesitated for a moment to knock Beckett clear of the explosion. Better to take the hit himself than let a buddy get hurt. And seeing the guy get around with little more than a limp made Marz's sacrifice more than worth it. One thing Marz had always admired about the SpecOps community wasn't just that you could count on someone having your back, it was knowing you had theirs. No matter what.
When I sat down to write this book, I was very concerned about handling Marz's amputation and prosthetic limbs right. For this character, his amputation is part of who he is, but he doesn't allow it to define him. However, he finds he has to overcome others defining him by his prosthesis, which was also something I found tricky to handle. I didn't want to skim over the injury, nor the reality of living with it, which meant I needed to do some research. And that led me to a woman whose online screen name is AmputeeOT.
She also has a below-the-knee amputation, and has done a host of YouTube videos answering all kinds of basic questions about life with a prosthesis. She apparently became famous after building a prosthetic foot out of Legos! Now, her fame extends from the wonderful, inspiring, and demystifying work she's done about living life with a prosthesis. Her videos address topics like showering and bathing for people with prosthetic limbs, cleaning your prosthetic limb, climbing stairs with a prosthetic leg limb, driving with a prosthetic leg limb, and what things in life are difficult for an amputee. It was from this woman that I learned about the difficulty of putting on pants with a prosthesis, about mirror therapy (where you use a mirror to trick your brain into believing the missing limb is still there, thereby lessening phantom pain), and about the benefits of vacuum-system limbs, like the one I gave Marz in HARD TO COME BY. In fact, this video in particular not only showed me how to describe how Marz put on and took off his limb, but the last 90 seconds of the video—in which the woman drags around a male friend wearing a vacuum-system limb, inspired part of the first chapter of my book, wherein team leader Nick Rixey drags Marz around by his leg to prove the prosthesis can't be knocked off.
In the end, I found that writing an amputee hero made him sexier, more sympathetic, and more compelling. And the heroine did, too. There was never anything less about Marz for wearing a prosthesis. Emilie respected and admired Marz's sacrifice. When they become intimate in the book, she doesn't shy away from asking him what will and won't work for him. The first time she sees him naked, she doesn't hesitate to look and touch that part of him, and it means a lot to him that she addresses his reality head on. One of the messages of this book is that we all have scars—some more obvious than others—but we don't have to let them define us. And it makes Marz one of my favorite heroes I've ever written.
QUESTION: Do you have a favorite book with an amputee character? Or would HARD TO COME BY be your first one? What are your thoughts?
GIVEAWAY: One $25 Amazon or B&N Gift Card!
Thanks for reading!
HARD TO COME BY (Hard Ink #3, 11/25/14)
Caught between desire and loyalty…
Derek DiMarzio would do anything for the members of his disgraced Special Forces team—sacrifice his body, help a former teammate with a covert operation to restore their honor, and even go behind enemy lines. He just never expected to want the beautiful woman he found there.
When a sexy stranger asks questions about her brother, Emilie Garza is torn between loyalty to the brother she once idolized and fear of the war-changed man he's become. Derek's easy smile and quiet strength tempt Emilie to open up, igniting the desire between them and leading Derek to crave a woman he shouldn't trust.
As the team's investigation reveals how powerful their enemies are, Derek and Emilie must prove where their loyalties lie before hearts are broken and lives are lost. Because love is too hard to come by to let slip away…
Buy at Amazon | Amazon.ca | Amazon UK | B&N | iTunes | Kobo
Pre-order or purchase before December 2, and get awesome bonus content!
And don't miss the other Hard Ink books, now available:
HARD AS IT GETS
Praise for HARD TO COME BY:
"Rough sex and explosive fights power Kaye's third Hard Ink novel, a thrilling adventure that feels more like an action movie with a romantic subplot than a typical contemporary romance. New readers will head straight for Kaye's backlist after powering through this installment." ~Publishers Weekly Starred Review
"TOP PICK! If you're looking for danger, gritty action, and sizzling passion, then Kaye has just the book and the series for you." ~RT Book Reviews Magazine
About Laura Kaye
Laura is the New York Times and USA Today bestselling author of over twenty books in contemporary and paranormal romance and romantic suspense. Growing up, Laura's large extended family believed in the supernatural, and family lore involving angels, ghosts, and evil-eye curses cemented in Laura a life-long fascination with storytelling and all things paranormal. She lives in Maryland with her husband, two daughters, and cute-but-bad dog, and appreciates her view of the Chesapeake Bay every day.